Veteran rocker returns to Central Illinois this month
Frampton comes Alive! and kicking
Acoustic 'Raw Tour' is "like you're coming over for a cup of coffee"
That's the operative phrase, says Peter Frampton, for how he may appear today.
Especially to those who attended his last pass through Bloomington-Normal 38 years ago and who'll see him again next week.
"I always looked so much taller on stage," he laughs of his 5-feet-8 stature of yore.
Following is timeline of highlights in the half-century professional career of Peter Frampton:
And then there's The Hair.
Assuredly "shorter than before."
In fact, it's been neatly cropped to within an inch of its graying roots, with no vestiges of the golden locks that flowed to nearly shoulder-length and famously framed the angelic face gazing heavenward on the album cover that defined his career.
Frampton's return comes March 30 via the historic Virginia Theater in downtown Champaign.  
The occasion is a stop for his acoustic "Raw Tour," "with," he notes, "not an amp on the stage."
Instead: "I want this to seem like you're coming over for a cup of coffee, and I sit down and I play a song for you I wrote last night ... which is very different from if you got in the time machine and saw me doing 'Show Me the Way' 40 years ago." 
The 66-year-old rock icon's last Bloomington-Normal pass, which was also his first, was Oct. 11, 1979, in Illinois State University's Horton Fieldhouse.
"Wow, let me see ... that would have been about a year after the accident," he figures, close to 38 years on.
The accident was the horrific car crash that occurred July 2, 1978,  in the Bahamas, and that was described in news headlines 'round the world as "near-fatal."
He was extricated from the wreckage with a broken arm, cracked ribs, multiple abrasions and more.
"I think it was November of that year that I was back on a stage for a tour to Japan and Australia," Frampton recollects. "With 20-20 hindsight, I probably shouldn't have been ... it was all so traumatic."
The Pantagraph reviewer's take on that ISU show suggests something along those lines: "Perhaps Frampton was tired, but, at times, he just didn't have his heart in the game Thursday night." 
The crash nearly ended the British-born rock star's explosive rise to superstardom in 1976-77, propelled by the success of his "Frampton Comes Alive!" double album, with its trademark synthesized-voice riffs and stream of radio-friendly hits, including "Show Me The Way," "Baby, I Love Your Way" and "Do You Feel Like We Do?"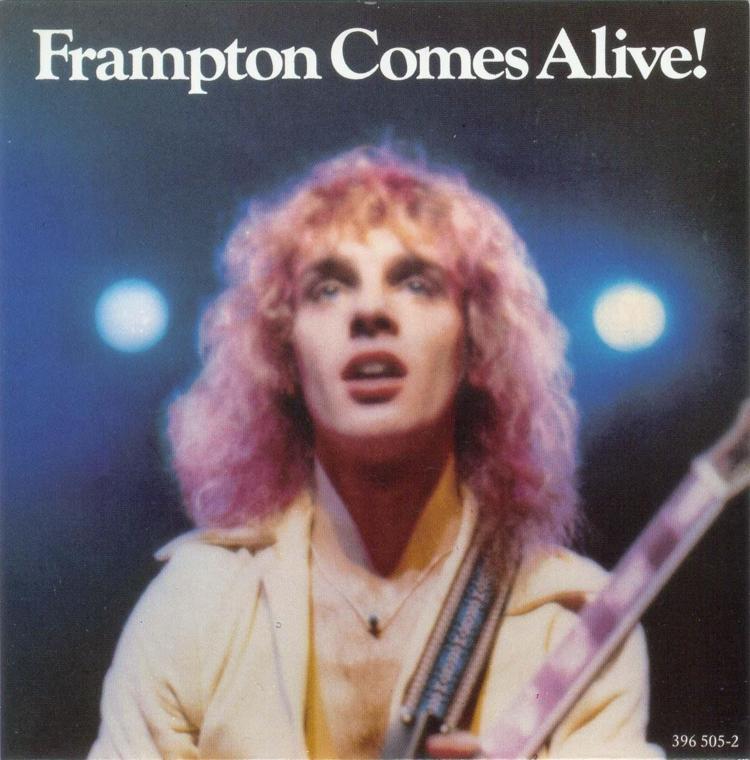 That sudden career spike came nearly 10 years into Frampton's professional career, when he was still only in his mid-20s (he first made his name with Humble Pie, the Brit band he formed with Steve Marriott of Small Faces, when he was all of 18).
At the end of the day, though, the epic arc from teen guitar prodigy to "one of rock's lifelong major players" (Rolling Stone) hasn't changed Peter Frampton the musician.
"I'm still basically doing the same thing," he says, "though I think I've gotten better at it, that I'm a better player, and a wiser performer.
"It's still my passion, and it's never wore off. I enjoy it so much because, you know, I'm good at what I do ... even though there were times when I thought, no, I can't get back up from this. I've been to the top of the ladder, and I've been down to the bottom."
Indeed, we very well may have encountered Frampton on one of those lower rungs in '79, when he was not only in recovery from the accident, but also rebounding from several career missteps, including a much-dissed co-starring role with the Bee Gees in the 1978 movie version of the Beatles' "Sgt. Pepper's Lonely Hearts Club Band."
These days, Frampton divides his concert time between the current acoustic tour, which began a year ago with the release of his "Acoustics Classics" album," and his full-on, plugged-in band, which goes on tour this summer with longtime rock companions, the Steve Miller Band.
At 66, Frampton sees the writing on the wall, especially for the hard-living rock peers of his generation, a big percentage of whom died in 2016, which he calls "an awful, awful year."
Among those taken: his old Bromley Technical School mate David Bowie, whose first band, George & The Dragons, once shared a concert bill with 12-year-old Frampton's first band, The Little Ravens.
Other collaborators now gone ... even long gone: George Harrison, Harry Nilsson, Billy Preston, John Entwhistle, his own longtime band member Bob Mayo, and on and on. 
"Apart from the sadness of losing dear friends, you have to realize that you're still here and just hope you can continue on for them. I'm a pretty healthy guy, so I hope that means I'll being doing it for them a little longer."
On the "Raw" tour, he is sharing the stage with another longtime musical partner, "my dearest, dearest friend," Gordon Kennedy, co-producer of Frampton's Grammy-winning 2006 album, "Fingerprints," and, best of all, his 28-year-old son, Julian.
"This is fantastic, the best thing possible ... he began as a drummer, and I never, ever thought he'd be playing guitar at all. Now he has his own band, and opens for me on this tour. My pride is high."
So is the enthusiasm of dad, still coming alive on stage after all these years for a fan base whose demographics have expanded over the decades, leading him to suspect, "you know, I must have done something right."
If you feel like he does, to paraphrase a classic Frampton anthem, then you're feeling pretty bloody good.
"This is my life, not just a musician's career," he says. "And it's been an amazing career, really. To think that I'm still here doing what I want to do ... talking  to you about it and loving it. It's kind of mind-boggling. Sometimes I have to just pinch myself." 
Follow Dan Craft on Twitter: @pg_dcraft