NORMAL — A stray unicyclist, bouncing stilts walker and a few clowns brought more than a kernel of fun to uptown Normal Saturday, ushering in a new twist on a decades-old festival.
Sweet Corn Circus welcomed the Illinois State University Gamma Phi Circus, the oldest collegiate circus in the nation, to give a full day of performances, big and small, replacing the blues music of years past.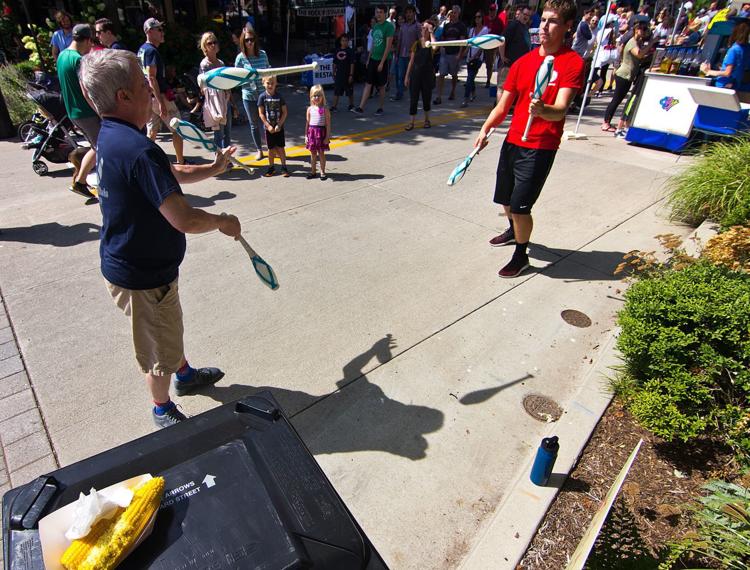 But the original namesake of the festival kept the spotlight, popping up on every corner.
Besides the corn on the cob served fresh all day, several vendors also offered their own corny treats, including cornbread, buttery popcorn, kettle corn, corn rice, corn dogs and elote — or Mexican street corn.
After finishing an ear or two of his own, Russ Hany said the sweet corn was just as good as it was when he first performed with the Gamma Phi Circus in the 1980s.
"That's the best part about this year is the name of the fest," he said. "Now that it's the circus fest, I'm coming every year."
The ISU alumnus said he was glad to meet some of the new performers and even took a turn juggling with the current circus members who were spread throughout uptown demonstrating a variety of skills.
"This is great. The weather is perfect — except if you're a juggler, because it's too windy," he said, adding that the breeze made it a little more exciting.
Fellow ISU circus alumna Bev Collins was glad to see Gamma Phi filling the streets.
You have free articles remaining.
As an "aging gymnast," her college performances included just about everything but juggling: "bars, beam, tumbling, mini tramp vaulting, webs, fire-eating, acro-sports …"
"It's always exciting for Gamma Phi to get out in the community and celebrate our circus tradition in Bloomington-Normal," said Rainie Themer, director of the circus program and a member of CirqueMania, which gave some of the biggest performances Saturday.
Eight-year-old Katie Buttry spent the morning shucking corn to earn an American Heritage Girls badge alongside some Boy Scouts.
But by afternoon she was more interested in the circus performers.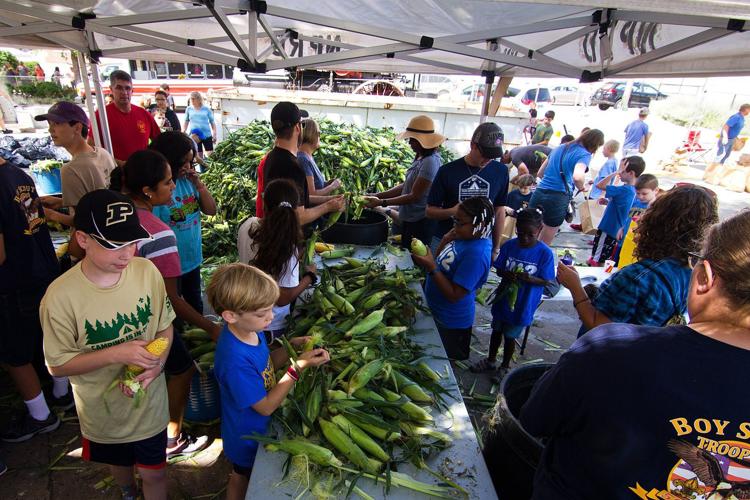 "She likes gymnastics so this is right in her wheelhouse," Katie's mom, Sharon Buttry, said.
With the help of a Gamma Phi member, Katie tried her best to balance on a wobbling rolla bolla board while other kids tip-toed across a tight-rope.
The festival resumes at 11 a.m. Sunday with more sweet corn and sweet circus fun.
---
Photos: Sweet Corn Circus