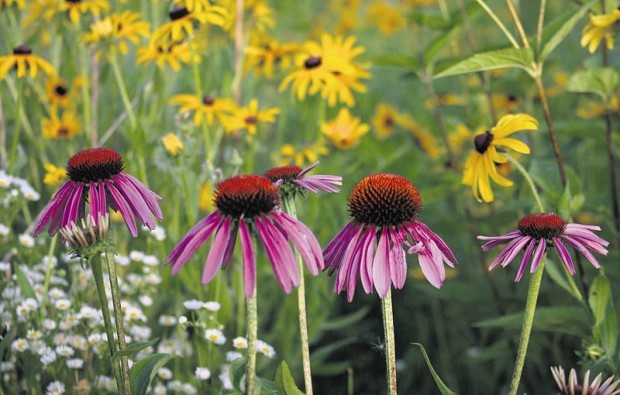 BLOOMINGTON -- Sherrie Snyder doesn't seem so wild at ground level. She once taught high school biology and math. Later, she earned a degree in computer science and went to work at State Farm Insurance Cos. She's now retired.
But dig deeper, and Snyder's wild side appears. She nurtures it on 20 wooded acres on the Mackinaw River where she lives in rural Carlock.
Snyder is president of the newly formed Illinois Prairie chapter of the Wisconsin-based organization Wild Ones. The group encourages people to landscape with wild plants native to an area within a 100-mile radius of the location because they have adapted to the region's climate. Wildlife relies on them, and they need little care because they are used to growing there, Snyder said. They also make beautiful additions to the scenery, she said.
If successful, the result of Wild Ones' work will be a reduction in sterile lawns void of life.
"We are excluding nature from our environment," Snyder said.
Snyder spends hours digging up invasive plant species like honeysuckle rose and planting flowers native to the Illinois prairie. Among others plants, she grows prairie blazing stars, a tall plant with flowers that bloom all the way to the tip.
"It's a beautiful plant and a butterfly magnet. I leave them up at the end of the year. Gold finches will come to pick out the seeds," she said.
She plants wild petunias around the taller prairie blazing stars. She has purple cone flower and the bright orange of butterfly weed with seed pods that attract insects for the birds to munch on. Bluebells and Jack in the Pulpit are early-spring bloomers. She grows Jacob's Ladder, different varieties of trilliums and many other kinds, too. There'll be more when she can find the seeds.
Traditional manicured lawns are often supported by local laws to encourage planting grass even though the environmental and financial costs are high, she said. Wild Ones notes Americans spend $27 billion a year on lawn care. That's 10 times more than is spent on school textbooks, the group says.
The U.S. Environmental Protection agency estimates about 54 million Americans who mow lawns each weekend use 800 million gallons of gasoline per year and produce about 5 percent of the nation's air pollution.
The Union of Concerned Scientists estimates using a standard gas mower for one hour creates as much pollution as driving eight new cars at 55 miles per hour for the same length of time.
EPA statistics show gas mowers contribute up to 5 percent of air pollution in the United States.
Stricter federal emission standards are in store for small gasoline motors, including lawnmowers, over the next two years, according to the EPA.
Farms usually take the majority of blame for the dead zone in the Gulf of Mexico. That's where nitrates cause a cycle of algae blooms and die-offs that sap oxygen from the water and make it impossible for fish and other aquatic creatures to survive. But scientists say lawns in the Midwest are a significant factor as well.
Common landscaping practices use plants that are pest-free. Snyder said that's not good for birds that rely on insects to eat. Add to that the loss of natural habitat as wild areas are cleared to make way for urban sprawl and reasons are clear for serious declines in many bird populations. Native plants offer birds and butterflies food and shelter. In turn, the birds and butterflies pollinate plants and spread seeds.
Landscaping with native plants can undo some of the damage. The Wild One's website quotes Ken Druse, author of "The Natural Habitat Garden," who said "if even a fraction of America's 38 million gardeners turned a quarter of their landscape into a wild garden (only one tenth of an acre each) there would be a measurable impact ... a tremendously positive gain for America's and the world's ecology."
You have free articles remaining.
Craig Tufts, chief naturalist for the National Wildlife Federation and an honorary director of Wild Ones, points out native plants are the ultimate in low maintenance.
They've adapted to extreme local conditions, winter's cold and summer's heat. They don't need to be watered or fertilized once they are established. They are resistant to most pests and diseases.
"It's a lot easier on the homeowner. Put them in the right place and let them go," Snyder said.
Wild Ones defines native plants as ones here before European settlement. They were everywhere then. Ironically, a main problem with starting native plantings is finding the seeds.
"This is the downside," Snyder said.
A couple of retail nursery outlets in Illinois and Wisconsin sell seeds. Some groups such as Sugar Grove Nature Center at Funks Grove and Fell Arboretum host wild-seed sales for fundraisers. Otherwise, Snyder harvests her own from her land and from places where landowners allow.
The other problem is finding people who can provide expertise. Snyder took a step toward solving that when she and her husband, Bill, got tired of driving to Wild One seminars in Rockford and started the Central Illinois chapter. The group sponsored how-to sessions in January and February. The March 14 lineup includes a members-only session at the Illinois State University Greenhouse with Don ("Dean of Green") Schmidt, who will talk about growing native plants from seed. The April 16 meeting will feature a chance to identify and learn about native early spring flowers with a guided walk along the Ewing Bridle Path that skirts the Bloomington-Normal city lines.
---
Wild Ones
What: A group that encourages plantings of native vegetation
When: Most meetings are the second Monday of the month, but check first. Some meetings feature field trips.
Where: Regular meetings are at the auditorium of the University of Illinois Extension-McLean County, 402 N. Hershey Road, Bloomington