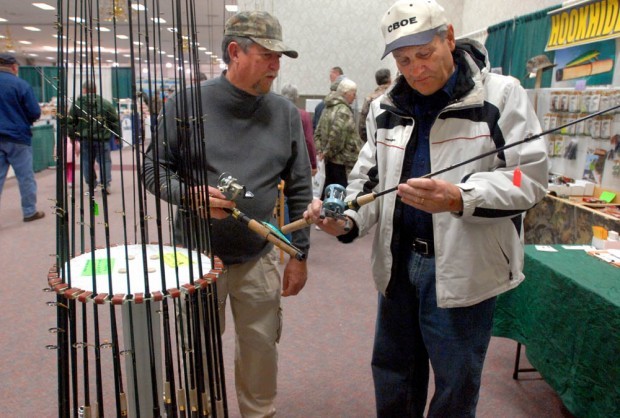 BLOOMINGTON -- While many other outdoor shows are struggling to survive during the hard economic times, the Illinois Fish & Feather Expo is thriving in its seventh year.
As many as 120 vendors -- more booths than ever -- will be the expo Friday through Jan. 31 at the Interstate Center in Bloomington.
"I'm an optimist," said show promoter Larry Andris. "My expectations are never met, but it's been good."
Vendors like the setting, and the audience can find the show easily on Illinois 9 just off Interstate 55/74, he said. Andris expects 5,000 or more to enter the doors.
The number of individual boat dealers, a mainstay of outdoor shows, will be fewer because their sales have slowed during the recession, he admitted. But the number of boats on display will equal previous shows, he said.
What might happen to the expo in years to come is unclear. The recent sale of the main building on the Interstate Center grounds to a farm implement company has the expo and other shows scrambling to decide what to do in 2011. But half of the main building may be available to events for several more years. The expo also may be able to expand to other buildings on the grounds.
"We're taking it year by year," Andris said.
A strong lineup of seminar speakers has been one of the show's main draws for years. This year is no different. Professional bass angler Mark Davis will headline. He's the only fisherman to win BassMaster Angler of the Year and BassMaster Classic Title in the same year, 1995. He also won BASS Angler of the Year in 1998 and 2001. In his 23rd year as a pro angler, Davis currently competes in the BASS Elite Series.
A knowledgeable lineup of area fishing experts fills out the schedule:
• Jerry Martoglio of Bloomington is owner of the multi-species DreamCatcher Guide Service, but his personal favorite fish is the largemouth bass. He was the 2008 Illinois Bass Federation Angler of the Year, the 2008 Ever-Bloom Tournament Trail Classic Winner and the 1999 Illinois Wrangler Angler.
• Steve Welch of Monticello guides principally for crappie and white bass on Lake Shelbyville and crappies at Clinton Lake. He also finds walleyes and muskies for his clients. He's won numerous crappie tournaments and was a 2005 semi-pro Crappie U.S.A. Classic Qualifier. A member of the Ranger Boats pro staff since 1991, he writes for several outdoor publications and appears on television. His Web site is www.lakeshelbyvilleguide.com.
• Jim Crowley has fished in the Caribbean, the Atlantic, the Pacific and throughout the Midwest, and Canada. As an outdoor writer and photojournalist, his pictures were featured in the 2006 and 2007 Manitoba Travel and Adventure guide where he holds six Manitoba Master Angler awards for Northern Pike and another for channel catfish. He also is an avid pheasant hunter and waterfowl hunter. He guides on local waters.
You have free articles remaining.
• Paul Welch, who operates Angling Adventures guide service on lakes near Bloomington-Normal and builds custom rods, will talk about fishing opportunities in Central Illinois and the Midwest.
• Ken Freeman of Selmer, Tenn., is president and CEO of Ken Freeman Outdoor Promotions. Considered among top catfish tournament fishermen in the United States, his company specializes in organizing and promoting catfish events. He owns Bad to the Bone Lead, Lures, & Plastics, the National Catfish Derby World Championship of Catfishing and The National Catfish Derby Foundation.
The Expo also will feature Casting Kids competitions, a three-day fish fry to sample shore lunch in the middle of winter, an indoor archery booth, a large fish tank with largemouth bass and catfish and door prizes every two hours.
The grand prize is a trip to Latreille Lake Fly-in Fishing Lodge in Northwest Ontario.
Andris prides himself on maintaining a positive family atmosphere.
"It helps with cabin fever, it gives some deals for baits, for merchandise, and you can bring your family. It's a fun time not only for dad, but he can bring mom and he can bring the kids," he said.
---
If you go
What: Illinois Fish & Feather Expo
When: Noon-7 p.m. Friday, 9 a.m.-7 p.m. Saturday, 10 a.m.-4 p.m. Jan. 31
Where: Interstate Center, Illinois 9 West, Bloomington
Cost: Adults, $7; kids ages 6-12, $3, kids 5 and under, free