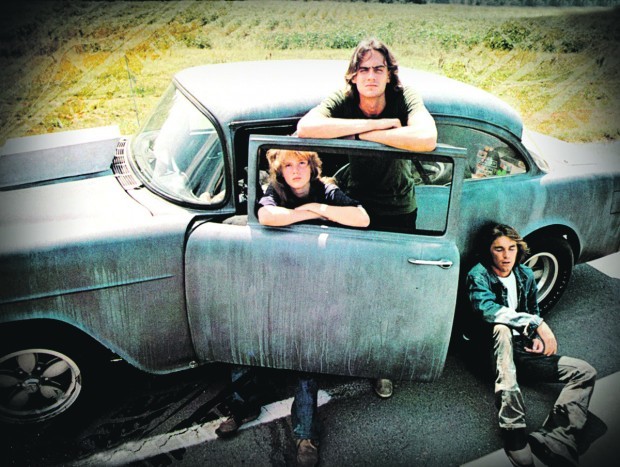 A cult movie produced more than 40 years ago by a Twin Cities native is now a permanent component of the Library of Congress' prestigious National Film Registry.
"Two Lane Blacktop," released in 1971, was one of 25 titles added last week for 2012. Its producer, Michael S. Laughlin, grew up in Bloomington, attended University High School and maintains ties to the area.
The film, a box office flop in '71, is now widely considered one of the defining American films of its era. It follows the odyssey of two young motorists, known only as The Driver and The Mechanic, played by pop singers James Taylor and Dennis Wilson in their only starring roles.
The pair cruises the American South in their customized '55 Chevy, eking out a living by challenging other drivers to drag races. Along the way, they pick up a vagrant hippie, The Girl (first-time actress Laurie Bird), and cross paths with GTO (Warren Oates), a fellow highway wanderer who bets them he can make it to Washington, D.C., first.
The male characters exist solely within the context of their cars, leading to director Monte Hellman's stylish abstraction of what is, essentially, a movie about illegal drag racing, into a mythic meditation on the quest for authenticity, both internal and external.
When the film was shot, Laughlin, then 30, was already a veteran of several acclaimed films, including "The Whisperers" (1967), which earned a Best Actress Oscar nomination for its star, Dame Edith Evans, and "Joanna" (1968), one of the key "swinging London" movies of the period.
He married Oscar-winning actress Leslie ("Gigi") Caron in 1968 (the union ended a decade later).
In a Pantagraph interview, Laughlin described the film as "definitely something mythic … and we were definitely trying to capture the mood that existed at the beginning of the sort of 'lost generation' of that era."
Having moved to Southern California to go to college, he said he "knew the car culture in L.A., and knew about street racing … it was just an absolute wonderful concept, a terrific idea of a movie. I liked the idea of going across the United States, of beginning shooting in L.A., then moving daily across the country, taking the actors along."
Laughlin, who now lives in Hawaii, grew up on Bloomington's East Washington Street, where his parents, the late Donald and Hazel Laughlin moved in the early 1950s.
At U-High, he became a basketball star and tennis player, and he nurtured his movie passions at local bijous. "I saw lots and lots of films at the Normal, the Castle and the Irvin," he recalled.
Two films that Laughlin directed in the early '80s, "Strange Behavior" and "Strange Invaders," have fictional small-town Midwest settings inspired by his Twin Cities roots.
But of all the accomplishments of his 45-year career, "Two Lane Blacktop" remains at the very peak, he said. "It is the film I'm most proud of — absolutely."
Stay up-to-date on what's happening
Receive the latest in local entertainment news in your inbox weekly!