COMING TO THE CASTLE THEATRE
For I'm With Her, 3 into 1 equals something special
Watkins, Jarosz and O'Donovan perfect match for star trio
When I'm With Her first came together nearly four years ago at the drop of a spontaneous jam session ... who knew?
Out of the blue, an all-star trio was hatched.
Virtually on the spot, in perfect synch.
Never mind that each of the three participants was doing just fine on her own, thanks.
Specifically: singer-fiddler Sara Watkins, as founding member of progressive bluegrass trio Nickle Creek and packing a solo side career of her own; mandolin-playing singer-songwriter Sarah Jarosz, as a twice-Grammy-winning solo performer; and singer-guitarist Aoife (pronounced "ee-fa") O'Donovan, as an esteemed solo performer and co-founder of cult folk-bluegrass quintet Crooked Still.
Between them, they'd already amassed 15 Grammy nominations and five wins.
The trio, which is making its downstate Illinois debut at 8 p.m. Saturday in Bloomington's Castle Theatre, sees no end sight.
That, according to O'Donovan, who's in the the thick of a hectic week of performances and press commitments in New York City.
"Oh ... I almost got hit by a cab there," she notes, en route by foot to her must-have morning coffee fix as she squeezes in another interview between packing her husband off to work and her child off to school.
"It's definitely been a crazy couple days ... just nuts," she adds.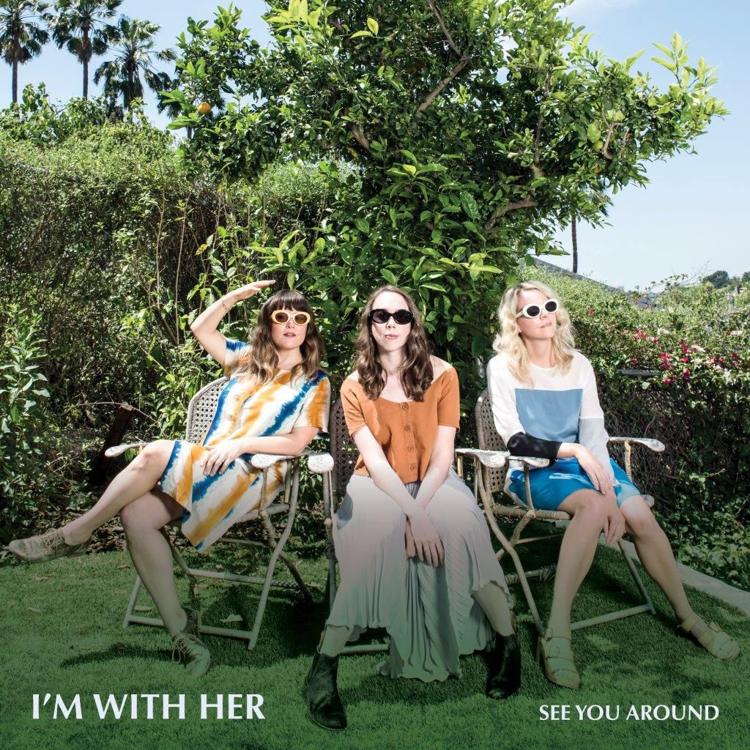 It's a circumstance seriously ramped up by the long-awaited release a week earlier of I'm With Her's debut album, "See You Around," preceded by its lead single, "Game to Lose."  
As the story goes, the three musically like-minded women crossed paths in June 2014 at the famed Telluride Bluegrass Festival in Telluride, Colo.
Not as strangers, though.
"We were all friends after having played with one or the other in various casual situations over the years ... but never as trio, until Telluride," says O'Donovan, 35.
The time, she says, was a somewhat ungodly 1 a.m.; the place, Telluride's Sheridan Opera House; the occasion, a very late-night jam session.
At the urging of some friends, the women agreed to match their voices and instrumental skills in an impromptu performance, which was preceded by rushed rehearsal in a nearby bathroom ... the only available enclosed space outside of public earshot.
"It started as one of those experiences where you get on stage thinking you're just doing this for the fun of it," O'Donovan says.
But what she calls "the feeling of the moment" was instantaneous and intoxicating.
"We essentially got off stage and looked at each other ... but no one wanted to be the first to specifically say what had just happened up there. I think we were all a little bit scared."
But in a good, potentially career-altering way.
Eventually one of the three asked, "Did you have as much fun as I just had?"
Or maybe it was all three, in unison.
Whatever, "the next morning, we texted each other about the sense of excitement," and the pact was sealed for continuing the excitement beyond the confines of a late-night Telluride jam session.
The instantaneous magic conjured there has been variously described as "one instrument, sharing every breath" (New York Times) to "delicately plucked acoustic guitars and loneliness-quelling harmonies" (Rolling Stone) to a "result far greater than the sum of its already impressive parts" (American Songwriter)."
"The three of us have been so lucky that we've had the same management team from the beginning," adds O"Donovan, the Newton, Mass. native, who attended the New England Conservatory of Music, where she met the fellow musicians who would form the band Crooked Still in 2001.
"What is so cool is that three of us, each of whom had our own careers going, asked 'can we figure out if we have the time to do this?' ... and then actually find the time to do it."
In a way, it was almost a logistical miracle.
In the early going, to produce 90 minutes' worth of concert material, "we came up with cover versions of our favorite songs," which was followed by the trio's first tour, in the United Kingdom.
"Everything kind of happened in short little spurts," she says of I'm With Her's early going, finding its way as threesome designed to be perfectly and intricately synchronized as one, with no room, or desire, for showy star turns.
Within a year, "we were off and running as a band with a name, and realizing how much fun it was to be in this band."
From cover songs, the group progressed to writing its own material, which has been showcased, in spades, on the new album, the title song of which was the trio's first stab at an original collaboration, almost three years ago.
"I think our dynamic can best be described as being able to kind of come together, with each of us naturally falling into our roles," says O'Donovan.
"I was much more used to being the front person, leading what's happening. But I'm With Her is such a unified band that there isn't a leader ... it doesn't need one, because we share so much now. And I love that the songs feel like ours, as opposed to mine."