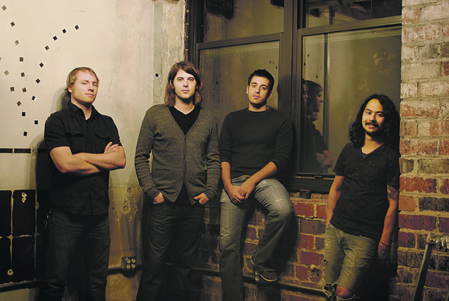 BLOOMINGTON — It's free-association time, so clear the boards.
If we utter the name "Hubbard," what comes to mind (other than Old Mother or cupboard)?
Until around a decade ago, Twin Citians with more than a passing interest in local events likely would have immediately responded, "hoops!"
And with good reason: the full-court Hubbard dynasty, out of University High School, was pervasive, led by long-term varsity coach Cal Hubbard and followed by a flock of other Hubbards (brother Selby as assistant coach; player-sons Neal, Nathan and Seth; player-nephew D.J.; etc.).
That was then; this is now.
Utter "Hubbard" and the odds are good that the young upstart Hubbard, name of Dan, might come to mind — as in Dan Hubbard & The Humadors, the Twin City-based rock quartet that has worked its way to the top of the local music scene over the past decade.
The proof is in the booking: Not every local band gets to headline shows at the Castle Theatre in Bloomington, as they will for a record sixth time Saturday night, performing that local-band rarity — all original material, cast in the rock-sold tradition of Tom Petty, Neil Young and Jackson Browne — all Hubbard heroes.
To his credit, Dan didn't completely forsake his heritage: he gave it the old college try. Literally.
"Deep down, I think my father (Selby Hubbard) wanted me to be a basketball player," confesses Dan, which led him, post U High, to Illinois State University to "play for Coach (Tom) Richardson, and my parents (including mom Debbie) were very proud."
"I quit the team a couple weeks in 'cause I knew it wasn't for me anymore, and wanted to work on music," Dan continues. "They were pretty sad, as you might imagine."
Flash-forward a couple years later.
Mom and dad made the trek Chicago-way to see what their hoop-dreams-forsaking son was up to. It was, recalls Dan, "one of my shows which went very well."
Afterward, "I walked over to my father, and he said, 'Dan, you were a great basketball player, but this is what you were born to do.' Wow … and nothing but unflinching support ever since."
Dan wasn't the only Hubbard to hear the siren call of music — his older brother D.J., a star player on U High's 1995 state champion team, felt the muse and responded.
"He went away to college when I was in sixth grade, and then started writing songs," recalls Dan. "I thought he was a great songwriter and this is what he should do with his life."
But in the end, "it was something he didn't really believe he could continue with as a career."
Even so, the seed of inspiration was planted in his younger brother's soul.
Something even more profound occurred when his youngest brother, Erik, passed away from brain cancer at only 9 years old.
"That opened my eyes to the way life is, how fragile it is, how short," Dan says. "That made me want to spend my life doing something that I loved."
It's not that he didn't love basketball, too, in its own way: He played it in high school.
But the passions were inspired by music, sending Dan down the local bar path at age 19, alongside big bro' D.J. and, for a time, cousin Seth.
The Hubbards' coming-out venue was downtown Bloomington's late, lamented Lizards Lounge.
"Oh, man, we were rough! We just didn't have a lot of musical knowledge — we were playing songs loud and singing them loud. We didn't know what we were doing."
Still, the group found itself being strangely supported, by both the venue and the patrons.
And Dan's songwriter instincts were getting the better of him, as he found his voice.
"Some of the first songs I wrote were about Eric, who I lost and who was always a source of inspiration early on. Then came the typical stuff about being in high school relationships, then on the typical college love songs and that stuff."
The Hubbards got Dan through his ISU years, but around 2006 that was coming to an end, with his politics and government major not exactly beckoning ("that came about because I needed to tell my parents I had a backup plan, and that seemed the quickest way for me to get through college").
Meanwhile, brother D.J. landed a job at State Farm and was starting a family, so Dan stepped out as a solo artist for a year or so, then, around 2008, as the founder of a bona fide band.
In the Humadors' four short years, there have been almost as many incarnations, but the current one — with drummer Kevin Yarger, lead guitarist Kyle Yap and bass player Stephen Tassio — is the one everyone seems certain is built to last.
A pair of albums has borne out Hubbard's songwriting gifts — 2008's self-titled debut and 2010's "The Love Show."
Equally important for them has been their home port, so to speak: the Castle Theatre, where, as noted, the band has played six shows, counting Saturday's headliner, with openers The August and Marc Boon & Friends.
The Humadors were the first band to set foot on the stage, on opening night, Sept. 26, 2010, preceding headliner Jack Ingram onstage.
"The Castle looks forward to each Dan Hubbard & The Humadors show," says owner and general manager Rory O'Connor. "The energy and vibe when Dan and the guys are onstage is equivalent to most national touring shows."
And it's back at ya from the Humadors.
"It's so great that a venue like this exists in this town, and that it has allowed us to perform, and it's not a bar where we have to play at 10 or 11 p.m. and don't get home until 2 a.m.," says Yarger. "This is a true performance venue, and it's still kind of a rush to get up on the stage."
"The Castle is just something unique — a great place in and of it self," adds Yap. "Rory has put his heart and soul in it, and turned it into the premier venue around here, with all the right vibes and touches."
"For us, it's a very good cornerstone here," says newest member Tassio, who hails from Chicago's music scene. "To have that, and the base of fans who come out and see us allows us to connect on a big level."
But the venues and the fans can only come after the band has arrived, and the band, all agree, has indeed crossed the line.
"This IS the band I've always wanted," says Dan. "A supremely talented group who, at the core, are friends first, which is also something I've always wanted: not just to be in a band, but also to want to be together."
---------------------------------------------------------------------------
Though Dan Hubbard has been successful in moving the family name slightly to the sidelines of the basketball court, where its legend was forged, he also knows that you can run but you can't hide. Here's the Hubbard family tree — or at least that part of it that branches out over the University High gym floor in Normal:
Cal Hubbard: Legendary varsity coach at U High, logging 35 years as head man, and Dan's uncle; retired.
Selby Hubbard: Cal's younger brother, former U High player and Dan's dad; worked alongside Cal as assistant coach; retired.
D.J. Hubbard: Dan's eldest brother, graduating in 1995 after winning the state championship; musically inclined, too, he was a member of The Hubbards.
Neal Hubbard: Cal's eldest son and Dan's cousin, from the class of 1992, which placed second in the state basketball tourney
Nathan Hubbard: Cal's middle son and Dan's cousin, from the class of 1995, meaning he played alongside Dan's bro' D.J. on the state championship team from 1995.
Seth Hubbard: Cal's youngest son and Dan's cousin, circa the Class of 1999. Says Dan, "He had a great career and he and I played together for two years, going to state both times; Seth was also a big part of getting me into playing music in high school"; also a member of The Hubbards.
--------------------------------------------------------------------------------------
What: Dan Hubbard & The Humadors with The August and Marc Boon & Friends
Where: Castle Theatre, 209 E. Washington St., Bloomington
-----------------------------------------------------------------------------------------
Comprising Dan Hubbard's Humadors are three seasoned performers. They are:
Kevin Yarger (drums, percussion): The longest-running member of the current lineup, Yarger is a Twin Cities native who graduated from Normal Community High School in 2001, then spent his higher education years at Millikin University in Decatur. He returned home to B-N to raise money giving drum lessons "so I could move out West." A call from Hubbard in the winter of 2008 changed that itinerary.
Kyle Yap (lead guitar, vocals): Another born-and-raised-here member, Yap grew up with a musical dad, whose passions quickly rubbed off on the lad. Serious music education during his Central Catholic High School years followed, particularly via the CCHS Jazz Band. Following his 2006 graduation, Yap landed with several bands, including Pekin's Shade Tree, which toured the southeast and gave him his taste for the nomadic end of the musical life. Next came Kyle Yap, solo singer-songwriter, followed by his passage into the Humadors in 2010.
Stephen Tassio (bass): The closest thing to an "outsider" among Humadors, newest band member (nine months and counting) Tassio hails from Chicago and likes his gig enough to stop with the commuting already and move here (which he did less than a month ago). A veteran of Chicago's blues-funk scene, he's already been credited with helping the Humadors find their groove thang.
Stay up-to-date on what's happening
Receive the latest in local entertainment news in your inbox weekly!