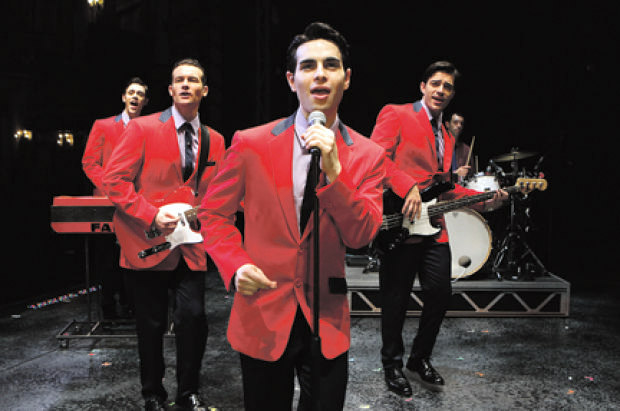 PEORIA — Some kids go to summer camp. Some go to band camp. Some of that sum might even segue a few years later to the rigors of boot camp.
But rare is the inductee into one of the more specialized training grounds on the planet.
It is known among its elite corps of graduates as Frankie Camp.
Or do you prefer Valli Forge?
Whichever, whatever, Brian Weinstock has been there … done that … become that.
Taking the lead as one of 20th-century pop's most iconic vocalists, Weinstock is helping ensure that the national tour of "Jersey Boys" walks like a man.
No, make that walks like The Man.
And he has the Frankie Camp badge to prove it: It'll be Weinstock stretching his vocal cords to the snapping point as Frankie Valli, falsetto-prone lead singer of the boys from Jersey, the Four Seasons.
Typecasting lives — Weinstock is a Jersey boy himself.
And you know what? It works.
One of those Broadway juggernauts that seems as if it's taken forever to find the road to Central Illinois, "Jersey Boys" finally makes its downstate debut, kicking off a two-week stand Wednesday in the Peoria Civic Center Theater.
The show became a Tony-winning critical success and box office hit through its transcendence of the standard "jukebox musical" format, charting the gritty rise and fall of the quartet, from their street origins to Frankie's later renaissance as a solo singer.
Think: "Mean Streets" meets "American Bandstand."
Or, as the leading man puts it: "The really interesting, fascinating, tumultuous, not-all-the-time-flattering story behind the songs, involving the mob, gambling debts and Joe Pesci" (more about which shortly).
Weinstock, still several years shy of 30, was born long after the Four Seasons' '60s heyday had passed.
Heck, he was born after their second heyday, the disco '70s, had become oldies history.
"The first time I ever heard their music was by way of Lauryn Hill's cover of 'Can't Take My Eyes Off of You'," admits
Weinstock, a native of Upper Saddle River "in the top corner of the state."
He continues: "I was in middle school. I had no idea where it came from."
The year was 1998, when the remake hit the charts with modest (No. 35) success.
"My generation and younger may think they don't know these songs," he continues, "but when they hear them, they go, 'ohhh, THAT song ... ' These are songs that really do stand the test of time, and I'm sure the music is going to be around for a long time to come."
By the time Weinstock found himself in Frankie Camp more than 18 months ago, he'd already landed the role of Bok (aka the Tin Man) in the national tour of "Wicked" during his senior year at Northwestern University in Evanston.
But playing a Tin Man is one thing; a Jersey Boy is quite another.
Weinstock describes Frankie Camp is "a three-day intensive workout, with one day devoted to singing and one to acting."
On the Third Day, everything comes together.
"It's very weird," observes Weinstock. "You walk in and there are 10 Frankies in the room. Everyone's 5-foot-8, dark and Italian. It's surreal … like something out of a 'Twilight Zone' episode."
Interestingly, it wasn't the namesake of Frankie Camp that inducted Weinstock to the "Jersey Boys" world; it was a supporting character in the show, name of Joe Pesci.
Yes, THE Joe Pesci, another short, dark, Italian type, whose history includes the heretofore unknown life chapter in which he was a key element in the creation of the Four Seasons.
According to Weinstock, Pesci was playing in a jazz combo with Seasons founder Bob Gaudio and "helping (fellow Seasons founder) Tommy DeVito set pins at a bowling alley."
Long story short: Pesci introduced Gaudio to DeVito, setting the Four Seasons ball rolling.
"Joe is definitely like a younger version of Frankie, with the addition of all the energy he's famous for today," Weinstock says of the role he played during the Las Vegas stand of "Jersey Boys." "Bob says he could have become one of the greatest guitar players of all time."
After his Vegas stint doing Pesci, Weinstock was promoted to full Valli status and has been walking like the Man ever since, with his vocal cords subjected for the past 18 months to the rigors of "Rag Doll," "Sherry," "Big Girls Don't Cry" and all the other upper-register wonders.
Though one original member is deceased and another in his 80s, founding fathers Valli and Gaudio "have been very hands-on from Day One of the 'Jersey Boys'," says Weinstock.
"The challenge is to keep this from becoming an Elvis impersonation act," he adds. "You have to bring yourself to the role of Frankie. The voice comes after that."
Speaking of which, just to make sure he can produce it night in and night, he maintains a strict schedule of weekly voice lessons, via Skype-abetted sessions with a teacher, even as he's deep into the tour's second year.
The real cord-killer, he confesses, is "Working My Way Back to You," which climbs to the "very heights" and can get "rocky" per its placement at the show's end.
"That's a tough one," admits this battle-scarred survivor of Frankie Camp.
"You have to tread very carefully with that song. With all the songs, in fact: no drinking … no going to smoky bars … playing Frankie Valli is a 24-hour job — a lifestyle, actually."
---------------------------------------------------
What: National tour of "Jersey Boys"
When: 7:30 p.m. Wednesday and Feb. 13, 14, 16, 18, 19, 20, 21; 8 p.m. Feb. 15, 16, 22, 23; 2 p.m. Feb. 16, 21 and 23; 1:30 p.m. Feb. 17; 7 p.m. Feb. 17
Where: Peoria Civic Center Theater, Peoria
----------------------------------------------------
The history of the complete Four Seasons trajectory would take more than one Broadway musical to chart. According to the band's Wikipedia entry, the Seasons membership has involved close to 40 individuals over 50 years. In keeping with the '60s timeframe of "Jersey Boys," the quartet's "classic lineup" is all that matters in terms of the forging of an iconic pop sound. Here are the fates of that membership:
Frankie Valli, 78: Born Francesco Stephen Castelluccio in Newark, N.J., the famed front man with the one-of-a-kind falsetto has had the career built to last, first with the band, then as a successful solo artist with two of the biggest pop hits of the '70s on his resume, 1975's "My Eyes Adored You" and 1978's "Grease." As he approaches the big 8-0, he remains active, having recently completed a weeklong concert engagement on Broadway.
Bob Gaudio, 70: Though born in the Bronx, he was reared Bergenfield, N.J., and became a teen member of early boy band Royal Teens. The keyboardist and songwriting genius behind the Four Seasons crossed paths with Valli during an audition in 1958. Assisted by lyricist Bob Crewe, Gaudio's name is on all the quartet's iconic hits, from 1962's "Sherry" onward. Also a producer/songwriter for countless other performers, from Roberta Flack to Neil Diamond to Barbra Streisand.
Tommy DeVito, 84: Born in Belleville, N.J., the Seasons' lead guitarist was a 10-year music vet by the time he joined the fellow Jersey Boys. Part of his '50s tenure was in the Four Lovers, the quartet also featuring Valli that would evolve into the Four Seasons. He retired at the end of the group's first flush of success, in 1970.
Nick Massi, died at 65 in 2000: Born in Newark, N.J., bass player Massi is the lone original member of the Four Seasons who didn't live long enough to see his career turned into a theater triumph — "Jersey Boys" opened five years after his death. He was also the first Seasons member to call it quits, at the very peak of their fame in 1965.
Stay up-to-date on what's happening
Receive the latest in local entertainment news in your inbox weekly!