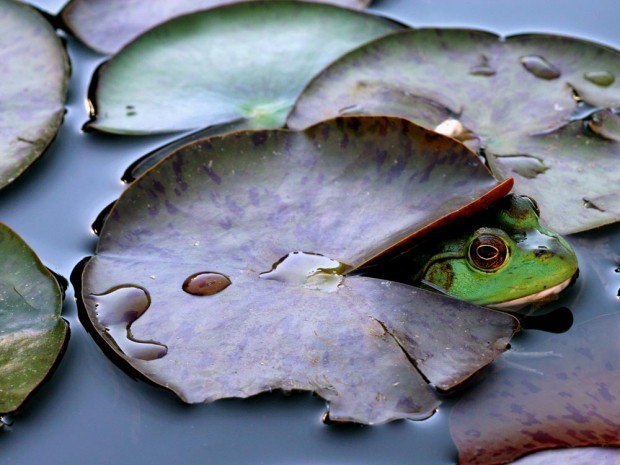 BLOOMINGTON -- Daniel Eidsmoe won a scholarship in high school to attend a two-year college to study photography.
His pictures of rock bands like Cheap Trick and the Doobie Brothers won acclaim after he snuck a camera into concerts. He took shots at basketball games, volleyball games and track meets.
But his mom had other plans. She insisted he go to a four-year college. After all, she knew he had a problem that might make a photography career a challenge, to say the least.
Eidsmoe eventually earned a journalism degree and attended law school. Today, at 47, he is a senior attorney at Bloomington-based Country Financial in charge of insurance fraud litigation.
But a successful legal career hasn't dimmed Eidsmoe's first love. He started taking pictures again about 13 years ago to chronicle the life of his son, Spencer. He continued after the birth of his daughter, Sierra, 11.
"When I retire, my dream is to be sports photographer at a small newspaper in Florida," he said with a laugh. "I do know I don't want to be a lawyer all my life. My passion has been to be a photographer. When I lay down at night, I'm thinking about photography."
In his off time, Eidsmoe is an official photographer for the Association of Volleyball Professionals, the athletes who play beach volleyball. But his favorite subjects have nothing to do with bikini-clad volleyball players. He likes to snap images of creatures and plants that make up nature's immense color palette. An exhibit of his work is on display at Advocate BroMenn Regional Medical Center through June. A book of about 200 nature photos he published last year recently sold out.
"I always had a passion for the micro subjects, very small, the flowers, insects, animals, ice cycles, very unmanly stuff," he quipped.
His only issue is the problem his mom knew about when she insisted he go to college instead of studying photography.
He's known it since the kindergarten teacher wanted to hold him back a year for not learning his colors. Sometimes, his skies were green, his grass was blue. The problem was his mom bought a brand of crayons that didn't have the name of each color written on the label.
Eidsmoe's world isn't all gray. He sees some basic colors. But shades often are impossible to discern. Green and blue appear black if the light is wrong. Some colors are nonexistent. He laughs when he tells the story of an editor phoning to buy a picture of pink tulips for the cover of a travel magazine. Eidsmoe had to ask a friend to look through hundreds of images of tulips until she found the right one.
"Someone will say, 'The pink was amazing.' I didn't even know," he said.
But Eidsmoe doesn't see color blindness as a handicap. He's aware his audience often focuses on color more than any other aspect of his work. But from his perspective, not seeing colors lets him concentrate on other features. For example, he can bring a flower into sharp focus and adjust the depth of field to make that particular flower stand out from all the rest in the frame. He leaves color editing to others.
"For me, I don't even think about colors. I think about the composition. Beethoven was deaf. I'm not Beethoven by any stretch, but when you have a disability in one area you tend to overcompensate," he said.
Photo composition has evolved into an obsession, in fact. When he goes to the cinema, he misses dialogue and action because he is studying the way the director chose to shoot a scene.
"The words go by me. I don't think I'm a fun person to go to movies with," he joked.
Eidsmoe finds subjects everywhere. He loves visiting botanical gardens. Some of his pictures are taken on trips away from home. About half of his nature portfolio is from Central Illinois.
"I'm still trying to get the perfect Starved Rock picture. I'll get it," he said.
Eidsmoe's photos also have another ingredient that makes them special. Each one captures a memory as well as an image. He remembers one day taking pictures near a pond when he saw a little girl tugging on her mother's hand and pointing to something in the water. Mom continued to talk on her cell phone. Eidsmoe went to see what the girl saw, leading to his favorite picture to date -- a frog half-concealed by a lily pad waiting for an unwary insect to pass by.
Color was not an issue when he snapped another shot, a mountain scene on a gravel road he discovered on a trip out west. He took it in black and white. He calls it his Dan-sel Adams look.
Stay up-to-date on what's happening
Receive the latest in local entertainment news in your inbox weekly!