CELEBRATE HALLOWEEN
Scaring up a good time this weekend
Haunted houses, trick-or-treat, scary movies and more on tap
With a certain pagan holiday landing on boring old Tuesday this year, most of the big scare action will be preceding over the course of the weekend.
Following are some of the horrific highlights around Pantagraphland for Halloween '17:
Twin City terrors
The main attraction for fresh-air horror within Twin Cities limits is the long-running Haunted Trail, 6:30-9 p.m. Friday and Saturday in Normal, on a quarter-mile stretch of Constitution Trail between Vernon Avenue and the Normal Parks & Recreation office. (This is the "scary version" weekend, with intense light/sound effects and creatures.)
Also back this Halloween is the zombie-riddled Mindtrap Mayhem at Urban Warfare, 10424 E. 1400 North Road, Bloomington, where the big attraction is taking out the walking dead with paintball guns. Hours are 6-10 p.m. Friday through Tuesday.
Frightful fetes
Among kid-friendly happenings are the Normal Public Library's After Hours Halloween Party, 5:30-8 p.m. Friday, with scary games, costume contest, scavenger hunt and more; the Children's Discovery Museum's annual Halloween Hoopla, from 6-8 p.m. Friday, with trick-or-treating, costumes and more; and Miller Park Zoo's Zoo Spooktacular, from 5-8 p.m. Saturday and noon to 3 p.m. Sunday, with costume parade, treats and creepy animal encounters.
Door-to-door
The two big Twin Cities trick/treat parties for kids are the Uptown Normal Treat Fest, from 5-6:30 p.m. Monday at participating merchants; and downtown Bloomington's counterpart, from 5-7 p.m. Friday, also at participating merchants.
Away from the hubbub of downtown/uptown, there's Ewing Manor's Trick-or-Treat at the Manor from 4-6 p.m. Tuesday, complete with costumed volunteers and free goodies; and Trick-or-Treat at the Mansion from 4-7 p.m. Tuesday at the David Davis Mansion, where treats and photo ops on the mansion steps will be offered.
Murderous music
Events with music not to sooth the savage beast in you include the annual IWU Jazz Ensemble Halloween Concert at 7:30 p.m. Friday in Westbrook Auditorium on campus.
Since director Glenn Wilson and his musicians will be dressed in costumes, it only stands to reason that you should follow suit, especially since there's a costume contest at intermission, with prizes.
Perilous patches
Pumpkin farms gone wild this weekend include the Rader Family Pumpkin Farm in Normal, with a 10-acre corn maze and more from 9 a.m. to 6 p.m. Thursday and Friday, and 10 a.m. to 6 p.m. Saturday and Sunday; and Gail's Pumpkin Patch near Beason, with more of the same, from noon to 5:30 p.m. Thursday, Friday, Monday and Tuesday, and 10 a.m. to 5:30 p.m. Saturday and Sunday.
Sinister cinema
Halloween-friendly first-run movies at a cinema near you include the big new seasonal arrival this weekend, "Jigsaw," an attempt to revive the "Saw" franchise with an eighth torture-porn party.
Continuing their runs at area bijous: "Happy Death Day," "The Snowman," "Boo 2: A Madea Halloween" and "Victoria and Abdul" (OK, kidding about the last one ... we think).
Meanwhile, the Normal Theater is playing host to ISU's Theatre of Ted having its annual way with "Rocky Horror Picture Show," at 7 and 10 p.m. Friday and Saturday. (See the Short Takes column on D2 for more details.)
The Normal also has a couple seasonal classics up its sleeve: Mel Brooks' 1974 career-best, "Young Frankenstein," with Gene Wilder & Co., at 7 p.m. Thursday; and one of the movies that inspired it, and every bit as witty, James Whale's 1935 masterpiece, "Bride of Frankenstein," with Boris Karloff and Elsa Lanchester, screening at 7 p.m. Halloween night.
Last, but not least, Champaign's historic Virginia Theater is showing another horror milestone: Alfred Hitchcock's original 1960 "Psycho," with Anthony Perkins and Janet Leigh, at 7 p.m. Friday. 
Going to howl
The Downtown Bloomington Farmers Market bids the open-air season adieu with its annual Halloween weekend edition, Howl at the Market,  from 7:30 a.m. to noon Saturday, and certain to be well-stocked with tricks, treats and more.
Outer limits
Among the big attractions lurking outside Twin Cities limits are Clinton's popular Terror on Washington Street, 7-11 p.m. Friday and Saturday at 513 W. Washington St.; Downs' Fright Fest, 6:30-10:30 p.m. Friday and Saturday, with haunted house (Franklin and Water streets), hayrack rides and Dooley Park doings; Bartonville's Haunted Infirmary at Bartonville Insane Asylum, 7 p.m. to 1 a.m. Friday and Saturday; Chillicothe's Spider Hill, 6-11 p.m. Friday and Saturday at Three Sisters Park; and Dunlap's Wildlife Prairie Park, which mutates into the Wildlife Scary Park from 5-10 p.m. Friday, 2-10 p.m. Saturday and 2-8 p.m. Sunday.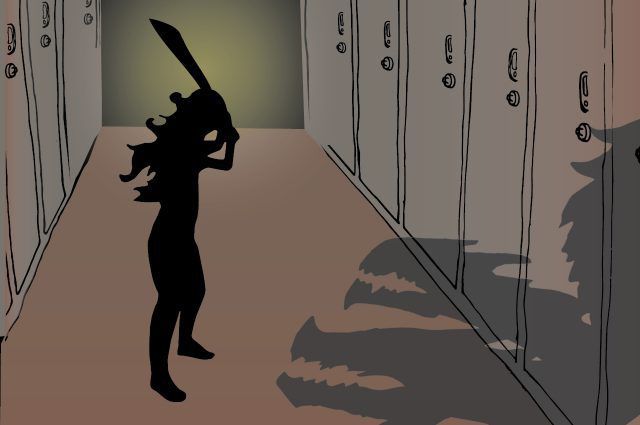 Stage frights
Though ShakesFear has been put on hiatus this year, the Illinois State University Theater Department, still has a treat up its sleeve, with its production of the F/X-filled fantasy, "She Kills Monsters," opening a week's run at 7:30 p.m. Friday in the Center for the Performing Arts (see story on D1).