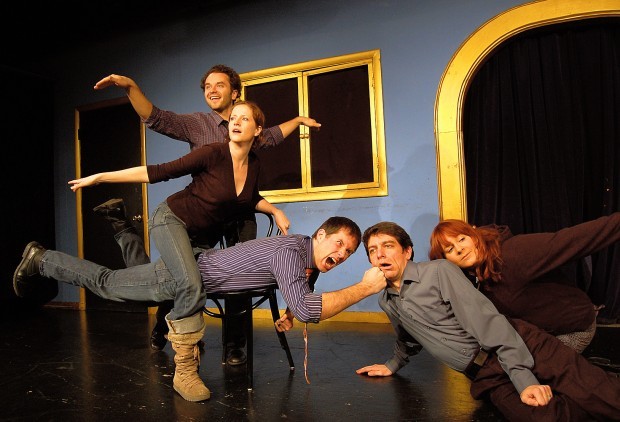 Imagine that Rodgers and Hammerstein had been born in Chicago. Say they determined they were more funny than musical. Odds are, they'd have crossed paths at Charna's place.
But instead of creating "South Pacific" or "The Sound of Music" after years of intense effort, they'd have likely knocked off a couple shows a week. All for Charna.
As it turns out, Rodgers and Hammerstein didn't do that.
Even so, others are taking up the slack just fine, thanks — witness "The Improvised Musical," opening and closing Friday on the stage of the Bloomington Center for the Performing Arts.
Just as the title suggests, the three-man, two-woman troupe from Chicago's legendary iO Theatre — spawning ground of what seems like half the notable funny people at large today (see accompanying list) — will make one up on the spot.
An all-singing, all-dancing musical, that is.
Listen closely to the songs and pay strict attention to the choreography, because you'll never get a second chance.
Such are the wages of instant creation.
Charna Halpern, founder/director of iO Theatre (formerly ImprovOlympics) and one of Chicago's iconic comedy gurus, knows the skeptical drill.
When the performers come up with something too good to ever be true, they've had critics who insist it's all a sham — probably pulled off with a shill planted in the audience to shout out the premise that will be turned into a musical.
"They'll say it was just too brilliant and memorable to be improvised," she sighs.
When they come up with something maybe not so brilliant, the same critics say, "there, see, can't be done."
So it's a bit of a no-win prospect, she concludes.
But, happily, those critical jabs have been few and far between for Halpern's brainchild — the latest in a long line of offerings based in the art of long-form improvisation.
Or epic, fully formed forays into extemporaneous hilarity, ranging from full-length made-up Shakespeare to what's headed our way this weekend.
This tradition was hatched nearly 30 years ago when Halpern was a young working comedian in Chicago.
She was a scarred veteran of the short games and competition-style improv shows that had ruled the Chicago comedy roost since the '70s.
"I just became bored with it all," she confesses. "I felt that everyone was using the same tricks. It had become too easy."
Her world turned in 1981, when she espied Chicago improv legend Del Close, a veteran of Second City and San Francisco's The Committee, sitting at a coffeehouse.
It was now or never, she decided.
"I offered him $200 and all the pot I had if he'd listen to what I had to say," she recalls.
Close, who'd trained the likes of Bill Murray and John Belushi, saw the potential in this deal he couldn't refuse.
In short order, the original ImprovOlympics was born, in a modest space near Wrigley Field (3541 N. Clark St.), its home to this day (though, notes Halpern, an impending loss of lease will see the theater moving to an undisclosed new location in the near future).
The rest is Chicago comedy history, as a virtual cottage industry was nurtured, branching out into touring companies, a Los Angeles sister operation (iO West), education, books (Bill Murray calls Del and Charna's "Truth in Comedy" "the most important group work since they built the pyramids") and onward — all in the name of long-form improvisation.
Close, whose substance-abuse issues were as infamous as those of deceased pupil Belushi, died from emphysema in 1999, with Halpern at his side.
As the legend goes, his parting words were: "Tell them we succeeded where others have failed. We created Theater of the Heart, a theater where people cherish each other to succeed on stage."
In the 12 years since, Halpern has told that and told it again, but through actions, which are louder than words — even those made up.
The actions on display Friday night at the BCPA will tap the essence of the Close-Halpern aesthetic, she promises: tightly knit teamwork among an ensemble of whip-smart improv performers, where memory and paying attention are paramount.
The evening will start with some improv warm-up and segue into another iO specialty — turning an audience member's dream from last night into something more entertaining than Freud or Jung could ever have, well, dreamed.
Then, says Halpern, it's time for the made-up musical, again triggered by the first audience member to shout out something they hear.
It will run around 35 minutes and be accompanied by a pianist just as adept at making things up as the all-singing, all-dancing jesters on stage.
Oh, and, remember: Once sung, never heard again.
"No, we don't keep records of the songs or record them," admits Halpern. "They are meant to come out of the moment. But I must say that there are some incredibly beautiful and gorgeous songs that can result. I don't know — maybe we should be recording them!"
What: iO Theatre's "The Improvised Musical"
Where: Bloomington Center for the Performing Arts, 600 N. East St.
---
iO alumni
Chicago's famed iO Theatre, second only to Second City, has helped shape the face of contemporary comedy with an all-star cast of alumni, including:
Tina Fey: Circa the early '90s, Fey cut her teeth at iO before achieving everlasting "SNL" and "30 Rock" infamy, as both writer and performer.
Chris Farley: The late Wisconsin native crossed the border into Illinois after high school graduation, where iO offered him his first Chicago gig before "SNL" and stardom beckoned in 1990.
Tim Meadows: The Michigan native's "SNL" success (1991-2000) was, as with most on this list, preceded by a late-'80s stint at iO; he has returned to those roots in recent post-"SNL" years.
Vince Vaughn: The Buffalo Grove native is the rare iO alum who didn't end up on "SNL," instead making his name as a straight actor, and, ultimately, Hollywood leading man.
Rachel Dratch: The seven-year (1999-2006) "SNL" player was a contemporary of Fey's at iO , circa the early '90s.
Amy Poehler: The Massachusetts native studied under late iO guru Del Close, became part of the touring company and taught classes before her "SNL" breakthrough (2001-8).
Andy Richter: Yet another Michigan native who descended into Chicago circa the late '80s, enrolling in classes at iO in 1989 and becoming part of the house regulars before Conan O'Brien needed a sidekick in 1993.
Mike Myers: Before "SNL," "Wayne's World" and "Austin Myers," Baby, the Canadian native emigrated from Toronto to Chicago in 1988 and trained/performed at iO.
Stephen Colbert: Before Jon Stewart, "The Colbert Report' and all else, the Washington, D.C,, native did his time at Second City and, specifically, Del Close at iO in the mid-'80s.
Andy Dick: The Illinois Wesleyan University alum continued his training at iO, taking classes in the early '90s before getting his break via "The Ben Stiller Show."
Seth Meyers: As an Evanston native, it was preordained the aspiring comic would do time at iO before the inevitable transition to "SNL," where he remains installed to this day as head writer and "Weekend Update" anchor.
Stay up-to-date on what's happening
Receive the latest in local entertainment news in your inbox weekly!