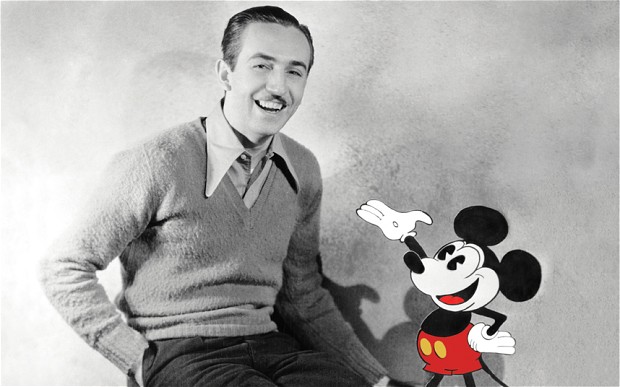 CHICAGO — There's no place like home … there's no place like home.
If you ever doubted that axiom, just review the life and times of Chicago-born Walt Disney, who, like Dorothy Gale, traveled over the rainbow, but never let go of his Midwestern moorings.
Giving us insight into the connection is a new exhibit packing 'em in like 100,000,001 Dalmatians at his hometown's Museum of Science and Industry.
"Treasures of the Walt Disney Archives," which opened a month ago and continues through May 4, celebrates the 90th anniversary of the Disney company's 1923 founding by taking visitors on a instructive journey through Uncle Walt's life and times.
The big lure for Disneyphiles is its generous dip into the archives, from whence comes the exhibit's eclectic array of movie costumes and props, classic animation artwork, scripts, office items, film clips and more.
Through them, Disney's debt to his Midwestern origins shine through, notes Jeff Buonomo, manager of temporary exhibits and events at the museum.
"A lot of those Midwestern roots can be seen later in his work, from the main streets in the theme parks to the small-town settings of his films," he notes.
Even his animated and live-action cities, like the Londons of "Mary Poppins," "Peter Pan" and "101 Dalmatians," are either set in storybook pasts or rendered quaintly charming for the present.
"Lady and the Tramp's" small-town ambience, lovingly created for the 1955 animated classic, is said to be taken straight from Walt's youth.
All of that connectivity is apparent as the "Treasures" are unearthed before our eyes, says Buonomo.
Though he was born in Chicago, most of Walt's upbringing transpired on a farm near Marceline, Mo., where he and his four siblings came of age.
The family eventually returned to the Windy City in 1917, when Walt was a teen. There, he attended McKinley High School by day and the Academy of Fine Arts by night, honing his fast-maturing drawing skills.
Following an ambulance-driving stint during World War I, 19-year-old Walt landed in Dorothy Gale's Kansas, where he created and marketed his first original animated cartoons and perfected a new method for combining live-action and animation.
By 1923, he was over the rainbow in Hollywood, where he and brother Roy pooled their resources to form Walt Disney Productions.
From that formative stretch, "Treasures of the Walt Disney Archives" offers actual illustrations done by Disney as a boy (a postcard sketch, a doodle in his sister's original school book), various photos of the family homestead and items tied to his first animation studio venture, called Laugh-O-Gram Films Inc.
Following that introductory portion, "The Early Years," the visitor journeys through seven themed areas, not unlike a Disney park:
w "Early Hollywood," which covers the years 1923-37, from Disney's creation of Mickey Mouse in "Steamboat Willie" to the premiere of "Snow White and the Seven Dwarfs," the first feature-length animated film.
w "Animation Tools & Techniques," a look at the art form that Disney helped pioneer and elevate via classics like "Pincocchio," "Bambi" and "Fantasia."
w "Walt: Showman of the World," which follows Walt's late-1940s expansion into new media frontiers, from early television ("Davy Crockett") to live-action moviemaking ("20,000 Leagues Under the Sea").
w "Mary Poppins," a section devoted to the Oscar-winning film generally conceded to be the summation of Disney's art and his greatest success.
w "Theme Parks," the inevitable salute to the Disney empire's biggest cash cows, from the original Disneyland in California to its even bigger and grander successors elsewhere.
w "Disney Today," a nod to the current state of Walt's affairs, nearly 47 years after his 1967 death, including the "Pirates of the Caribbean" franchise, the Disney Channel universe of "High School Musical" and (to complete the over-the-rainbow metaphor) this year's "Oz the Great and Powerful."
w "Animation Academy," the exhibit's grand finale, in which, says Buonomo, visitors get a hands-on crash course in the Disney empire's ultimate claim to fame.
"That's a great component," he adds, "in which you get to sit down and in 10 minutes learn how to draw a Disney character under the supervision of a Disney-trained artist.
Since the exhibit's opening in mid-October, "Treasures" has met with a "great response," says Buonomo, scoring with a multigenerational demographic reflecting the Disney empire's 90-year reign.
"There really is something for everyone, with parents, and grandparents, having a good time introducing their kids to the things they grew up with," he says.
For the holiday season, the exhibit is dovetailing with an annual Museum of Science and Industry tradition, "Christmas Around the World," which opened its seasonal run last week and continues through Jan. 5.
There is some thematic spillage, Buonomo notes, with the popular holiday exhibit taking a turn Disney-ward in various areas, from decorated trees to other adornments.
While the holiday exhibit comes with regular museum admission, the Disney exhibit is separately ticketed (see accompanying box) and, to keep crowds manageable, they are sold on a timed-entry basis.
Advance purchases via the museum website, www.msichicago.org, are strongly recommended, Buonomo says.
---------------------------------------
What: "Treasures of the Walt Disney Archives"
When: 9:30 a.m. to 4 p.m. daily, through May 4 (closed Thanksgiving and Christmas days)
Where: Museum of Science and Industry, 5700 S. Lake Shore Drive, Chicago
Tickets: $9 adults/seniors, $7 ages 3-11 (timed-entry tickets, separate from museum admission)
----------------------------------------
It's not only Chicago's Museum of Science and Industry that's all mouse ears this holiday season. In addition to the "Treasures of the Walt Disney Archives" exhibit on view there, three more major Disney happenings are imminent:
Nov. 27: Disney animation's latest offering is "Frozen," a production of the studio's own in-house computer animation crew, not popular partner Pixar. It's a fantasy set in a kingdom hexed with eternal winter and follows the adventures of a plucky heroine (voiced by Kristen Bell) and the extreme mountain man (voiced by Jonathan Groff) who set out to end the Snow Queen's spell.
Dec. 10: One of the most eagerly awaited Disney classics to make the leap to high-definition home video is 1964's "Mary Poppins," a key focus of the Chicago exhibit. The wait is over as the re-mastered Blu-ray edition arrives, just in time for you-know.
Dec. 20: No strangers to savvy tie-ins, Disney follows its release of "Mary Poppins" on Blu-ray just 10 days later with "Saving Mr. Banks," a Disney-produced dramatization of the 1964 classic's making, focusing on the conflict-fraught relationship between Uncle Walt, played by Tom Hanks, and "Poppins" author P.L. Travers, played by Emma Thompson.
-----------------------------------------------------
Among the artifacts on view in "Treasures of the Walt Disney Archives":
Special effects model of the Nautilus used in "Twenty Thousand Leagues Under the Sea" (1954)
Jimmie Dodd's Mouseketeer hat from "The Mickey Mouse Club" (1957)
Julie Andrews' costume and carpet bag from "Mary Poppins" (1964)
Disney's original typed script for "Steamboat Willie" (1928)
Fess Parker's coonskin cap from "Davy Crockett" (1955)
Original animation models for Jiminy Cricket, Pinocchio, Geppetto and Stromboli, all from "Pinocchio" (1940)
Johnny Depp's pirate costume from "Pirates of the Caribbean: Curse of the Black Pearl" (2003)
An original animation cel from "Sleeping Beauty" (1959)
Stay up-to-date on what's happening
Receive the latest in local entertainment news in your inbox weekly!