BLOOMINGTON — An Illinois Wesleyan University faculty member who grew up in what was then Czechoslovakia under the thumb of the Soviet Union shared stories on Thursday of Christmas traditions that have survived communism and Western influences.
Saint Nicholas would walk from house to house with little bags of fruit, nuts and chocolate accompanied by a devil and an angel. Ferguson said the devil carried a sack, sometimes chasing children and threatening to put them in the sack and carry away those who hadn't been good.
"Often to prove we were good, we had to recite a poem or sing a little song," she said.
Among less frightening traditions Ferguson has kept alive since marrying her husband Scott and coming to the United States in 1996 is cooking traditional foods. That includes a variety of cookies and other baked goods, such as a nut bread and "honey cookies," called medovniky, which she brought for people to sample at her talk.
"Koleda is the Slavic version of the winter solstice festival," said Ferguson. "People dressed up in scary masks … to scare away everything that was evil."
"They had sacks of grain and were walking around throwing grains on each other" in belief it would bring a good harvest.
Another tradition centered around cherry blossoms.
"My mother sent me out and told me to get a branch from the cherry tree we had in the garden," said Ferguson. The branch was set in a container and tradition called for her to carry water in her mouth to put into the container.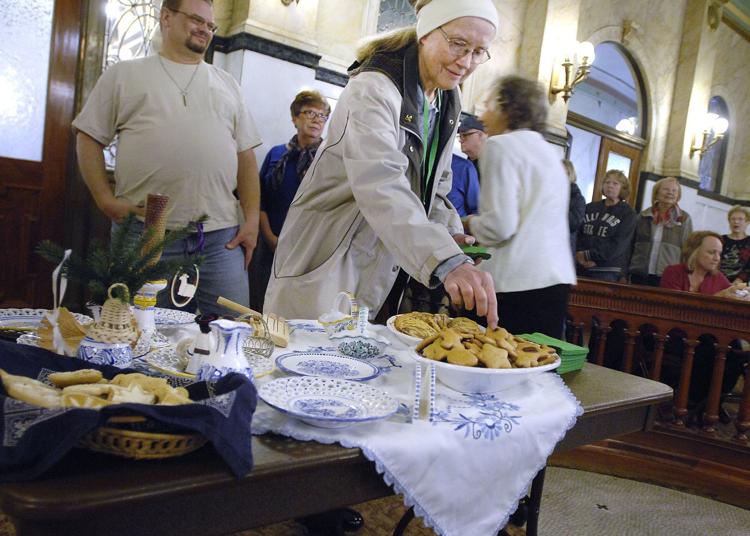 "If a girl was really lucky, her branch would blossom on Christmas Eve," said Ferguson. Then the girl would decorate her dress with the blossoms and wear it to church, she said.
Attending church was not forbidden in Czechoslovakia during communist rule, but it was discouraged. People knew there were spies in the church who would report those who attended, endangering their opportunities for good employment or higher education, Ferguson said.
"What people did was attend church in a neighboring community" where they weren't known and "the spies were out of luck," she explained.
Under communism, "children were taught to sing Russian winter songs instead of Christmas carols," she said. Instead of presents being brought by Baby Jesus, they were brought by Grandpa Frost and Snow White — who arrived on a Soviet rocket, according to a picture Ferguson displayed from a parade.
Christianity was so deeply rooted in Czechoslovakia, the communists knew they couldn't eliminate the traditions, she said, so they called it "folk art" to try to ignore the Christian connections.
With the fall of communism and the gaining of independence, there was an influx of Western goods and influences.
"The Easter Bunny hopped into the country and Santa Claus started handing out gifts," said Ferguson.
But that's starting to change and people are returning to older traditions, she said.