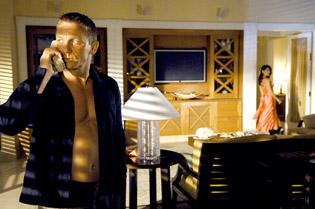 There's a sublime irony to the new version of "Casino Royale": It's taken the one Ian Fleming novel that has received the least amount of film respect to yank the bloated series back to the author's core values.
In the first adaptation — an hour-long TV edition aired in 1953 — fidelity to the source novel was torpedoed by the miscasting of bland and easygoing Yank actor Barry Nelson, who delivered up a 100-percent danger-free James Bond.
This static rendition isn't out of reach, by the way, it's included as a sobering extra on the DVD edition of the 1967 film version.
Speaking of which: That second adaptation, a famously gonzo all-star parody with David Niven as 007, probably left Fleming shaken, not stirred, in his grave (though some of us maintain an affection for the flawed film's pointed skewering of the '60s super-spy cycle, which, frankly, needed it).
Until now, the rights to "Casino Royale" had eluded the producers of the "official" Bond movie series, which explains how the errant 1967 edition came to be.
By taking Fleming's starter novel for 007 and rigging it as the starter movie for new Bond player Daniel Craig, the franchise feels as if it has been rebuilt from the foundation up, in ways more solid than even that balding Scots actor ever enjoyed.
Performing the carpentry honors are director Martin Campbell, who handled the first and best entry of the diminishing Pierce Brosnan era ("GoldenEye"), and a trio of old-and-new scenarists — series vets Neal Purvis and Robert Wade, and newcomer Paul Haggis (the Oscar-winning "Crash" writer-director whose name seems to be on every other script these days).
The stocky but lithe Craig, with his vaguely Steven McQueen-esque contours and attitude, brings an intensity and sense of flawed humanity to the role it has never been allowed before. He even betters two-time Bond player Timothy Dalton's famously saturnine late-'80s tryout ("Licence to Kill," "The Living Daylights").
Though Dalton exuded both danger and arrogance, he lacked the regular-bloke vibe that Craig barely contains as he suits up in his designer duds for a night at the casino. As for comparisons to the bantamweight portrayals of Messrs. Moore and Brosnan, there is none.
While this "Casino Royale" retains the novel's high-stakes centerpiece — with baccarat supplanted by more 21st-century-friendly poker — it ups the ante in several brutal action sequences Fleming never put to prose. But apart from some major structural damage done to Venice in the climax, the film refuses to push itself completely over the top as most series entries have been doing in the Brosnan era (I gave up on it around the time of the tidal wave surfboard scene in "Die Another Day").
The pre-credits prologue sets the stage. Shot in gritty, film noir black-and-white, it features newly assigned agent 007 scoring his first pair of licensed kills.
Though color soon seeps in, the dark tone never lightens up as a second, equally brutal action sequence kicks in — a gymnastic chase through an African construction site, which concludes in yet another kill by 007. This one involves a seemingly unarmed man, and is captured on a video cam, with an Internet posting soon to follow.
That public exposure gets 007 in Dutch with superior M (Judi Dench, the lone umbilical cord to the Brosnan era). In keeping with the new tone, M gets to play a harder form of ball, too, with playful badinage giving way to harsh reprimand and, best of all, transgression (the upstart Bond breaking into M's unlisted home address late one night).
Since this is supposed to be 007's first big adventure, rules are constantly being laid down, then broken, as he tracks an international, scar-faced banker named Le Chiffre (scary Danish actor Mads Mikkelsen), in cahoots with a terrorist network.
The road to Le Chiffre eventually leads to — shades of "Dr. No" — the Bahamas, where, in a neat inversion of images, it is the well-toned Craig who rears up out of the surf in a bathing suit instead of Ursula Andress. Then we move to the titular Montenegro casino, where Bond and Le Chiffre square off in the series of high-stakes games that form the heart of the original novel.
Instead of some vast underground SPECTRE lair, the bulk of the film's suspense occurs intimately, at a bluff-ridden gambling table, which is as apt a metaphor for the new film's roll of the series dice as any.
As crucial to the new mix as anything is the way Bond's first secret agent dalliance with the opposite sex is worked into the film and maintained outside the usual "Bond girl" parameters. She's Vesper Lynd, the stunning treasury agent assigned to assist Bond in his casino assignment and make sure he deploys the gambling funds properly. And she's played with just the right enigmatic vibe by Eva Green.
The relationship moves through more levels than any Bond movie has dared before ("On Her Majesty's Secret Service" included). And, on that score alone, the film sets a new standard.
Another is carved out in the film's crucial torture sequence, in which Bond is stripped nude by Le Chiffre, strapped to a chair with its seat removed. He is then subjected to an extended series of lower-torso humiliations that will seem more than vaguely familiar to anyone who has been in touch with current events for the past three years.
One can amuse oneself by trying to imagine any previous Bond player, Sean Connery included, allowing himself to be placed in this particular quip-free predicament, and then responding with the range of reactions and emotions that course through Craig's performance with such power.
There are demons visibly duking it out for supremacy in the talented actor's multifaceted portrayal. And these hard-won skirmishes work wonders in restoring Fleming's character to its rightfully dominant place in the espionage cosmos.
Craft's rating: 3 1/2 out of 4 stars
Director: Martin Campbell
Writers: Neal Purvis, Robert Wade, Paul Haggis
Cast: Daniel Craig, Eva Green, Mads Mikkelsen, Judi Dench, Jeffrey Wright, Giancarlo Giannini, Caterina Murino