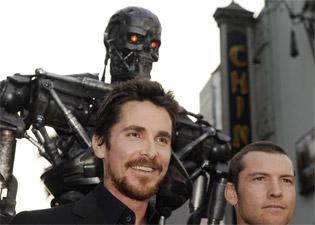 LOS ANGELES - Sam Worthington breaks out as a big-screen action star in "Terminator Salvation." But to him, he was like Dorothy in "The Wizard of Oz."
"That was always stuck in my head," Worthington says. "Here's this person waking up in another world and trying to find himself as they go on this yellow brick road. They find the heart, the brain, the sensitivity, from the Tin Man and all these characters you meet, and they get to Skynet, which is Oz, to ask the question: Why am I not … dead?"
The 32-year-old Australian actor plays the mysterious Marcus Wright in the movie, which also stars Christian Bale as John Connor, who leads the last shreds of humanity against machine enemies, and Moon Bloodgood.
Worthington notes that his character wears a blue coat, just as Dorothy wears a blue dress.
Bloodgood says Worthington took the "Oz" comparison even further: "He actually put red paint on the back of his shoes, like Dorothy trying to find her way home. I liked it. I thought it was perfectly appropriate."
Fellow co-star Anton Yelchin initially called the comparison "weird."
"It is the story of a man going on a journey, not knowing how he ended up on this journey," Yelchin says. "So I guess Sam has a point there."
And what does director McG think of the analogy?