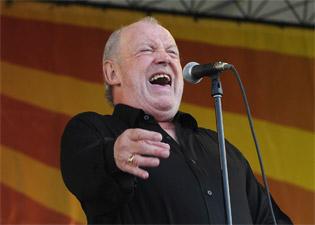 Joe Cocker: officer in the Order of the British Empire (O.B.E.)? … gentleman tomato farmer? … Rocky Mountain high guy? … casino performer? … imminent retiree? … clean as a whistle for eight years now?
Yes, the former ringleader of the legendarily amok Mad Dogs & Englishmen is all that today, and more.
More, as in: happily content with a settled existence that once seemed the definition of the wildest excesses of the rock 'n' roll lifestyle.
As he works his way toward his first downstate Illinois concert in decades (7:30 p.m. Wednesday at the U.S. Cellular Coliseum), Cocker seems anything but the moody, contortionist purveyor of blue-eyed soul at its roughest-hewn.
Instead, via his hotel room in an Ontario hotel, he comes off sounding like a man perfectly at peace with his art and happy to still be able to do what he loves best - namely, wringing the soul out of whatever song comes his way.
Still, no one's more surprised than Cocker himself over the turn his career has taken in its autumnal stretch (he cashes in his Social Security chips a week to the day after his Coliseum gig).
"If a few years ago somebody had told me I'd be playing a casino, I would have laughed in your face," says the byproduct of good working-class Sheffield, England, stock. "But I've been doing that for five years now, so I'm used to it. It's fine."
He not only plays casinos and doesn't laugh in your face, he also works the blue-ribbon jazz and blues festival circuit, nattily groomed and garbed - which, again, seems at odds with the wild-maned, rubber-limbed figure his long-term fans may recall from, say, Woodstock, which served as his big stateside coming-out party in the summer of '69.
"I keep it to the hits, whack them with the stuff they know," he says, adding he's fortunate to have scored hits over a four-decade run ("With a Little Help From My Friends," "Let's Go Get Stoned," etc., from the '60s; "The Letter," "Feelin' Alright," "You Are So Beautiful," etc. from the '70s; "Up Where We Belong," "You Can Leave Your Hat On," etc. from the '80s; "Feels Like Forever," etc., from the '90s).
Two years ago, he was handed the royal honor of O.B.E. (officer in the Order of the British Empire), which he embraces even as he laughs about it. "Prince Charles gave it to me - I didn't get the queen. Anyway, it's a nice medal."
He continues: "I can't imagine what all those people who never gave me a shot down in Sheffield must have thought about it over their pints. They probably spewed their drinks across the room. So it's funny that respect."
He battled his heroin and booze demons over the years - the former kicked in the '70s, the latter finally expunged, he says, eight years ago.
Coming clean with himself has taken its toll: "I've been gaining weight since I quit drinking … if I could only get a handle on it, but that's tough to do on the road, where I tend to want to eat some chocolate. I love my sweets."
Even so, "I'll perform until then as long as it keeps running," he laughs. "But it's getting harder to pull up and leave home."
Home, for the past three decades, has been stateside - specifically, the aptly named Mad Dog Ranch at the base of the Elk Mountains in tiny Crawford, Colo., with his wife, Pam Baker, a fan who became the first and last Mrs. Cocker 22 years ago.
"It's a beautiful, really remote place, 7,000 feet up," he says. "Not near all the posh ski resorts or Aspen. I have this big green house and I grow tomatoes, maybe 30 different varieties."
Yes, this Mad Dog is a gentleman tomato farmer, clearly up where he belongs - 7,000 feet over sea level- watering and pruning those multiple varieties.
"And there are bears, and mountain lions, and long winters. And I have a couple great dogs I go walking with. And I love it so - the ruggedness of it all, especially after having spent so many years touring cities."
"This is not exactly the rock 'n' roll life - and I don't miss it at all."
---
At a glance
When: 7:30 p.m. Wednesday
Where: U.S. Cellular Coliseum, 101 S. Madison St., Bloomington
Box office number: (800) 745-3000
---
A cuppa Joe
Adopts stage name of Vance Arnold & The Avengers ('61) … turns solo , but flops … forms Joe Cocker's Big Blues ('64) … teams with Chris Stainton for The Grease Band ('66) … records hit cover of Beatles' "With a Little Help From My Friends" ('69) … during first U.S. tour booked at Woodstock and makes name stateside … dissolves Grease Band.
Forms new band, Mad Dogs & Englishmen ('70), with 30-plus players, including Leon Russell and Rita Coolidge … charts singles "Cry Me a River," "Feelin' Alright" and "The Letter" ('70) … busted in Australia on pot possession ('72) … "I Can Stand a Little Rain" LP produces monster hit "You are So Beautiful" ('75) … John Belushi debuts famous JC impersonation on "SNL" ('76).
Career peaks with "Up Where We Belong," No. 1 duet with Jennifer Warnes on "An Officer and a Gentleman" ('82) soundtrack … wins both Oscar and Grammy … scores another soundtrack hit with "You Can Leave Your Hat On," from steamy "9½ Weeks" ('86) … performs at President George Bush's inauguration ('89).
Performs at "Woodstock '94," 25th anniversary celebration of original … awarded Order of the British Empire (O.B.E.) by Prince Charles ('07) … sings "Come Together" and plays three characters ("Bum" "Pimp," "Mad Hippie") in the movie hit, "Across the Universe." ('07).