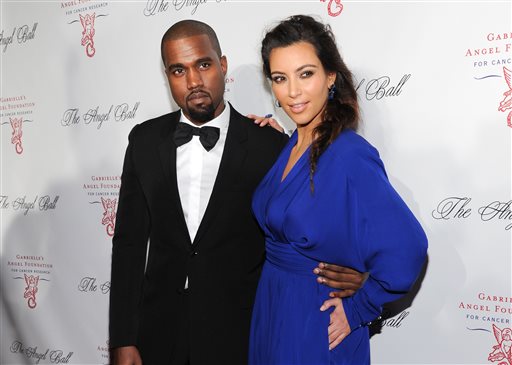 NEW YORK — Was Kanye West inspired by One Direction?
Kim Kardashian and Kanye West named their daughter North West, according to their Los Angeles County birth certificate. The baby was born at 5:34 a.m. Saturday at Cedars-Sinai Medical Center in Los Angeles.
North is certainly not the first celebrity baby with an unorthodox name — and plenty of those names have set trends. Brooklyn may have seemed exotic when Victoria and David Beckham chose it in 1999, but last year it was the 29th most popular baby name in the U.S., according to the Social Security Administration. (Ashlee Simpson and Pete Wentz's choice of another New York borough, Bronx, remains less popular.)
North has not cracked the Social Security Administration's top 1000 baby names over the past 100 years, though West ranked 949 for boys in the year 1913. But given the popularity of place names — Paris, London, Sydney and Savannah were also in the top 100 for girls — perhaps we can expect more babies with a sense of direction in years to come.
Here are some other unusual celebrity offspring names:
— Aleph, son of Natalie Portman and Benjamin Millepied
— Apple and Moses, children of Gwyneth Paltrow and Chris Martin
— Banjo Patrick, son of actress Rachel Griffiths
— Bear Blu, son of actress Alicia Silverstone
— Blue Ivy, daughter of Beyonce and Jay-Z
— Buddy Bear Maurice, Petal Blossom Rainbow, Daisy Boo Pamela and Poppy Honey Rosie, children of chef Jamie Oliver
— Fifi Trixibelle, daughter of Bob Geldof
— Kingston and Zuma, sons of Gwen Stefani and Gavin Rossdale
— Mirabella Bunny, daughter of musician Bryan Adams
— Moon Unit, Dweezil, Ahmet and Diva Muffin Zappa, children of Frank Zappa
— Moxie Crimefighter, daughter of comedian Penn Jillette
— Pilot Inspektor, son of actors Jason Lee and Beth Riesgraf
— Prince Michael ``Blanket'' and Paris, children of Michael Jackson
— Seven, son of Erykah Badu and Andre Benjamin
— Shiloh, Maddox, Pax, Zahara, Knox and Vivienne, children of Brad Pitt and Angelina Jolie
— Sparrow James Midnight, son of Nicole Richie and Joel Madden
— Speck Wildhorse, son of John Mellencamp
— Suri, daughter of Tom Cruise and Katie Holmes
Stay up-to-date on what's happening
Receive the latest in local entertainment news in your inbox weekly!