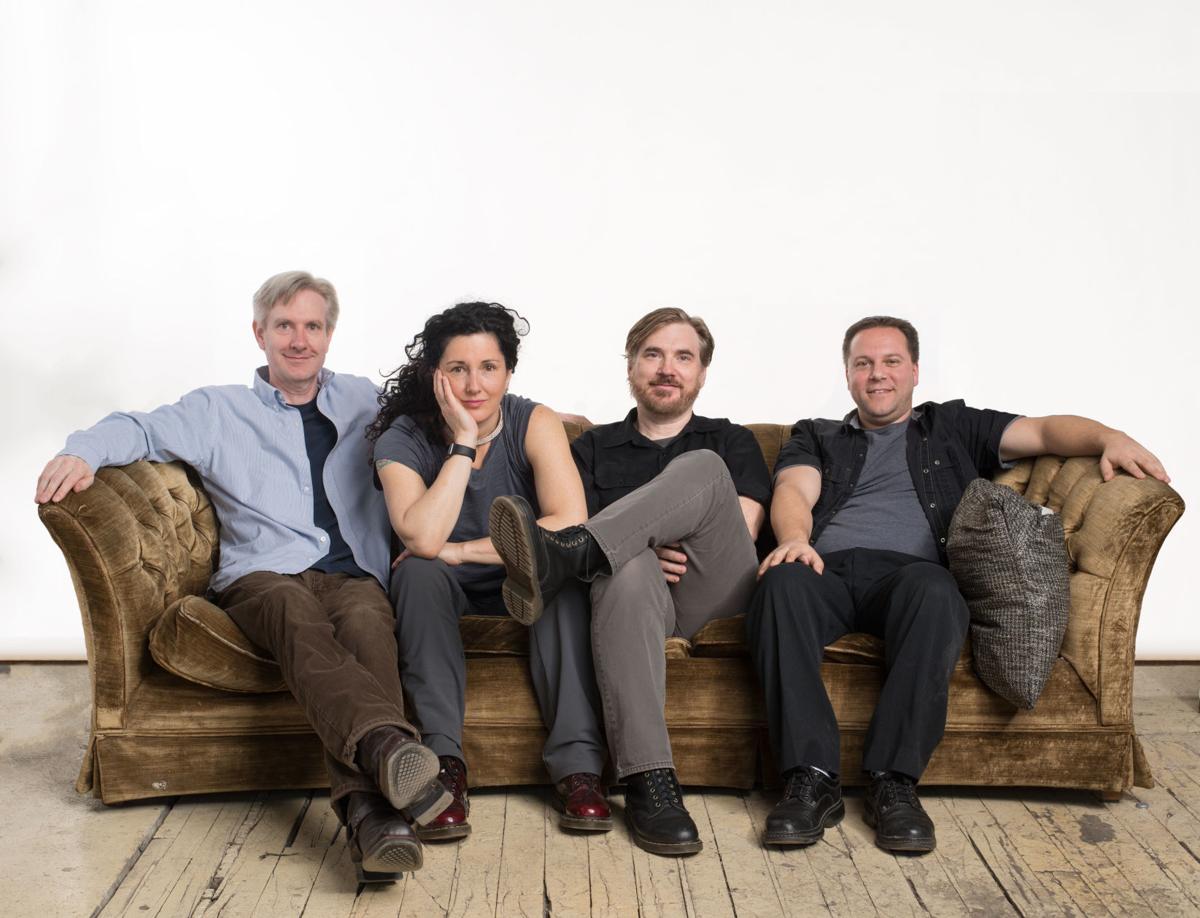 NORMAL — Doing it all themselves was, and remains, the credo for the Poster Children, the indie rock band whose heyday was the '90s, but whose creative spirit is alive and well two decades later.
For proof, catch the quartet in their first B-N performance in nearly a decade as Main Stage headliners Saturday night for this year's Make Music Normal fest (9:15 to 11 p.m.).
Two of the band's married members, Rick Valentin and Rose Marshack, now call B-N home, per their positions on the faculty of Illinois State University — he, as an assistant professor of arts technology; she, as an assistant professor of music and arts technology.
Saturday's performance comes at a time when the Poster Children are returning to full speed, with a national tour in progress and and their first album in 13 years due next spring.
It's being produced by Steve Albini, the legendary Chicago-based producer at the controls of hundreds of albums, including Nirvana's last, "In Utero." Albini also produced the Poster Children's signature 1991 album, "Daisychain Reaction," which just celebrated its 25th anniversary.
"We came from the DIY indie rock scene, which is more about 'you can do this, too,' where the lines between audience and band are blurred," says Marshack, referencing both the band's perfect fit with Make Music Normal and its career-long avoidance of the star-making process.
"It's that idea of being a typical sort of something, representative of something that you can identify with," adds Valentin. 
Hence, the name Poster Children has an ongoing resonance, too.
The couple came together in that DIY spirit, as did the band itself, 33 years ago on the campus of the University of Illinois.
"Rose and I lived in a very interesting dorm, Allen Hall, which had grown out of this '60s kind of perspective where there all these creative things going on.
"They had a ceramics studio in the basement, there were guest speakers, practice pianos, a PLATO system computer that allowed us to do things that we now do on Facebook ... networking and education stuff.
"It was in that environment, around 1984-5, that it began to come together," recalls Valentin recalls, who played guitar in a dorm band whose bass player had just quit. 
Solution: "We should get Rose, who plays violin and bass, and has perfect pitch!"
Concern over her classical training working in a punk band mode was rapidly quelled.
"Rose understood punk and new wave, and it wasn't like we were getting someone who had no experience or context for rock," says Valentin.
"Though she was classically trained, she had the best of both worlds, and became a part of the band, even though she wasn't playing very complex stuff."
Several band names came and went (Penguin Dust, The Rain, Cries & Whispers) until Poster Children arrived, and stuck.
"We had this concept of the 'golden nugget'," observes Marshack of the band's view of itself and its destiny. "We always saw certain bands who were always reaching for the thing that was out of reach: if only we could get this instead of that."
Such reaching was a point of derision for the Poster Children as they began to make waves ... locally, then regionally, then on the road to national acclaim. 
"We made fun of those bands because we didn't have any goals like that," Marshack continues. "My only goal was to play in Chicago, because it was far away from my hometown ... the bigger city."
They DID, in fact, play Chicago by the late '80s, which was followed within several years by their first U.S. tour.
That was the fall of 1991, when "Daisychain Reaction" came out on the Minneapolis-based label that signed them, Twin/Tone Records, home of Soul Asylum and the Replacements.
That was also the year that Rick's brother, Jim Valentin, replace original guitarist Jim Dimpsey; he remains with the band to this day, along with drummer Matt Friscia.
Around the same time, recalls Rick, "a record came out the week left on our tour by a weird little band called Nirvana ... within two weeks, everything changed and we were talking to labels like Sire Records, who had a big band and lots of little bands they took care of."
By tour's end, Nirvana had made the leap to MTV, and the Poster Children were now viewed as part of the grunge/punk/indie move that had  exploded. "We had 15 to 16 major labels calling our manager ... we were one of those weird little bands they had to buy into."
They signed with Warner Bros., whose Reprise label reissued "Daisychain Reaction" in 1992; "Tool of the Man" (1993), "Junior Citizen" (1995) and "RTFM" (1997) followed.
"Our goal was longevity, not Top 40 ... we're not a Top 40 band, that's not where we came from," Marshack says.
"Instead of buying cars with our money we bought computers to learn how to make our records, and learn how to survive after we were off the major label. Our work ethic kept us very happy during those years."
"We knew the story," adds Rick. "The thing would end. We were very lucky that for 10 years we were able to sustain ourselves as musicians ... we never rode any wave, we remained an indie band."
And thus have the Poster Children endured and thrived over the long haul, even as demands of parenthood (Rose and Rick have two kids, 13 and 8 years old today) forced the band into dormant mode at several junctures.
For the band that has being doing it themselves since crossing paths in the U of I dorm 33 years ago, everything is just as good now for them as it was then.