NORMAL — The holiday shopping season will kick off in uptown Normal with sleigh bells and a special guest on Saturday.
Free carriage rides and a visit from Santa Claus, plus a host of special offers from uptown establishments, will take center stage at the annual Uptown Holiday Open House.
"We just want people to feel really welcome here in uptown. We want to foster that small-community, family atmosphere," said town communications specialist Rachelle Leuty of the carriage rides, from 11 a.m. to 3 p.m. with in-person reservations, and Santa's visit from noon to 2 p.m.
"We really want to push it to our community that it's so important to shop small during the holiday season, really throughout the year. It's so important for our economy to keep shopping dollars in our community," she continued. "(Uptown businesses) are continually happy and grateful for the community turnout and participation."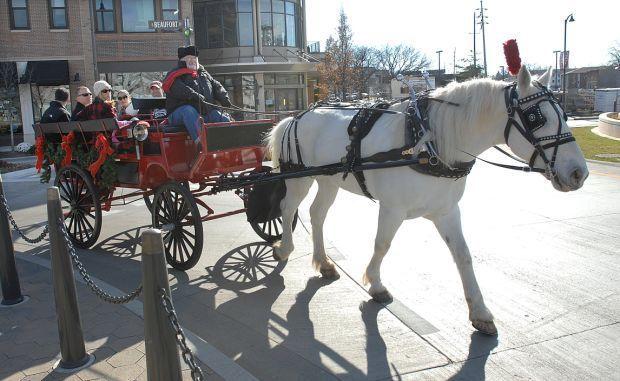 The event is hosted by the town and Uptown Partners, an organization of uptown businesses that plans special events and promotions.
Participating establishments for the open house include Beyond Normal, The Garlic Press, the Hyatt Place, OhmFit Activewear, Solid Gold Jewelers, Uptown Gifts and Accessories, Whimsy, the Children's Discovery Museum and the Normal Theater. Leuty said more businesses and organizations could participate but are not yet confirmed.
Manager Lisa Hoffbauer said she's excited to welcome new guests to Uptown Gifts this weekend.
"With any event we host through Uptown Partners, it brings people in: our customers, new customers and new people to the area," she said. "It's great energy on that day."
Hoffbauer said the store will be "decked out for Christmas," including a tree, garland, ornaments and ceramic decorations. The store also sells decorations and stocking stuffers; it will offer jewelry specials during the open house.
Other promotions include store-wide discounts, including at Solid Gold Jewelers; free gifts with large purchases at Beyond Normal, OhmFit and Whimsy; and holiday-themed drink specials at the Hyatt Place.
"We're hoping everybody will have something special that day," said Leuty.
"It kicks off the whole holiday season," said Hoffbauer.