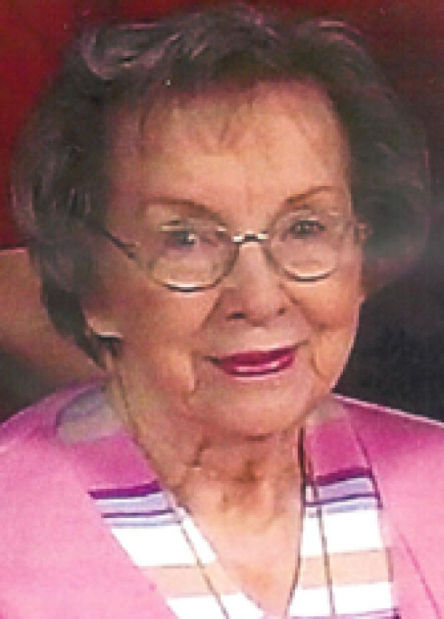 GIBSON CITY — Hazel N. Troyer, 100 years and 9 months, Fairbury, formerly of Gibson City, died at 11:05 a.m. Sunday (Nov. 3, 2013) at Fairview Haven Nursing Home, Fairbury.
Her funeral will be at 3 p.m. Saturday at First Christian Church, Gibson City, with the Rev. Ed Taylor officiating. Burial will be in Drummer Township Cemetery, Gibson City. Visitation will be for an hour before the service Saturday at the church.
Mrs. Troyer was born Feb. 3, 1913, in Hamilton County, a daughter of George Ernest and Nancy C. Koger Johnson.
She married Edward B. Troyer on June 25, 1934, in Kentland, Ind. He died Oct. 31, 1967.
Surviving are a daughter, Kay (Wayne) Hammer, Fairbury; four grandsons, Tim (Melissa) Svedlund, Union, S.C.; Ted (Sherry) Hammer, Toledo, Ohio; David (Denise) Hammer, Fairbury; and Steven (Shannon) Svedlund, Atlanta, Ga.; six great-grandchildren, Nicole (Jason) Thompson, Champaign; Tara Barkely, Charlotte, N.C.; Falon Svedlund, Glencoe, Ala.; Felicia Svedlund, Sacramento, Calif.; Samantha Svedlund, Atlanta, Ga.; and Claire Hammer, Rock Island; two great-great-grandsons, Logan Svedlund, Glencoe, Ala., and Brian Hammer, St. Louis, Mo.; and two great-great-granddaughters, Maryn and Adyr Thompson of Champaign.
You have free articles remaining.
She was preceded in death by two brothers, one sister and a daughter.
Hazel had lived in Gibson City since 1939. She owned and operated the Annex Café in Paxton. She later owned the OK Cafe in Gibson City for 33 years.
She was a member of First Christian Church in Gibson City.
Hazel was a talented and devoted wife, mother and friend.
Memorials may be made to Fairview Haven Retirement Community, Fairbury, or First Christian Church, Gibson City.
Lamb Funeral Home, Gibson City, is in charge of arrangements.