The area, north of Sycamore Street in Normal, is undergoing a facelift to rid the approximately 2-acre nature area of invasive, non-native plants and dead trees to create a higher quality wildlife habitat, said Gene Kotlinski, Normal's assistant director of parks and recreation.
"It's shocking when you first see it, but it will be a much healthier ecosystem," said Nathan Bair, a horticulturalist with the parks department. "It's not very pleasant to the eyes right now, but it will be a much healthier, beautiful wayside on the trail."
The problem with amur honeysuckle is it puts a chemical in the soil that stops other plants from growing, leaving barren ground beneath it, said Bair.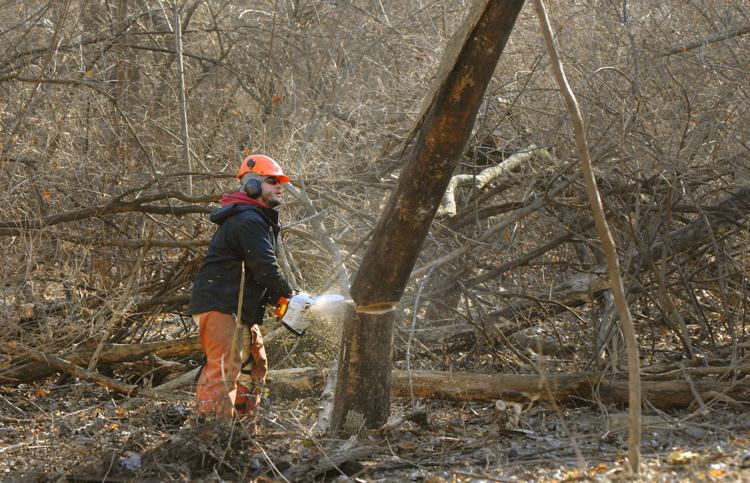 The work is part of a multi-year process following a plan developed by professional consultants, Ecology + Vision.
After removal of the unwanted vegetation, the next step will be to plant grasses and sedges in the open areas "to get natives re-established," said Bair. That also will allow the parks department to continue to attack invasives that might spring back.
Wildflowers, native shrubs, forbs and trees will be planted, starting this spring.
"We have a great network of volunteers," said Kotlinski, pointing to the John Wesley Powell Audubon Society, Ecology Action Center and Illinois State University as sources of help.
"It's a great community project," said Bair.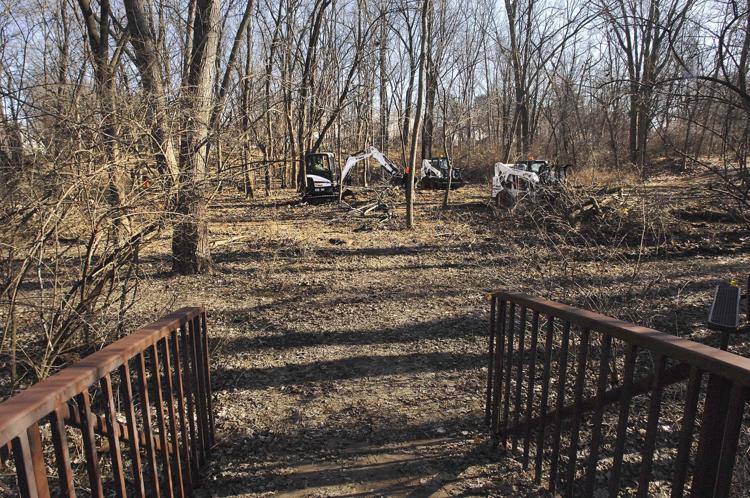 The area deeper in the valley toward the north side of the property will remain more densely wooded, said Kotlinski. Work also will be done along the creek to remove invasive plants and stop erosion, he said.
Standing in one of the cleared areas on Thursday, Kotlinski said, "You can already see what we have here. The sunshine can get to the forest floor," but, he added, "It's a process. It will take some time."
The town acquired the site that includes the Hidden Creek sanctuary in 1998 with the understanding that the section adjacent to Constitution Trail would be a nature preserve for wildlife.
Over the years, aggressive non-native shrubs, mostly amur honeysuckle, invaded the area, with the heavy brush making the area uninviting and unsafe for visitors while also crowding out vegetation that's more beneficial to wildlife, park officials said.
The dense growth made it difficult to see beyond 10 feet and raised safety concerns, said Kotlinski, although "we haven't had any incidents."
A rough set of stairs leads down from Constitution Trail or the park can be accessed from Sycamore Street.