BLOOMINGTON — Tasneem Naji stood in a line, shoulder to shoulder, with 13 other women as Imam Saad Palwala led more than 100 Muslims in prayer Friday at the Islamic Center of McLean County in Bloomington.
As they bowed their heads in a room separated from the men, many of the women wept.
"It's not really typical," said Naji. "Within the prayer he said a prayer for the dead. 'We are from God and to him we are returned' — that is something we say every time someone passes away."
"We are just anxious of what is going to happen next," Palwala told The Pantagraph after his sermon. "I'm not going to say fearful, but we're shocked that these kinds of things are happening more often and in a larger number now. This is something that is the norm now; it is something that is happening on a daily basis.
"This is something we should all be worried about," he said.
Earlier Friday, Palwala said he met with the mosque's board of directors about hiring a private security firm to stand guard during its prayer services.
"We are hoping to hire somebody to be there while we are praying to keep our children and our families protected during this very hard time," said Palwala.
He said the Muslim community was thankful to be joined at the local mosque's Jumu'ah prayer, also known as Friday prayer, by more than 50 people of other faiths.
"We decided to just put the word out to come and we were going to just stand outside and hold signs, and we were invited in to join the service," said Matejka.
"There is a fear, but it does give us a sense of peace and security to know that we're not alone and that we have these people with us," said Zaman. "In this community, it's not like if something happens to me, my neighbor doesn't cares. Everybody is around you."
One of Not In Our Town's key roles is "just to be present to say we're here with you and you're not alone," said Matejka. 
"Any time there is a tragedy like this it impacts not just the people in the immediate area. It sends a message, in this case, globally," he added. "Whether it is a swastika on locker in Normal or a shooting in New Zealand, it terrorizes, it frightens people, it makes them feel afraid because of their faith, because of their religion and their basic human rights."
"I think we should all keep standing together. That's how we remove all this bigotry and Islamaphobia," said Palwala.
CNN reported footage of the massacre was streamed live online, and a rambling manifesto laced with white supremacist references was published just before the shootings unfolded.
In his manifesto the suspected gunman said he idolized U.S. white supremacy and extremist movements.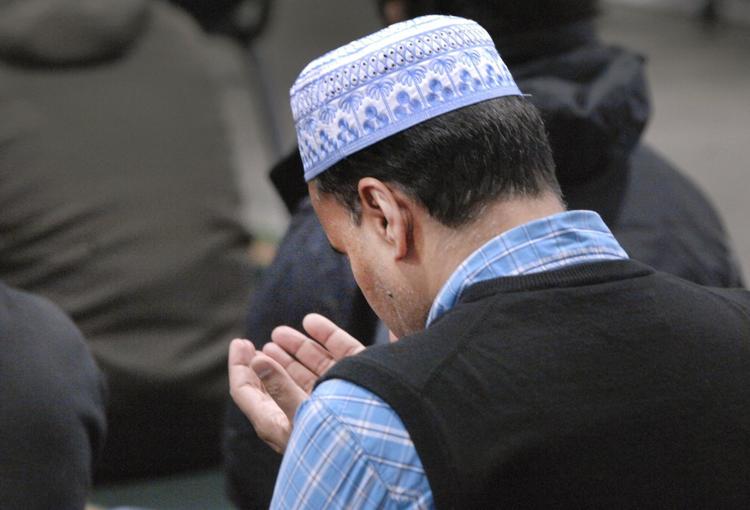 "I was actually sitting in bed and it was devastating to hear the news about my Muslim brothers and sisters in New Zealand," said Noor Alsaqri, 19. "It is just very heartbreaking. They were there worshiping, practicing their religion in a beautiful place.
"Everyone coming out here today to be with us is very, very amazing," she added.
Bloomington resident Diane Mather said she came to the local mosque because she felt a need to show her support for the Muslim community.
"My heart is heavy when I see what is happening to our Jewish people, our Muslim people," she said. "When I read (the suspected shooter) was motivated by what was happening in the United States and the white nationalism in our country it just made me sadder. This violence has to stop."