BLOOMINGTON — Thousands flocked to the annual Illinois Mennonite Relief Sale on Friday afternoon at the Interstate Center and walked away full of good food and maybe with a few new household items in tow.
They came for pie, handmade furniture, fried food and quilts and to show their support for the Mennonite Central Committee.
"It's a perfect storm of helping people who like to enjoy themselves," said Tim Schrag, lead pastor at the Mennonite Church of Normal and a member of the relief sale board.
Eighty percent of the proceeds from the relief sale, which reopens at 6 a.m. Saturday, will go to the Mennonite Central Committee, which partners with organizations around the world to provide humanitarian and disaster relief in 57 countries.
The remaining 20 percent of proceeds is distributed to local organizations in Central Illinois that "are involved with helping human need," Schrag said.
Les Gustafson-Zook, constituent relations coordinator for the Mennonite Central Committee, said many of the thousands of people who come to support the relief sale probably don't realize what they're supporting.
But even if they're only there because it's "an amazing community event" that's still a good reason.
"Many people that are at this sale are people that are motivated by interest in living out their faith, particularly the volunteers," he said. "Other people are just here because there's good food and because they're meeting friends and having fun chatting with friends.
"It's kind of a community gathering, a social gathering."
As soon as the doors opened Friday, the line for the Dutch Market stretched halfway through the Interstate Center. Inside, cheeses, pies, noodles, jams and bread were available in addition to the variety of meats at the Butcher Shoppe.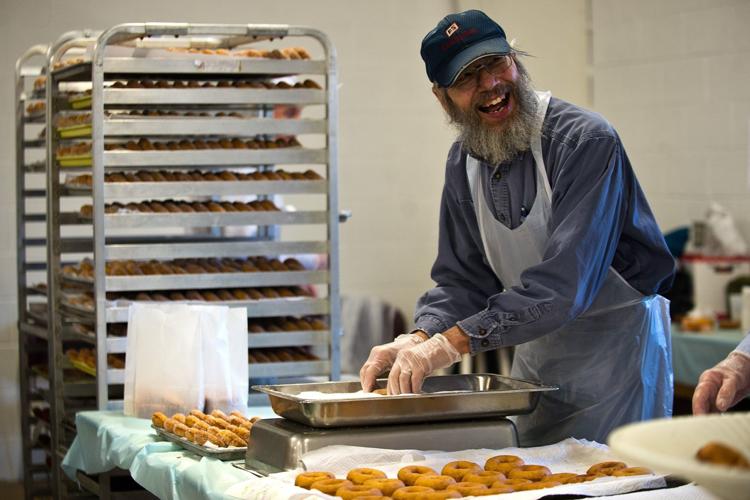 In other areas of the sale, people found fresh doughnuts, barbecued chicken, pork chops, fried potatoes, popcorn, hot dogs, ice cream and loads of pies in every flavor.
The evening's main meal left the smell of fried fish and chicken hanging in the air Friday night.
"Not very many of (the other relief sales around the country) have meals that are quite as large as here," Gustafson-Zook said.
Peggy Mann of Normal said she came for the food and stuck around to check out the plants and auction items, especially the quilts.
She also came to support her friend who donated a quilt for the auction.
The large selection of quilts is a one of the main attractions of the auction. Amish furniture, tools and antiques round out the choices.
This year's special furniture from Arthur, a village in southeastern Illinois, includes a large dining room set, three-piece bedroom suite, lounge chair, large rocker and lawn furniture.
"I think that there's a lot of people that just are delighted to be able to combine mission, a good time and they enjoy the things that are available for sale," Schrag said.
Alan and Sandy Voighs said they attend the relief sale every year because it's a good reason to get out of the house and they're happy to support the cause.
It's no single attraction that brings them out; it's simply "everything," the Voighs said.