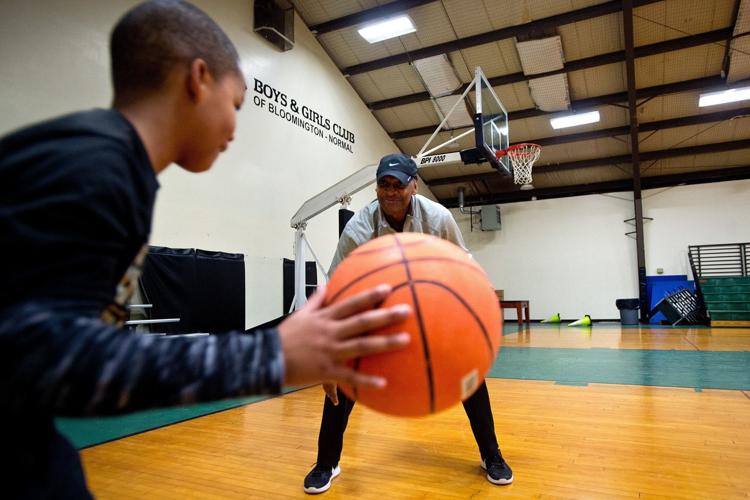 BLOOMINGTON — Some people use a basketball to score points. Dodie Dunson Sr. uses it to build bridges.
"Sports can bring an entire nation together," Dunson says. "It brings unity and it brings relationships."
Dunson looks over the Lawrence Irvin Neighborhood Center (LINC) gymnasium at the Boys & Girls Club of Bloomington-Normal and smiles broadly. He was just playing basketball, talking with and exchanging high-fives and hugs with some of the members, boys and girls.
There is more going on here than shooting hoops and casual talk. No one understands that better than Dunson, whose title at the Bloomington club, at 1615 W. Illinois St., is director of family engagement.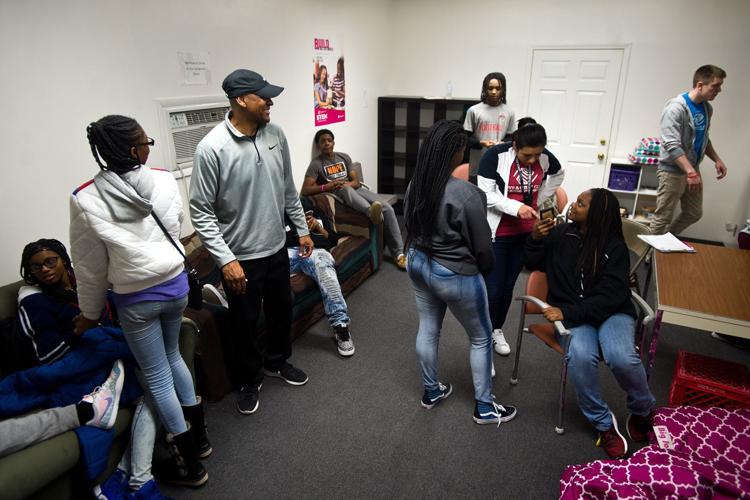 Dunson is a longtime youth advocate and mentor who has been affiliated with the west side neighborhood center — with the exception of eight years spent in Los Angeles — since 1975.
"I grew up in the (Bloomington) Housing Authority," says Dunson, 59, who lives in Normal. "When I see them (club members), I see myself. This (mentoring kids) has become my passion."
"It's our mission to serve kids," says Boys & Girls Club CEO Tony Morstatter. "But we know the family is a part of every kid we work with. To have Dodie as a part of our organization is invaluable.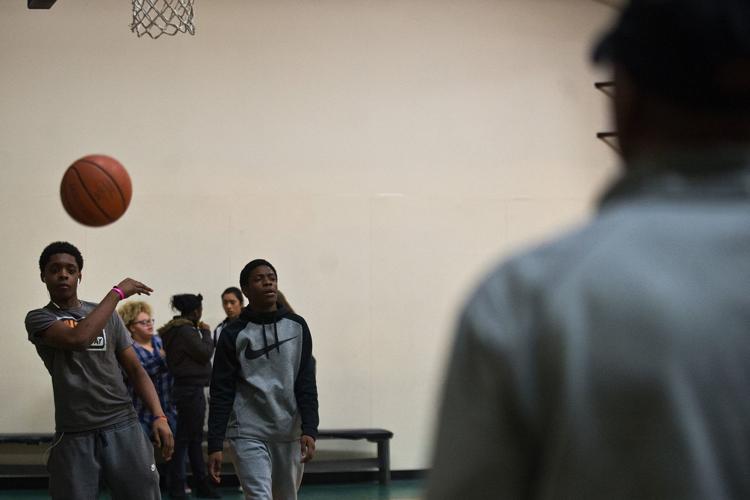 "The expertise, the knowledge, the relationships that Dodie has brought ... I don't know anyone who can replicate what that means to our families," Morstatter says.
"I've known Dodie mostly all my life," says Akio Dunning, 16, of Bloomington, a club member who has been coming to the LINC for years. "He's been a basketball coach and he's been like a dad to me."
"He teaches me a lot as a basketball coach," Akio adds. "But the life/dad part — I used to have anger problems. He taught me how to control it, to walk away or to talk with 'em to fix the situation. Not a lot of people would do that. It meant a lot."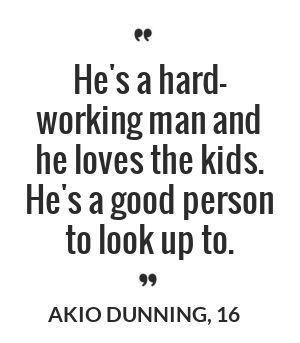 When Akio's mother had heart surgery, Dunson "took care of me and my big brother while she was in the hospital."
"He's a hard-working man and he loves the kids," Akio says. "He's a good person to look up to."
Dunson and his siblings were raised by their mother in Sunnyside Court family housing apartments in the 1960s and Wood Hill family housing apartments in the 1970s. His mother was a factory worker who returned to school, got a degree from Illinois State University and became a teacher at Heartland Head Start.
"She taught us how to treat people, about self-respect, about living your dreams," he says. "My mother instilled in us, 'You gotta be well-diversified.' I was able to connect with friends from all over."
You have free articles remaining.
Dunson started working at LINC as a teenager in 1975 and found people there to admire. When he played basketball for Bloomington High School, he was known as a fine defensive player and excellent ball handler under pressure.
He dreamed of becoming a pro and, after graduating from BHS in 1978, enrolled at Parkland Community College. But two breaks and two fractures in his right wrist set Dunson back and he left Parkland after his sophomore year.
Dunson had different jobs and a tryout with the Washington Bullets. He did well but wasn't called back.
He moved to Los Angeles, received his associate's degree, worked a couple of different jobs and played in an NBA summer league against stars like Magic Johnson.
He and his wife, Jackie, had two sons while they lived in Los Angeles, Dodie Jr., now 32, and Brandon, now 29.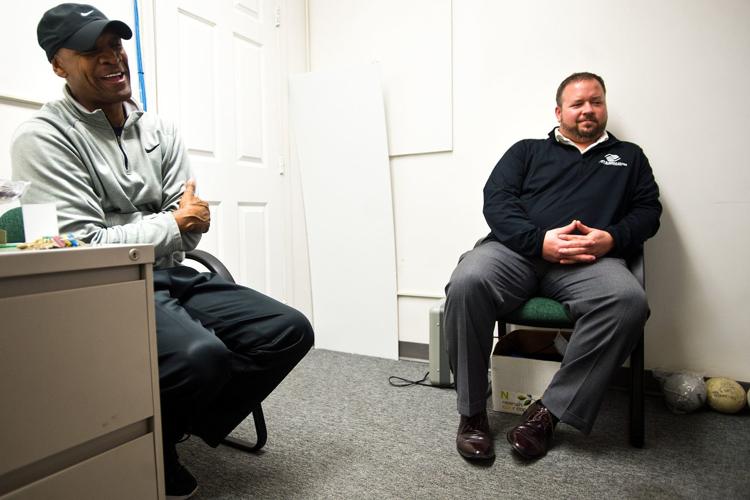 "We returned home in 1990," Dunson says. "I wanted them (their sons) to have an upbringing like I did."
He wanted to increase attendance and did it by making the center a go-to place not just for west-side kids.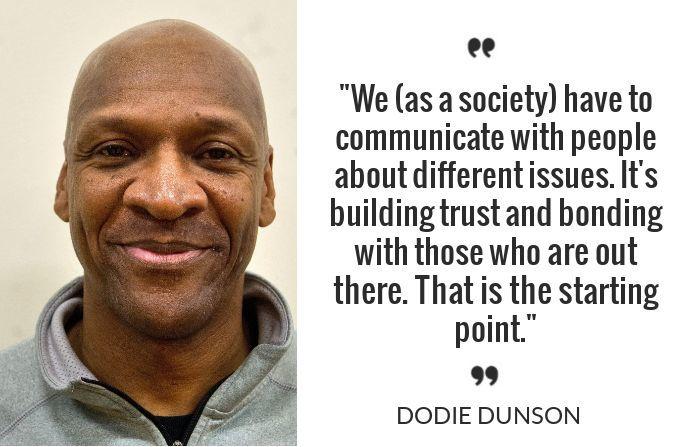 "Some people thought it (LINC) should just be for people of color and low-income people," Dunson recalls. "A community center should be for everybody."
"We got kids from all over town to come to the center. People of different backgrounds playing basketball together — that was important to me. Before you knew it, we had 300 kids. At one time, we had the largest youth basketball league in Central Illinois."
"I work with a lot of the young men and ladies and their families with different problems they have going on," he says.
Working with people he knows in the community, he has helped young people and their parents get jobs and has worked with landlords to delay eviction until families can come up with rent money.
"The kids have to be willing to understand right from wrong," Dunson says. "It's about being a good citizen and understanding what you need to do to prepare for life."
Morstatter says, "We can't give up on the kids. But the kids can't give up on us either."
"I've been the luckiest person in the world to come into contact with all the kids," Dunson says. "I'm living out my dreams."
Contact Paul Swiech at (309) 820-3275. Follow him on Twitter: @pg_swiech