Tips for a stunning Thanksgiving table
Lost on how to make your table look it's best this Thanksgiving?  Give these 7 tips a try!
By Mary Carol Garrity, Tribune News Service Writer and Elaine Markoutsas, Tribune News Service Writer
Tips for a stunning Thanksgiving table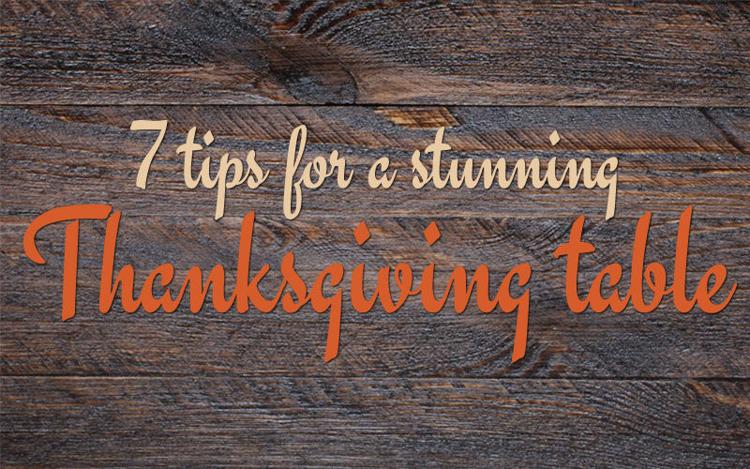 Grab a blanket and use it as a table topper
Go on a reconnaissance mission throughout your house looking for a throw blanket you can steal from the back of a chair or the foot of a bed. If you have a choice, grab one that is either neutral or shows off the colors of fall. Can't find a blanket that will work? In a pinch, I've even been known to use a shawl or scarf. When you score one, lay it over your dining table on the diagonal. You now have a beautiful table covering upon which to build your quick but gorgeous tablescape.
Layer the place settings to make them look luxurious
A layered table looks luxurious. You can achieve this affect in a snap just by stacking interesting dishes on top of one another, starting with a unique charger. If you don't have enough pieces in your dish set to serve the whole gang for Thanksgiving, no worries. Mix together different patterns, like I do on my table. How you do so will depend on the shape of your table and how many place settings you have of the dishes you want to use. I'm usually two plates short when I host Thanksgiving, so I set the sides of my table with the same dishes, then use the second set at the host and hostess seats.
Use place cards to make each place setting look special
OK, I know, I know. You are probably rolling your eyes right now, saying, "If I had time to do that, I wouldn't be in a panic!" But the truth is, it just takes seconds to do place cards for your guests, and it pays big dividends. That special step of putting someone's name above their seat makes them feel treasured, a valued part of the gathering. One year, I grabbed little boxes of chocolates at the grocery store, wrapped them up in brown craft paper and tied on a gift tag bearing each guest's name. These little brown paper packages tied up with strings did double duty as cute name card holders and fun take-home gifts. You can use just about anything to hold name cards, from fall gourds to pine cones.
Opt for a simple centerpiece that looks dramatic
Here's my formula for a centerpiece that looks sensational but takes seconds to pull together: Line stuff up and down the center of your table. It could be a row of pumpkins interspersed with clusters of votives, lanterns or hurricanes holding flickering candles, with fall leaves and berries collected from your yard poked in between. Another one of my done-in-a-flash centerpieces is a big, beautiful bowl holding seasonal treasures. I love to fill blue and white oversized serving bowls, cachepots or English foot baths with a tumble of gourds.
Purchase a set of salad plates or a platter imprinted with a turkey design
Channeling 18th century styles, this 18¾-by-14¾-inch glazed porcelain Plymouth turkey platter with a harvest garland border of oak leaves and acorns looks like traditional transferware and is dishwasher and microwave safe. It's available from Williams-Sonoma.
Consider one or a pair of figural turkeys on the table or sideboard
Realistic looking turkeys, sold as a pair from Wisteria, are as organic as they get: they're crafted from shredded grass, sliced branches and leaves.
Elevate the serveware
This antique bronze finished aluminum turkey from Pottery Barn stands tall as it nestles a favorite Thanksgiving dish in rustic style.