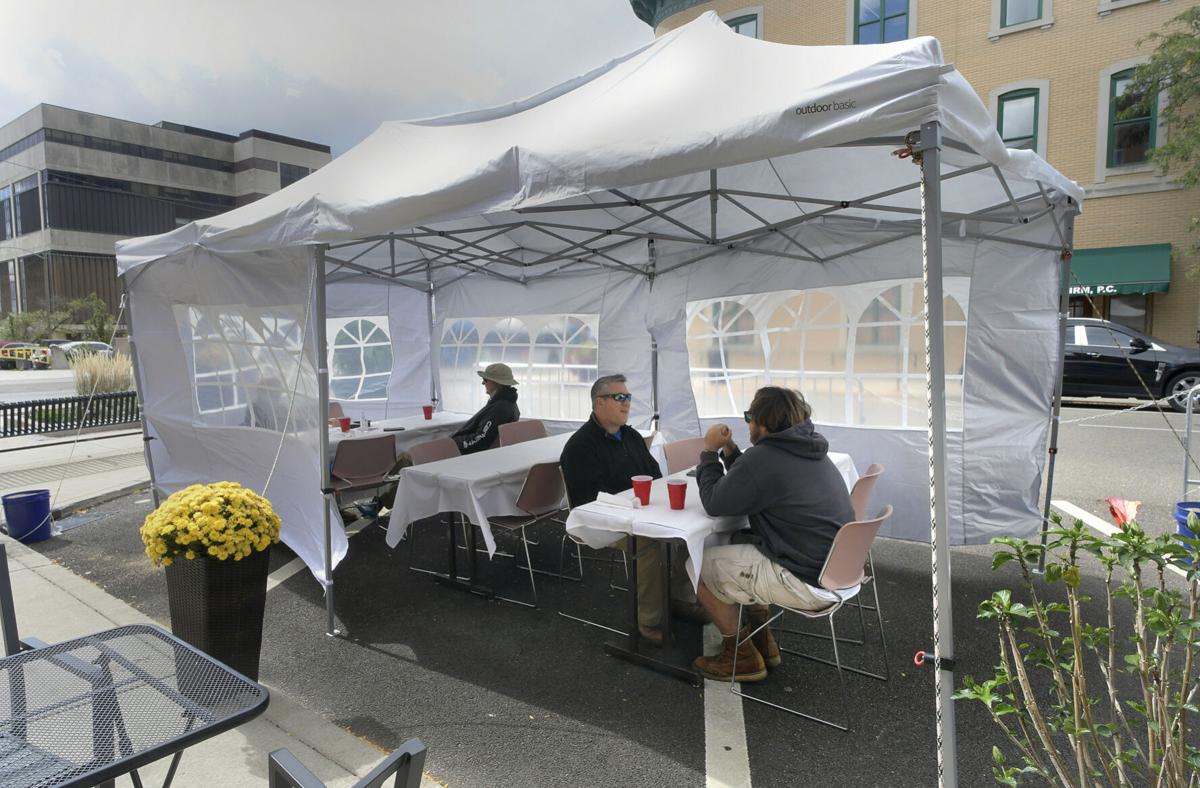 BLOOMINGTON — Bob Crawford knows his beer garden days are numbered.
On most summer evenings, Crawford found the outdoor patio packed at his Bloomington restaurant, Crawford's Corner Pub. The space has allowed patrons to enjoy dinner and drinks with friends while abiding by health guidelines aimed at limiting the spread of COVID-19.
Requirements for social distancing led many restaurant owners to rely more heavily on outdoor dining this summer. But as gray skies and chilly fall winds creep into Central Illinois, Crawford and others are rethinking their plans. Some are seeking alternatives, including the use of space heaters, while others are hoping to rely on increased delivery service. Many are worried about losing revenue in the midst of what has already been a difficult year.  
"It's been great the last few months," said Crawford. "Now, the question every day, people say, 'Well, how are you going to heat this?'
"Well, that's not really realistic."
Restaurants across Illinois were forced to suspend indoor dining March 17 in the early days of the pandemic. Many clung to curbside and delivery offerings until they were allowed to operate outdoor service starting May 29 under phase 3 of Gov. J.B. Pritzker's Restore Illinois plan. 
Cities across the state responded, enacting emergency orders allowing or expanding temporary outdoor dining during the summer months. Indoor dining was allowed again June 26, but restrictions — 6 feet between tables, for example — made outdoor dining easier to accommodate for many.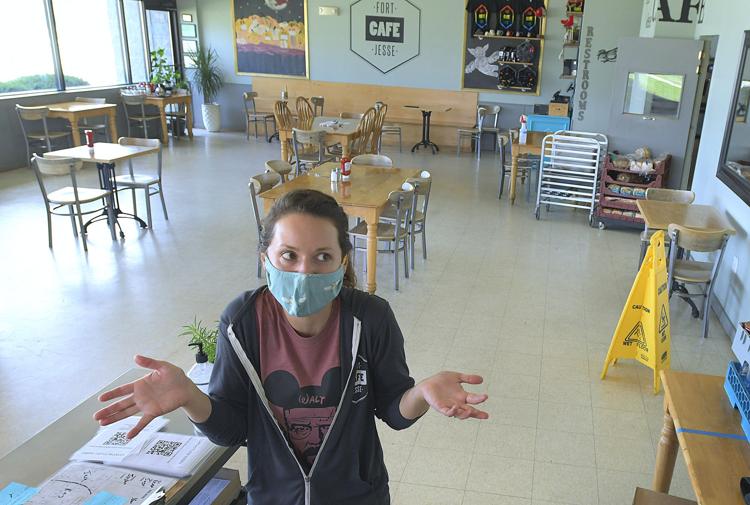 In May, Crawford repaved and sectioned off a portion of the restaurant's parking lot for 16 tables. As the days get shorter and colder, he is praying for a few extra weeks of good weather before closing the beer garden for the winter.
Heating the area would be too expensive, Crawford said. It could cost up to $200 per day to operate propane heaters.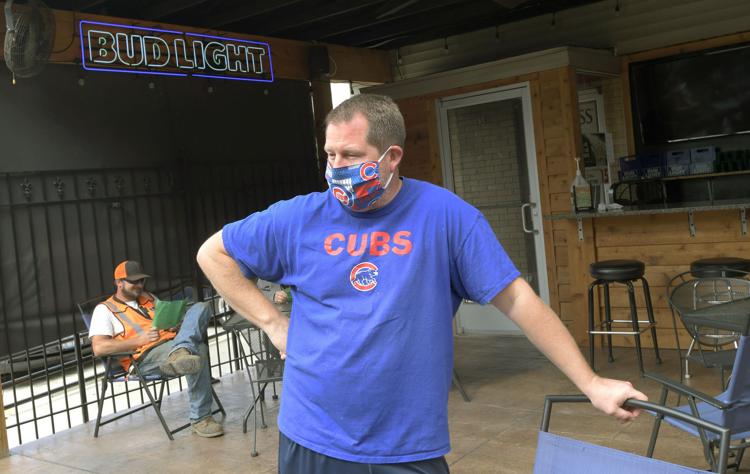 "The numbers just don't add up to do it," Crawford said. "Then, you're still hoping that December — with snow on the ground — people are still willing to sit next to your heater out in the beer garden.
"Unfortunately, it's just not going to work out that way," he said.
Fall outdoor dining
Weather permitting, restaurant and bar owners in Bloomington-Normal can hope to squeeze a few extra weeks out of temporary outdoor dining.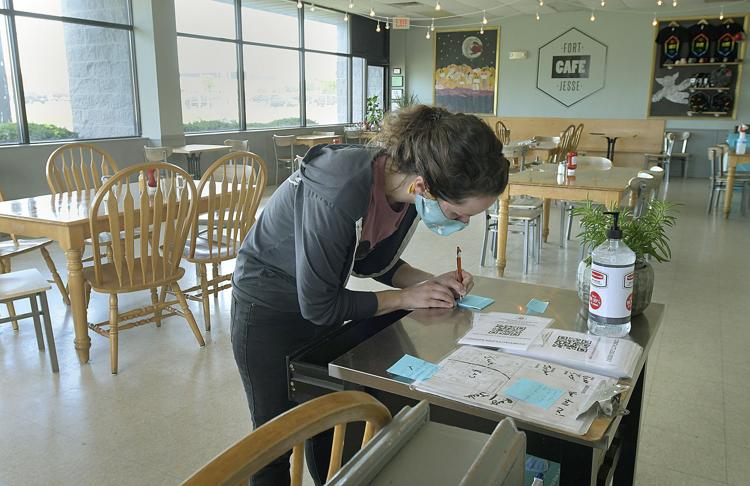 Normal's outdoor dining emergency order was extended through Nov. 1, and city officials are considering allowing space heaters, said Normal City Manager Pam Reece.
"We wanted to throw out a date in the fall if weather permits people can still sit outside and enjoy outdoor dining," she said. "We haven't heard from any restaurants that they have a concern with that date, so at this point we haven't talked about modifying that date at all."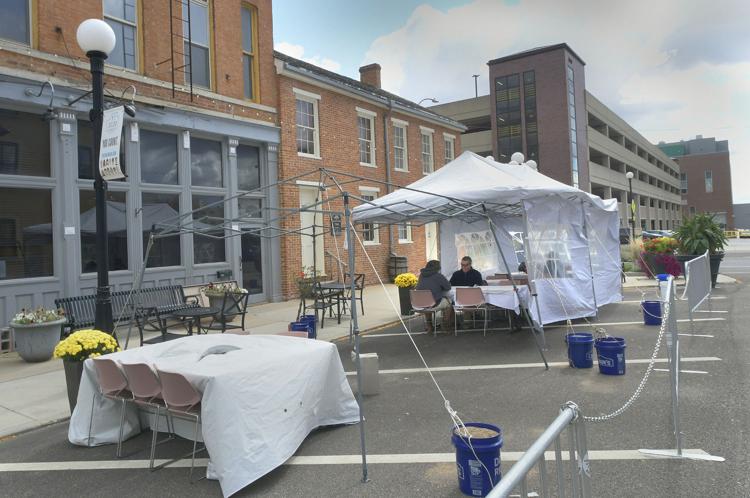 There's no doubt outdoor dining proved beneficial to many restaurants struggling during the COVID-19 pandemic. Crawford noted that many customers felt safer eating outside, as well. 
The restaurant, 1531 Fort Jesse Rd., in Normal, offers four outdoor tables on a first-come, first-served basis to customers, and 12 indoor tables for reservations.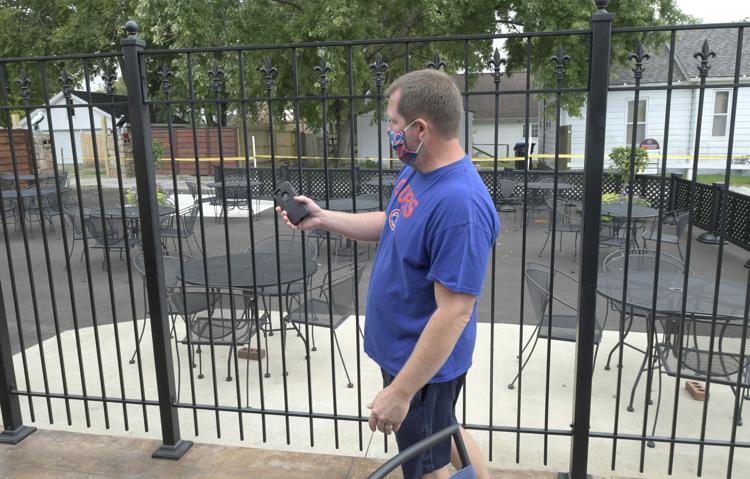 "Now that we've moved into full dining, I think a lot of our regulars who were a little weary about dining inside are utilizing that space," said Robinson. "I think they really enjoy being out there and having that fresh air."
The experience is likely to become less enjoyable when the fresh air turns cold and wet, and that's what restaurant and bar owners are preparing to face. 
Pub II, 102 N. Linden St., in Normal has a large beer garden that could allow the bar to operate completely outside if necessary, manager Luke Rokos said. But, even in the best of times, business often begins to slow during the cold winter months.
If unable to operate the beer garden, Rokos said, the bar would likely lose business, but "that's the nature of the beast."
"Business has been pretty slow lately anyways, so it's not like we're packing outside, packing inside," said Rokos. "It would be nice to have both open, but if we can't have it open, that's part of it. Winter is always slower anyways."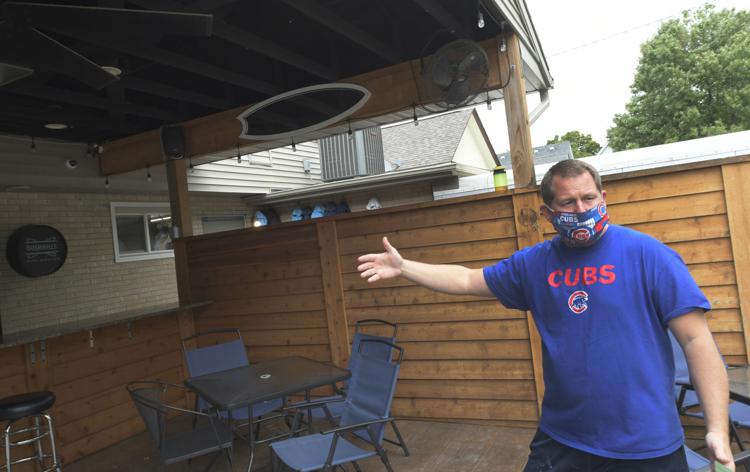 Crawford said his pub is in a similar position. Crawford's Corner Pub was able to double its seating through the temporary beer garden, and it even allowed the restaurant to increase staffing — so much so that Crawford said the business was "thriving" this summer.
"I think it benefited us," he said. "More people know about Crawford's Corner Pub than they did pre-COVID."
Thanks to social media and people more inclined to shop local, Crawford even started a successful delivery service. 
Now, facing the end of summer, he is hoping to rely more on that delivery service. Crawford will also keep his basement dining room, which has a full bar, open as needed to accommodate social distancing.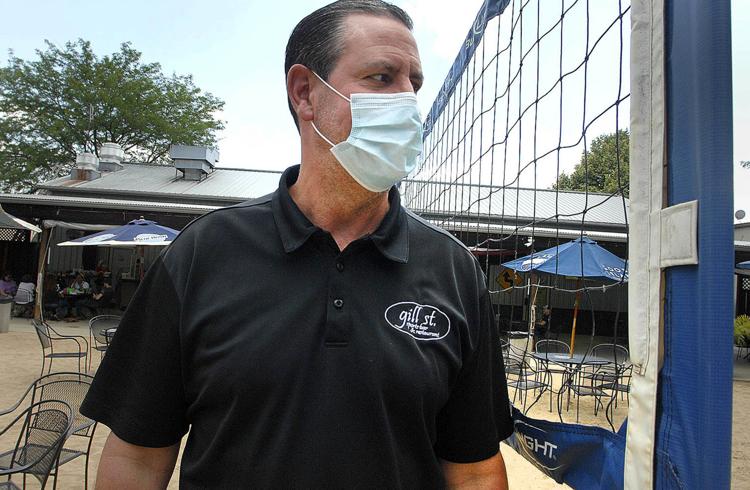 "It's definitely going to hurt not having the outdoor area, but financially it doesn't make sense to figure out how to cover it for just one year," he said. "I'm really banking that with us having delivery in place that it takes off during the winter as people don't want to leave the house."
Creativity and innovation
For The Lucca Grill, it's time to get creative. 
The Bloomington restaurant at 116 E. Market St. has offered frozen pizzas for carryout since the start of the pandemic. Co-owner John Koch hopes the restaurant can increase sales and appeal to customers who are still hesitant about dining in.
"My concern is that people are going to, once they get more indoors, once there's more shared contact, it worries me that the numbers will go back up again," said Koch. "If we see a second wave, my concern is that we will lose the indoor dining and have to go to strictly carryout."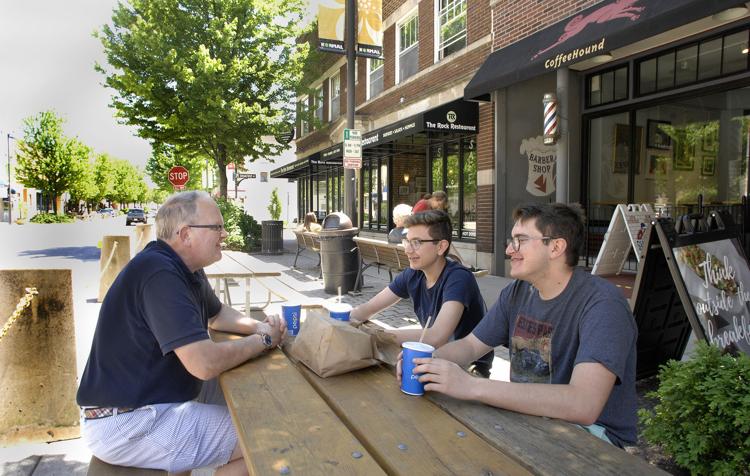 This week, the restaurant at 306 N. Center St. reopened its indoor dining space. Owners Chelsea Heffernan and Terrie Vanderlugt are seeking ways to keep business fresh. 
That includes offering weekly curbside packages featuring meal and appetizers, and even at-home cocktail kits. Specials have included at-home mimosa and Bloody Mary cocktail kits, or offering a fall wine package at retail price. 
"It's definitely going to be a new ballgame for us for sure," said Heffernan. "There's concerns that it will be a struggle, but we're just going to do the best we can as business owners."
Here to stay
Expansion of outdoor dining may have been driven by necessity, but Gleason, the Bloomington city manager, believes it is here to stay.
Officials have long envisioned outdoor dining as a key part of the downtown area, Gleason said. Though there have been disagreements on how to implement it, he said, the pandemic opened the door for new opportunities for the city.
Now, city staff are researching how to incorporate summer outdoor dining permanently. 
"During COVID, without outdoor dining, we just went straight to a solution to the problem and that was providing revenue opportunities to restaurant and bar owners," said Gleason. "Now we've got it, and I'm confident in saying that it's never going away."
---
Photos: Restaurants look for options as outdoor dining freezes during Winter
Contact Sierra Henry at 309-820-3234. Follow her on Twitter: @pg_sierrahenry.