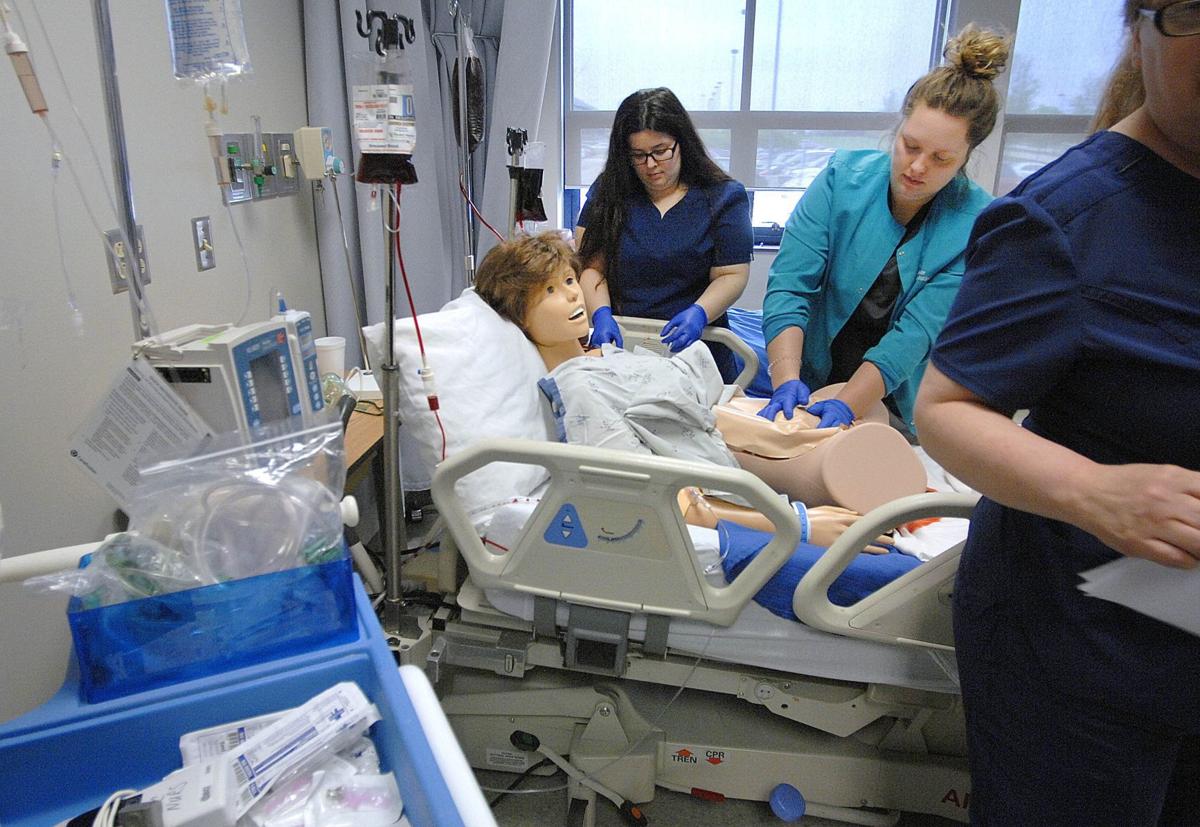 NORMAL — The patient had delivered a baby weighing more than 10 pounds earlier in the day when a nurse came in to check on her and discovered signs of hemorrhaging.
She was quickly joined by three more team members, who went to work to save the patient's life.
"This can be a significant cause of mortality," said Janice Westpfahl, a labor and delivery nurse at Advocate BroMenn Medical Center. "Even one death is too many."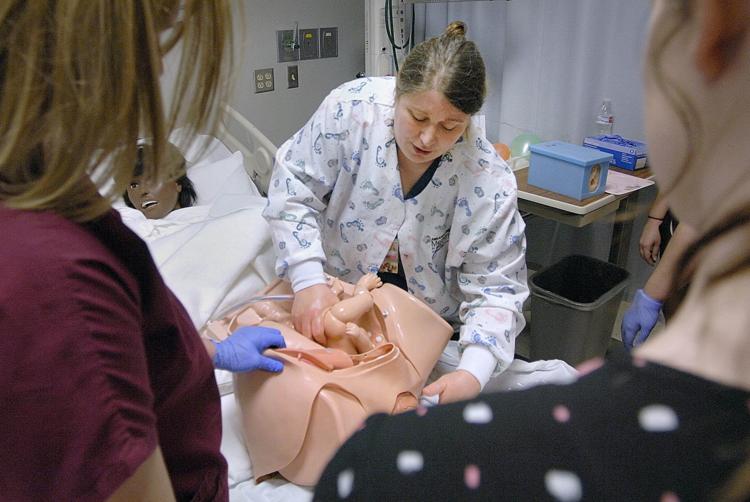 While one group was attending to the hemorrhaging patient, a second group was on the other end of the simulation lab with a birth simulator, learning about their roles when a woman is in labor and giving birth.
A third group was learning about blood transfusions. As the class progressed, each group rotated through the three stations.
The birth simulator and the postpartum hemorrhage simulator were both on loan from 3B Scientific. The Heartland Community College Foundation is looking into purchasing both simulators and related equipment with about $4,500 raised at its annual "FunnyRaiser."
Training future nurses to respond to hemorrhaging and other obstetric emergencies is crucial as the United States and Illinois struggle with rising maternal mortality rates, explained O'Connor.
Mothers die in about 17 out of every 100,000 births each year, compared to 12 per 100,000 a quarter century ago, the CDC reported.
Among factors contributing to the problem are inadequate pre-natal care and post-delivery care, and inadequate treatment of chronic diseases, such as hypertension, said O'Connor.
Although students go through clinical training during their education, they might not experience particular scenarios that could face them later in their careers, she said.
Even if a student isn't planning to be a labor and delivery nurse, learning how to handle bleeding, for example, is "valuable for a patient going into shock or someone hemorrhaging from another cause," said O'Connor.
The college has about 65 nursing students.
Jack Hoving, a nursing student from Pontiac who took part in the hemorrhage scenario, said, "The biggest surprise was how stressful it was, even though it wasn't a real patient. … I'm thankful that we got to practice here in a controlled situation."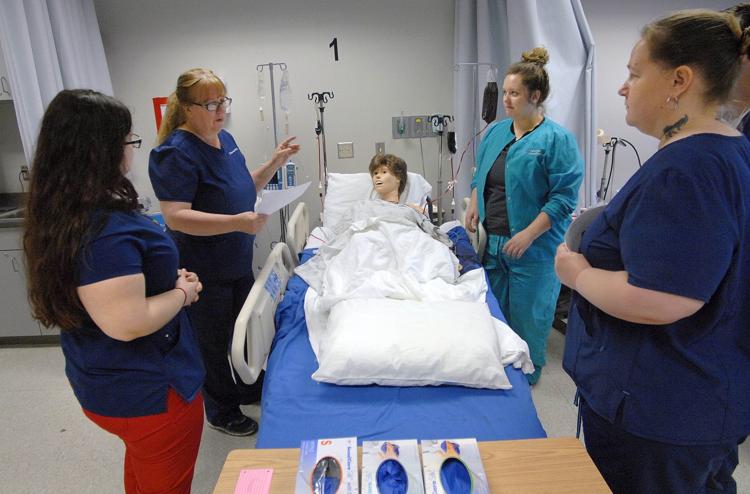 Another nursing student, Holly Davis of Bloomington, said the scenario taught her how "teamwork is the key to the whole process."
Meanwhile, other students worked at the birthing simulator with Charlotte Bland and Kaydee Parker, labor and delivery nurses at Abraham Lincoln Memorial Hospital in Lincoln.
Bland said the birth simulator is a good visual aid that also allows you to stop during the process and explain what's going on — which, of course, is not possible during an actual birth.
Another advantage of the simulator, noted Parker, is the ability to remove the stomach area so students could see inside the womb and better understand how the baby turns and changes positions during birth.
Westpfahl said the students will find the training and teamwork will continue even after they graduate and become nurses.
"When it's fast-paced and lives are on the line, you want to know you have each other's back," she said.
---
Photos: Heartland Community College students learn on simulators in nursing lab
051019-blm-loc-2heartland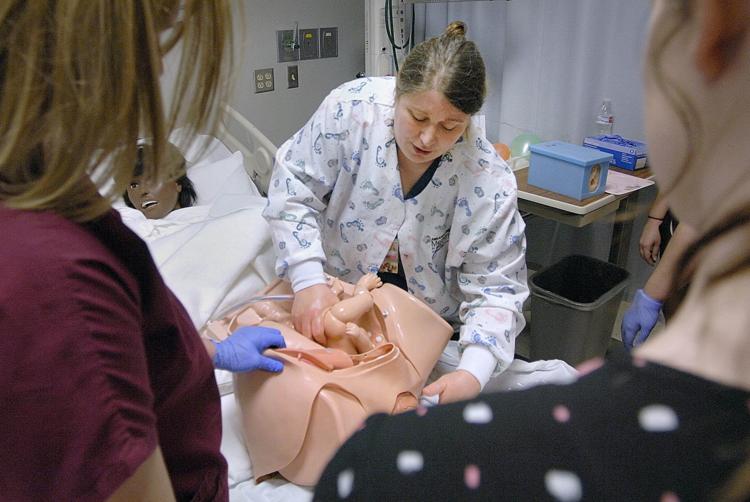 051019-blm-loc-1heartland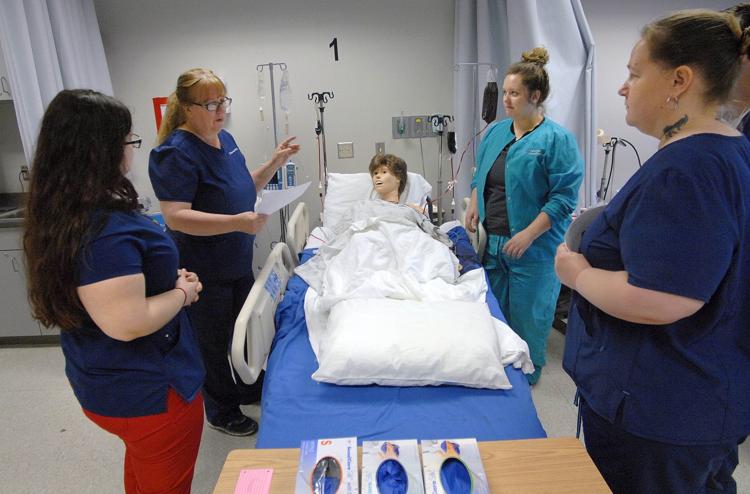 051019-blm-loc-3heartland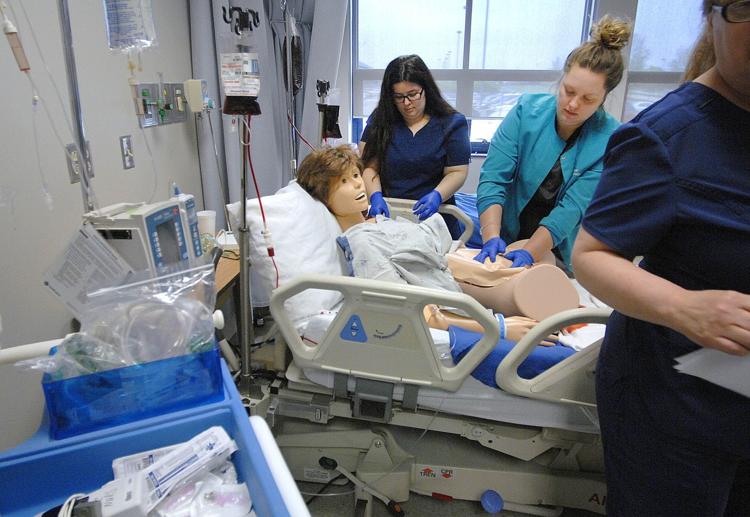 051019-blm-loc-4heartland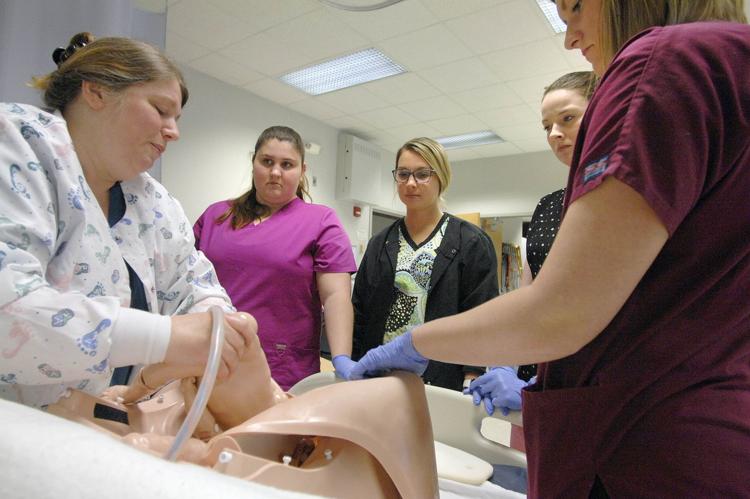 051019-blm-loc-5heartland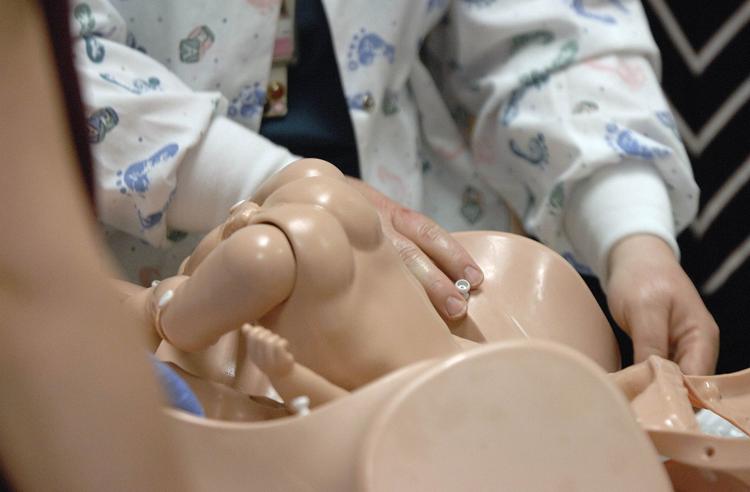 051019-blm-loc-6heartland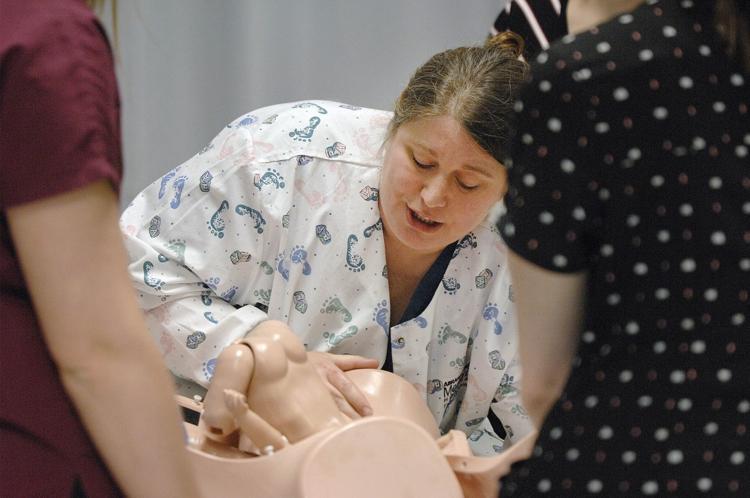 051019-blm-loc-7heartland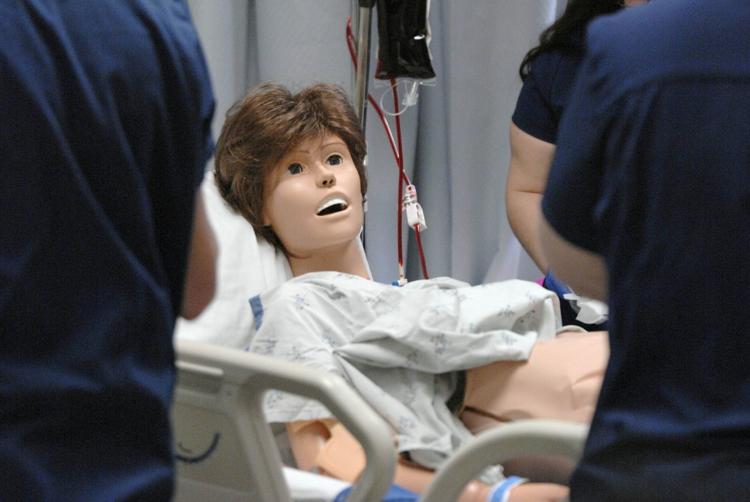 051019-blm-loc-8heartland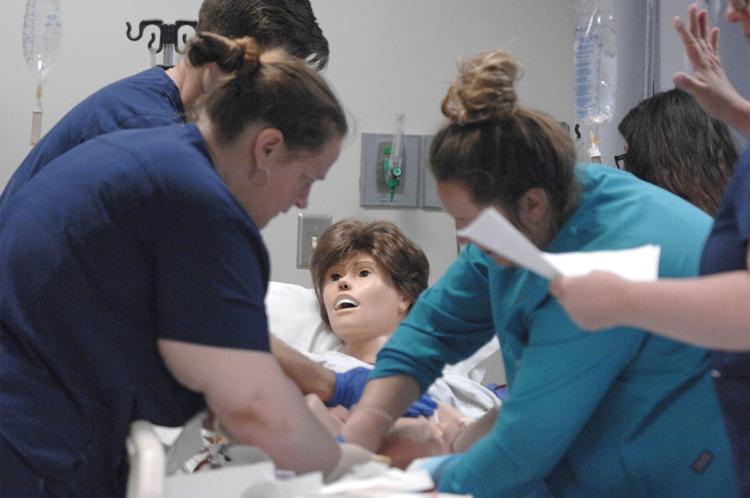 051019-blm-loc-9heartland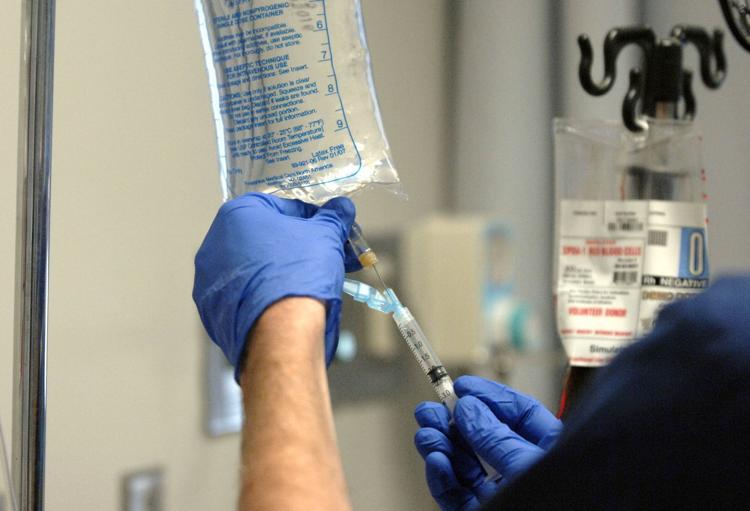 051019-blm-loc-10heartland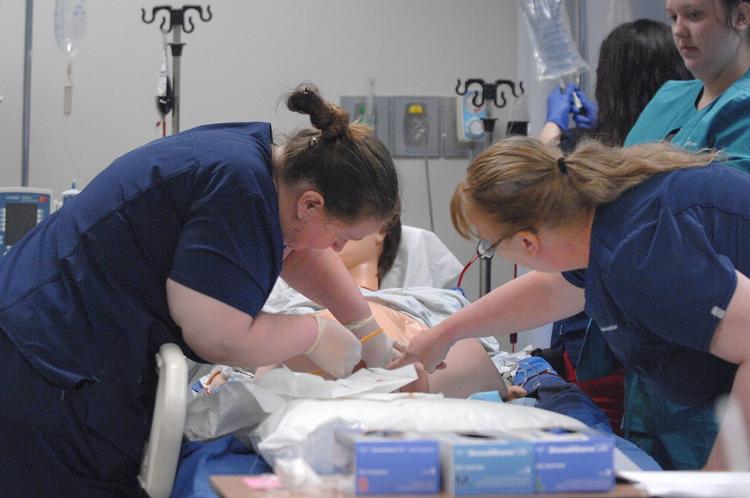 051019-blm-loc-11heartland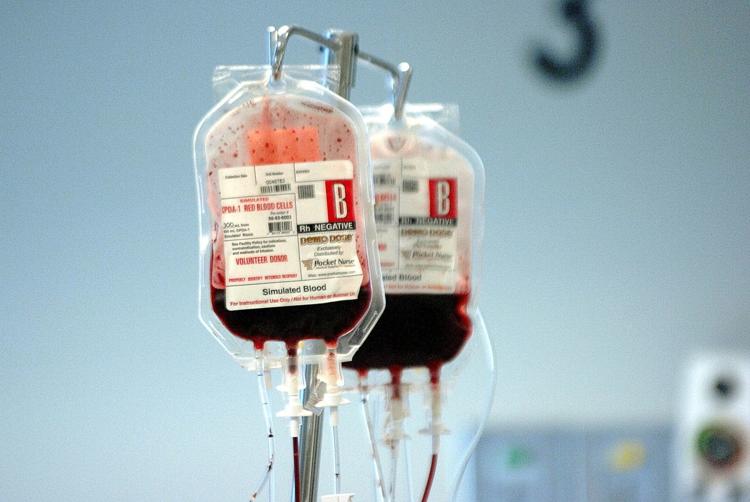 051019-blm-loc-12heartland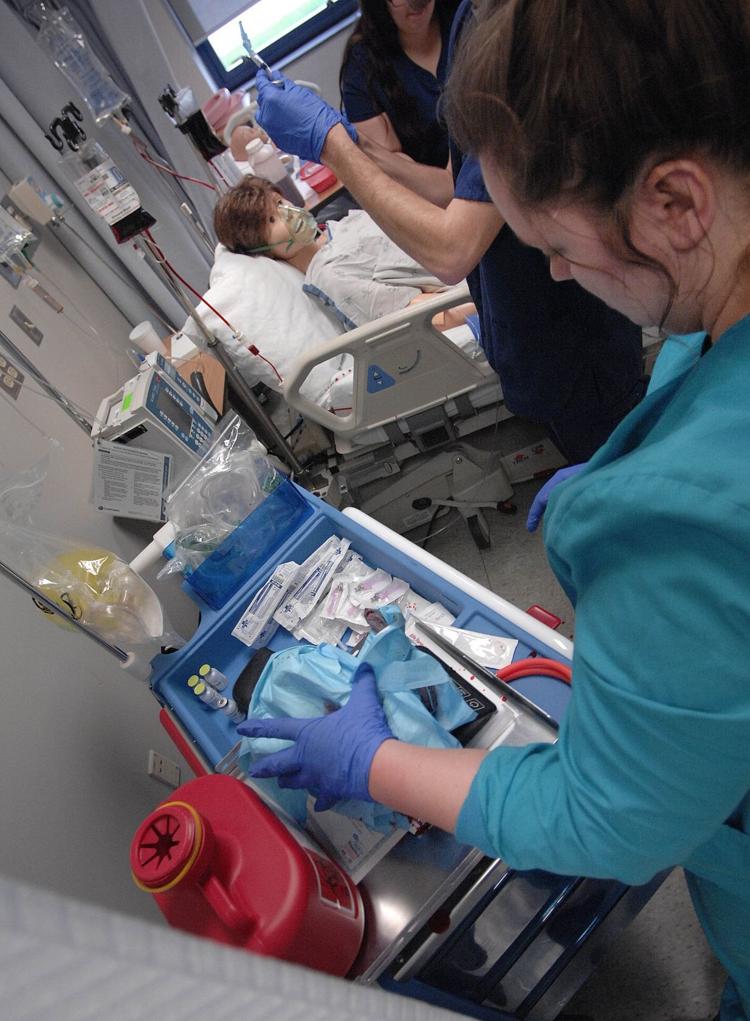 Contact Lenore Sobota at (309) 820-3240. Follow her on Twitter: @Pg_Sobota
Build your health & fitness knowledge
Sign up here to get the latest health & fitness updates in your inbox every week!