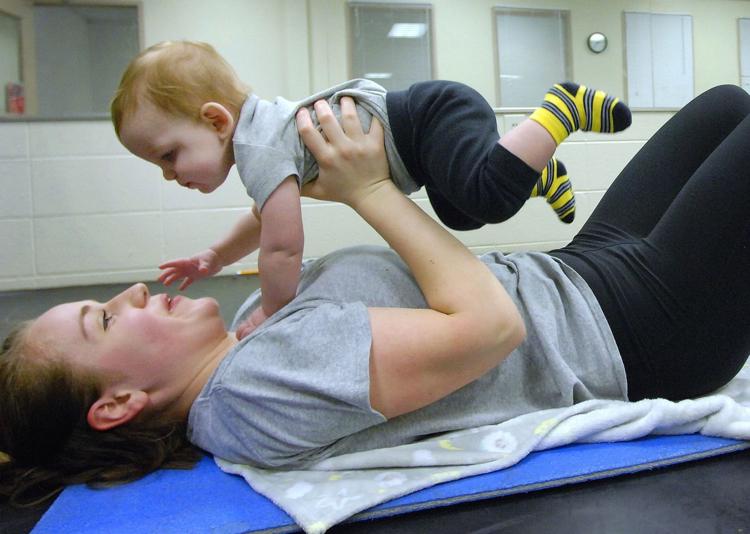 BLOOMINGTON — Four women did butt-kicks, high knees, side steps, arm rotations, squats and other movements when their instructor gave them a suggestion they likely hadn't heard before in an exercise class before.
"When we go down for each push-up, let's give them a kiss," said fitness instructor Nicolette Hursey. So there were Hursey, Lisa McCully, Marisa Crabtree and Jordan Mueller kissing Taygan, Samuel, Douglas and Ezra each time the women went down for a push-up and talking with them as they held planks.
Diapers & Dumbbells is a small-group exercise class that began Tuesday at the Bloomington-Normal YMCA for mothers and their children ages 3 months to about 1 year. What makes the class unusual is the women are holding their children as they are exercising or — in the case of the push-ups and planks — talking with and kissing their infants as they are underneath their moms.
Or tickling them as the women come down from side planks.
"It's a good workout and you usually don't get to work out with your child," said Jordan Mueller, 24, of Bloomington, whose 10-month-old son, Ezra, weighs 19 pounds.
"I like it ... He works out with me," said Marisa Crabtree, 31, of Bloomington, whose 8-month-old son, Douglas, weighs 18 pounds.
Lisa McCully, 34, of Normal, whose 25-pound son, Samuel, is at the high end of the class at 14 months, also likes the workout and appreciates connecting with other moms. After class, they visit for a few minutes, discussing current challenges, such as how to get their children to sleep in their cribs.
"It's OK if everything doesn't go exactly to the script," Mueller said of the class. "Everyone is in the same boat."
So when Samuel decided to toddle off to get a drink from his mom's water bottle, even though he was just a few feet from his mother, all the moms kept an eye on him.
When the class ended, the women acknowledged each other and the children.
"Yeah, Taygan," Hursey, 32, said to her 5-month-old son, who weighs 17 pounds.
"I worked out my entire pregnancy," said Hursey, who took a six-week break from workouts, as recommended by her doctor, after Taygan was born.
But four weeks after Taygan was born, Hursey, anxious to return to exercise besides walking, admits to "playing around at home" to determine exercises that she could do while holding Taygan.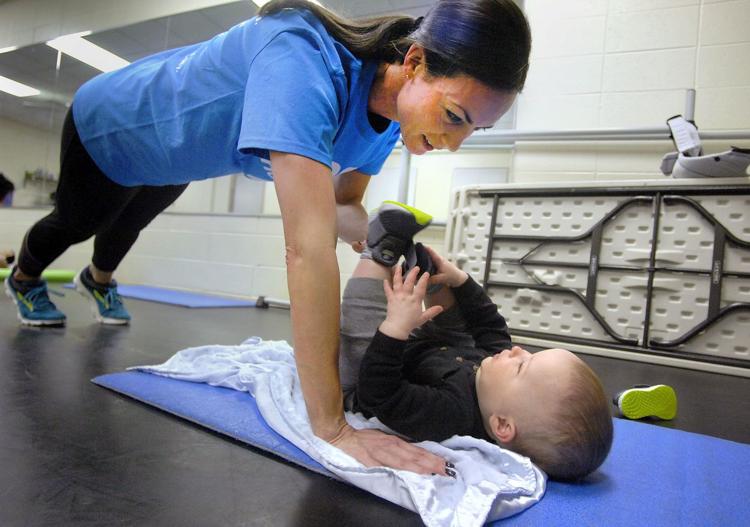 "Surprisingly, there was quite a bit we could do," Hursey said. After successfully exercising with Taygan, Hursey figured other moms with infants could do the same thing.
"I thought, 'I can totally make this a class,'" Hursey said. Using her experience as a group fitness instructor and personal trainer, the exercises she tried with Taygan and ideas from a similar class at the Mattoon YMCA, Hursey developed Diapers & Dumbbells.
Hursey tried the 45-minute class out in the fall and discovered the infants had enough after 30 minutes. So she scaled back the class to 30 minutes of exercise, followed by 15 minutes of moms sharing information.
Hursey limits each class to no more than five mom/infant pairs so everyone can get individualized attention and for safety reasons. The class is offered from 9 to 9:45 a.m. Tuesdays and Thursdays, is free to YMCA members and costs $8 per class for non-members.
If there is a demand, Hursey also may offer the class later in the day.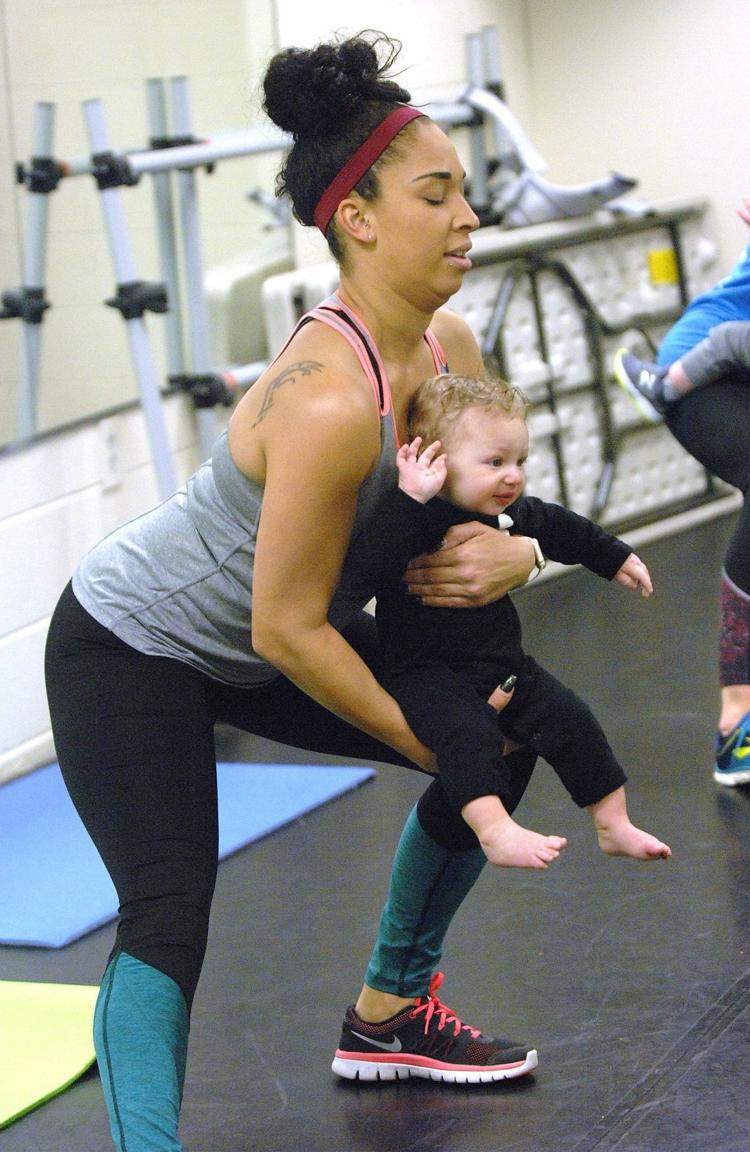 She begins the class by instructing moms how to hold their children so they remain stable and safe during exercises. She also advises them throughout the class about how they can adapt exercises when they are too difficult.
Because the class calls for each woman to remain in the same spot for the entire class, it reduces the risk of injuring a child, Mueller said.
Mueller concedes that post-partum exercise is difficult, but it helps to be with other moms.
"I love this part of being with him."
Contact Paul Swiech at (309) 820-3275. Follow him on Twitter: @pg_swiech
Build your health & fitness knowledge
Sign up here to get the latest health & fitness updates in your inbox every week!