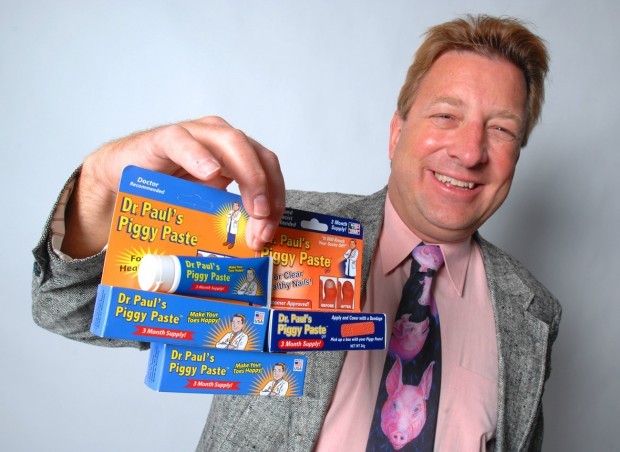 BLOOMINGTON -- A Washington family practice physician has invented a product to improve toenail appearance, and even he has been surprised by its early success.
"People were hungry for a product that works," said Dr. Paul Kinsinger.
Kinsinger, 52 -- who runs Illini Family Medicine in Washington with his brother, Dr. Lee Kinsinger -- has developed and is selling a product for clear, healthy nails. Dr. Paul's Piggy Paste (the name is a takeoff on Boudreaux's Butt Paste for diaper rash) is being sold at several stores in the Bloomington-Normal and Peoria areas and in Lafayette, Ind., where another Kinsinger brother lives.
While the doctor can't say that the product treats toenail fungus because Piggy Paste hasn't been through a clinical trial, testing on his patients and product sales indicate it's working. Since its introduction at a single store in Washington in January, 5,000 tubes of Piggy Paste have been sold. A tube contains a three-month supply and retails for $29.95.
"Our stores in the Peoria/Bloomington area do carry this product, and so far, the item is being received very positively by customers," said Vivika Vergara of Walgreens.
"I've never seen anything sell like this in the health and beauty aids section," said Jim Linsley, owner of Lindy's Downtown Market in Washington, the first store to sell Piggy Paste. "I didn't know it (toenail fungus) was that much of a problem."
Ten percent of the population has toenail fungus, mostly older adults who have diabetes and peripheral vascular disease and athletes whose feet often are perspiring and covered.
Toenail fungus generally is not a serious problem, although the nails are thick and discolored. Kinsinger knew from his practice and from his work as medical director of Methodist Medical Center's hospice program in Peoria that soaking toes in a solution of
half vinegar (acetic acid) and half water five minutes a day for nine months can help clear up toenail fungus.
"But today's society is so fast-paced that most people don't have five minutes to do soaking. So I thought, 'What if we deliver it (the vinegar) through a penetrating gel?'" Kinsinger said.
Working with a Peoria-area compounding pharmacist who prepares specialized medicines to fill individual patient prescriptions, the two men developed a paste that includes thymol (an active ingredient in mouthwash) and other ingredients to enhance the penetration of the paste.
Kinsinger asked 110 patients with toenail fungus to apply a pea-sized amount of the paste to the nail/cuticle junction of each affected toenail, to cover the area with a bandage for at least two hours, and to do that once a day.
In three to four months, the nails cleared in 81 of the patients, apparently as new nails grew without fungal spores.
Linsley admitted he was skeptical and began selling Piggy Paste as a courtesy to Kinsinger. But he sold six tubes in the first hour and has sold more than 400 tubes in the four months since then.
Dr. Carl Cortese, a podiatrist with Cortese Foot and Ankle Clinic in Normal, said Piggy Paste has similar properties to other anti-fungal products.
"I don't think this is going to hurt anybody," he said of Piggy Paste. "It probably could work."
Cortese said Piggy Paste and other anti-fungal products could help with minor toenail fungus but more aggressive, laser treatment is needed for serious cases.
Kinsinger is trying to get his product in more stores and eventually wants a clinical trial done.
Build your health & fitness knowledge
Sign up here to get the latest health & fitness updates in your inbox every week!