BLOOMINGTON — When Elizabeth Mester realized on June 22 that her newborn daughter, Clara, had been born tongue-tied, "we wanted to get on top of it as quickly as possible."
When Lindsay Ford was told by a nurse that her son, Hudson, was born June 26 with a tongue-tie, "my first reaction was, 'What are we going to do?'"
Tongue-tie, that has a medical name of ankyloglossia, is a condition present at birth that restricts the tongue's range of motion. A tight band of tissue called the frenulum attaches the bottom of the tongue to the floor of the mouth.
The immediate problem is the newborn has trouble breastfeeding, meaning the baby isn't getting nutrients and the mother suffers with raw, sore and bleeding nipples.
An unresolved tongue-tie can make oral hygiene difficult for a child and may make it challenging to form specific sounds such as "th," "s," "d," "l" and "t."
Tongue-ties, which affect four to 22 of 1,000 babies, according to the Breastfeeding Basics website, are relatively easy to resolve with a procedure called a frenectomy, or frenotomy, in which the frenulum is cut by a trained provider using sterile scissors or a special laser. When performed on a newborn, stitches are not needed. Cutting the frenulum allows the tongue to move more freely, making breastfeeding, oral hygiene and speaking easier.
But few medical providers perform the procedure, in part because breastfeeding fell out of favor for a while. Bottle feeding is not hampered as much as breastfeeding. In addition, some doctors preferred to wait and see whether the frenulum would stretch out on its own over time without medical intervention.
As more women are breastfeeding, they want tongue-ties resolved immediately, said Sarah Musselman, a registered nurse and lactation consultant at OSF HealthCare St. Joseph Medical Center in Bloomington.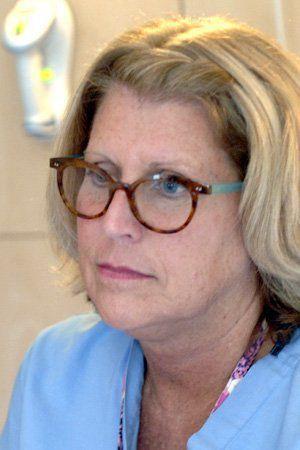 St. Joseph has responded by becoming among a few hospitals in Central Illinois and the first OSF hospital to offer frenectomies in its birthing center as soon as possible after tongue-tie is discovered.
The procedure at St. Joseph is performed by a pediatric dentist, Dr. Gregory Dietz, using a laser. 
"It's a very simple procedure," Musselman said, and the child is returned to their mother within a few minutes. Most medical and dental insurers cover the procedure, Musselman said.
"When they came back into the room, she (Clara) was asleep already," said Mester, 31, of Normal. "I was so grateful that they changed (to offer the procedure in the birthing center). To have it resolved immediately was great."
Ford, 26, of Mackinaw, admitted "I was kind of terrified. But all the nurses were reassuring.
You have free articles remaining.
"Ten minutes later, he (Hudson) started nursing," Ford continued. "He latched on with no problem at all. Breastfeeding has been wonderful. It was a big relief that they offer it (frenectomy) right here."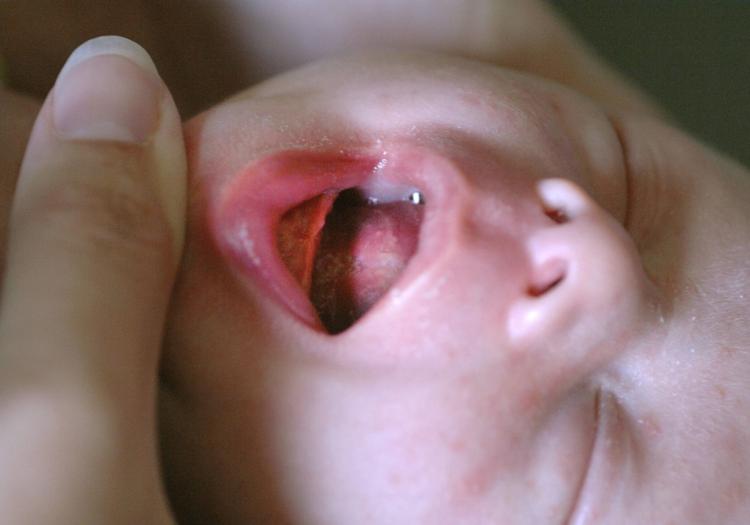 Early numbers show there was a need. Between June 22, when Dietz began performing frenectomies in the St. Joseph birthing center, through Wednesday, there were 40 births at St. Joseph. Seven of three newborns had frenectomies, said Musselman, adding, some some parents decline the optional procedure. 
Frenectomies are not new.
"I've been an OB nurse for 36 years," Musselman said. "They used to be done in the newborn nursery with a pair of (sterile) scissors." Because there is minimal blood supply in the frenulum, there is little to no bleeding and minimal risk of complications, she said.
When breastfeeding fell out favor, there was less of an immediate need to perform the procedure, so it was seldom done in the hospital and new practitioners weren't taught the procedure, Musselman said.
When tongue-tie was identified, parents were referred after discharge to the few doctors in the community who perform the procedure, she said.
But in the past six months, 92 percent of mothers giving birth at St. Joseph have breastfed. With 750 deliveries at St. Joseph each year, some of those newborns have tongue-tie.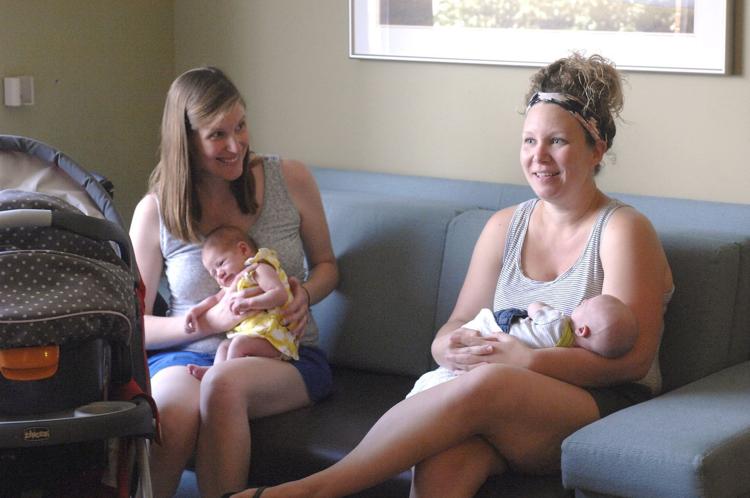 "My son, Alex (age 3), had a tongue-tie so it was something I was watching for," Mester said. His tongue-tie was resolved in a pediatrician's office when he was three days old. When Clara struggled breastfeeding and Mester's nipples became raw, sore and bleeding, Mester suspected that Clara was tongue-tied, too, which a nurse verified.
A speech pathologist, Mester has worked with children with tongue-ties. "If there is a structural problem, there's not much we can do therapy-wise to help the children to make certain sounds."
When Mester found out Dietz was available to perform a frenectomy at St. Joseph, she agreed. "As quickly as we realized she had a tongue-tie, that's how quickly it was done," she said.
When Hudson struggled breastfeeding and Ford's nipples began to crack and bleed, Ford told a nurse who found that Hudson was tongue-tied. Ford agreed to have Dietz perform a frenectomy and Hudson began breastfeeding almost immediately afterward.
"It was scary (during the procedure) but it was worth it," Ford said. "I got to breastfeed and connect with my baby."