BLOOMINGTON — The mission to improve health care access to veterans in McLean County and surrounding counties is nearly complete.
"I'm excited to get this project concluded and get it opened so we can serve veterans in our area," Mark Shoviak, VA Illiana Health Care System project engineer, said following a tour of the building on Friday.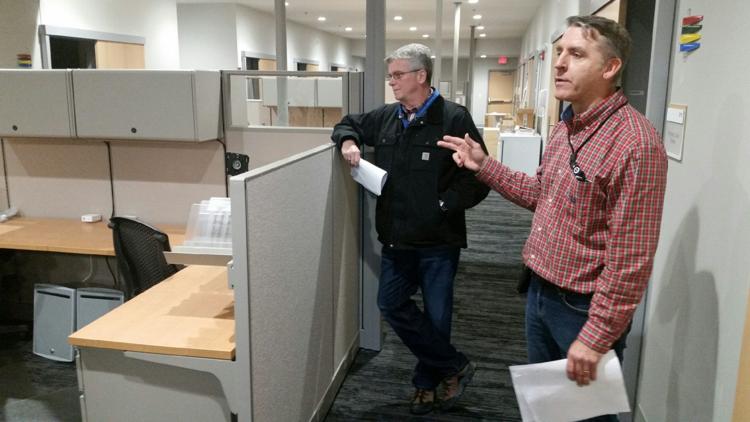 Melissa Spady, VA Illiana Health Care System acting public affairs director, said the clinic will address "a gap" in veterans' health care services.
One goal of the outpatient clinic is to better serve existing VA patients in McLean County, who drive to the VA clinics in Peoria and Decatur. A second goal is to encourage other eligible veterans to get their health care through the VA.
About 22,000 veterans live in McLean and surrounding counties. VA Illiana expects to serve 5,000 to 6,000 veterans at the Bloomington clinic, Shoviak and Spady said.
"We are providing greater health care access to veterans in this area," Spady said. "The support of this community and the surrounding counties has been remarkable."
Clinic services will focus on primary care and mental health, Spady said.
You have free articles remaining.
Primary care will be provided by a patient aligned care team (PACT) including medical providers (doctors, physician assistants, nurse practitioners), nurses, a social worker and medical support clerk, Spady said.
Mental health will be provided by a behavioral health interdisciplinary program (BHIP) team including a psychiatrist, psychologist, primary care/mental health integration provider, social worker, nurse and clerk, Spady said.
"Every member of each team will work together to service the needs of the veteran," she said. "The veteran is at the center of care."
To that end, the clinic includes two "team zones" — work spaces where team members will sit together, rather than in separate offices, to facilitate communication and collaboration about patient care, Spady and Shoviak said.
In addition to team zones, the clinic includes a reception/check-in area, two group therapy rooms, 12 primary care exam rooms, five primary care consult rooms, six mental health rooms, a laboratory and lab draw room and three tele-health rooms.
In tele-health rooms, patients, alongside a nurse, will be able to meet using two-way interactive video and audio technology with a specialist, such as a psychiatrist, who is located elsewhere.
The clinic's 35 full- and part-time employees also will include a dietitian and clinical pharmacist, Spady said.
But the clinic will not include specialty care, she said. Audiology and podiatry are offered at the Peoria VA clinic, and optometry is offered at the Decatur clinic, she said.
Vogler said some veterans are disappointed that specialty services won't be provided at the Bloomington clinic. He's told those veterans that the clinic is just opening and specialty services could be added later if there is demand.
Clinic hours will be 7:45 a.m. to 4:15 p.m. Monday through Friday.
"In the near future, we will offer extended hours," Spady said.
Contact Paul Swiech at 309-820-3275. Follow him on Twitter: @pg_swiech.