BLOOMINGTON — Brian Schuneman, of Bloomington, has been biking McLean County trails for as long as he can remember, but he leaned into the activity more this year. 
"You can just forget about the crazy world we live in 2020 and just ride your bike," said Schuneman. "I've done an awful lot more riding this year than in past years. Soon I'll be at 5,000 miles." 
Local shops have been struggling to keep bikes on shelves, said Michael Wilson, manager of Wilson's Cycle & Sale Service, 426 N. Main St. He credited the pandemic with reigniting the popularity of riding and said it has been difficult to keep up with the demand for new bikes and repairs. 
"People quite frankly have panicked, and they're buying bikes like toilet paper," Townley said, referring to the rush to buy essentials at the beginning of the pandemic.
While some businesses were forced to close under executive orders by the state, bike shops were deemed essential services and could continue operating throughout Gov. J.B. Pritzker's stay-at-home order. 
Wilson said customers' reasons for wanting bikes now range from simply wanting to get more exercise to not wanting to go to gyms to prevent the spread of COVID-19. 
"It's pretty obvious that people want to get out more now, not only for their mental health, but also to do something as a family," Wilson said. "We have a wait list now of over 200 people wanting to get those entry-level bikes."
Most events and operations with local riding clubs and group rides hosted through the shop had to be cancelled due to the pandemic. 
The McLean County Wheelers has about 100 members who typically participate in various group rides. Rick Boser, president of the group, said they could only have solo rides for a month or so at the beginning of summer because the majority of the members are 50 years old and over. 
"We didn't want to risk anyone getting sick," Boser said. 
When the state entered Phase 4 of the Restore Illinois Plan, the Wheelers started small group rides on Thursday evenings and Sunday mornings.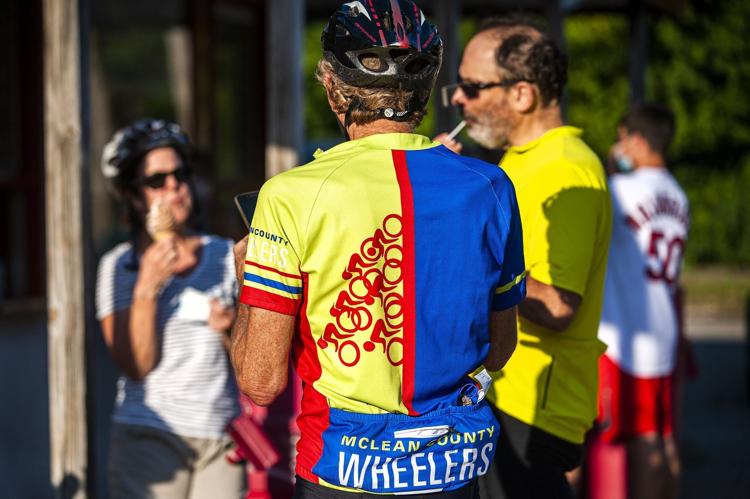 "This time of year, there would be one weekend ride after another around Central Illinois but a lot of the other groups have cancelled events," Boser said. Some members in July were able to participate in the Hop on for Hope in LeRoy. The event benefits the Village of Hope in Guatemala.
The organization usually hosts the Spring Metric, a multi-day event where cyclists ride up to 62 miles starting and finishing at Comlara Park in Hudson. The event didn't happen until June this year and riders were encouraged to be socially distant, wear face coverings and complete the trails individually or in small groups. 
"We've been following the recommendations of the National League of American Cyclists and Ride Illinois," Boser said. "And a lot of us have been avoiding Constitution Trail where a lot more people are out and about now." 
Schuneman and his 18-year-old daughter, Ally, are members of the club. Schuneman said he missed seeing his friends for the group rides. He and two others in the group nicknamed themselves the "three amigos." They have gone on a handful of socially distant rides recently, but they no longer greet one another with hugs or handshakes. 
"It's just nice to see a familiar, friendly face and we are all doing an activity we really enjoy," Schuneman said.
The Associated Press contributed to this story.
---
See photos: Kickapoo State Recreation Area
Contact Analisa Trofimuk at (309) 820-3244. Follow her on Twitter: @AnalisaTro
Build your health & fitness knowledge
Sign up here to get the latest health & fitness updates in your inbox every week!