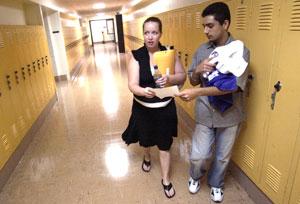 CLINTON - Registration is the price of admission for students; a list of extras including sports and extracurricular activities can triple the bite to parents' wallets.
Many parents have learned tricks to help with back-to-school expenses, including multiple shopping trips to spread the costs over the summer.
Lynn Martin and her husband Jim recently enrolled third- and seventh-graders and a high school junior in Clinton schools.
"This year we did school supplies one at a time. I probably don't pay a lot of attention to the school supply list - if they need 10 pencils, they get 10 pencils," said the mother of three daughters.
Budgeting for extracurricular activities has been made easier by a pay-as-you-go schedule in Clinton schools. "We pay for things like track and the Scholastic Bowl when the season starts. I really appreciate that," said Martin.
The Martins do not follow the national trend of spending about $228 on school clothing. Birthday and Christmas gifts are the source of much of the kids' clothing. "They wear what's in the closet. We definitely space that out and they know it," said Martin.
Any way you look at it, August is an expensive month for parents of school aged children.
According to a survey of families conducted by BIGresearch for the National Retail Federation, families with school-aged children will spend an average of $527.08, up from $443.77 last year. Total spending is estimated at $17.6 billion, up from $13.4 billion in 2005.
Central Illinois parents already feel the financial pinch that comes with the last wave of summer. Fees collected by school districts to enroll students vary from district to district; Blue Ridge, for instance, collects $50 for each student in the Farmer City-Mansfield district.
In Bloomington's District 87, registration fees begin at $35 for early childhood students, $60 for junior high and $70 for high school students. Clinton has increased its fees in recent years in response to sagging revenue, and parents pay $35 for kindergarten, $95 for elementary and $100 for junior high and high school students.
Parents whose financial circumstances qualify may receive waivers for textbook and other fees. Lunch costs also are subject to reductions and waivers.
Assistance is available in many districts for families who may need help with school supplies. In Clinton, the Write Stuff for Kids Inc. recently supplied about 500 students with school supplies. In Pontiac, the local Salvation Army and the Randy Spires Memorial Fund help families with the basics for school.
Classes, not just incidentals, also can add to the price tag of education. At Best Buy in Bloomington, "high school students are more interested in desktop than laptop computers," said spokesman Adam Doyle.
High school students also are asking about special electronic devices required for math classes. "We're seeing a lot of interest in graphing calculators," which range in price from $80 to $150.