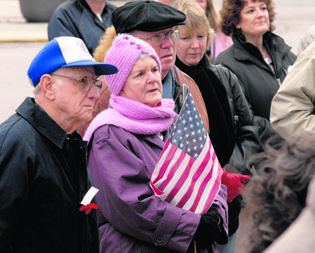 BLOOMINGTON - For 11 minutes before 11 a.m. Saturday, shots rang out over Washington Street in downtown Bloomington, calling the attention of a crowd forming at the McLean County Museum of History.
More than 200 people huddled in the cold near the steps to pay tribute to veterans and hear a McLean County judge who served in Iraq speak of the sacrifices veterans made.
"They put a college degree on hold, career on hold, a family on hold," said Associate Judge Robert Freitag of Carlock. A major in the U.S. Army Reserve, he returned to the bench this summer after serving 10 months in Iraq as a judge advocate.
He spoke of soldiers like Illinois Army National Guard Spc. Jessica Cawvey, a 21-year-old Illinois State University student and mother of a young girl. She volunteered to go on a mission on Oct. 6, 2004, to support a friend who was scared.
Cawvey was killed when an explosion rocked her truck convoy in Iraq.
"We know all too well the sacrifice it takes," he said.
Freitag was the keynote speaker of the event organized by the Bloomington-Normal American Legion and Veterans of Foreign Wars posts. The event also featured patriotic songs and a color guard.
Royden Jones, commander of American Legion Post 56 in Bloomington, acknowledged the cold weather, but he said the honor paid by the crowd countered it.
"From my heart it's a lot warmer than when we started," he said.
Freitag said "duty, honor and trust" are the hallmarks of military service. He said another trait is shared by the people in uniform and their families: sacrifice.
It is a shared sacrifice with their parents, brothers, sisters and children who remain at home, he said.
Personally, he said he missed being there for his supportive wife, Traci. She handled all the things alone that he would do with her.
He also thanked their two children, Bobby, now 17, and Andrea, soon to be 15.
The audience members, many wearing symbolic cloth-and-plastic poppies, responded with applause for his and other families who sacrificed.
"My family never - rarely," he corrected with a grin - "complained to me."
After the ceremony, Traci Freitag said: "I had a lot of people really step up and support us and our family."
She wasn't expecting the tribute by her husband and was moved by it, she said. She said she hopes more people reach out to the families of veterans now serving.
Judge Freitag especially thanked Vietnam War veterans for their service.
Those who served in Vietnam didn't come home to warm welcomes but "scorn and ridicule," he said, calling that reaction "shameful treatment."