Woodruff said the campus sees about 19 arrests a month on drug-related charges and he hasn't seen any difference since Illinois changed its laws.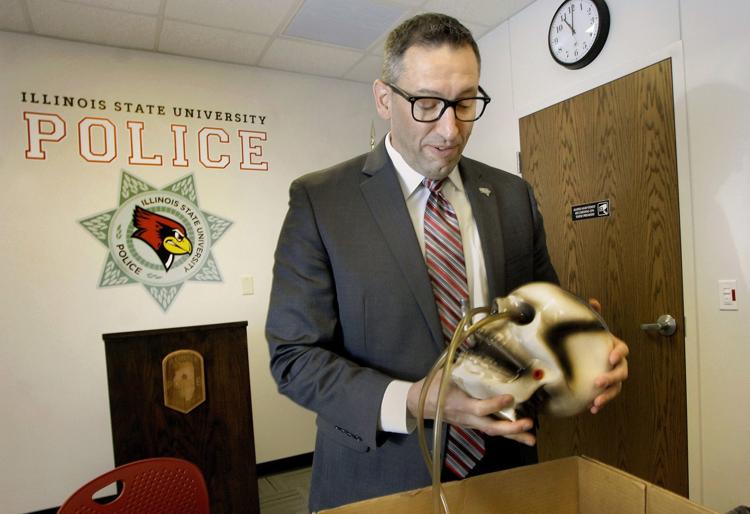 Normal police have issued eight citations for cannabis-related ordinance violations by six adults and two minors. Bloomington police have issued no citations for cannabis-related ordinance violations. No one has been arrested in either city or by the McLean County Sheriff's Office for driving under the influence of cannabis.
McLean County residents with minor cannabis convictions may have their records expunged to clear those charges, but State's Attorney Don Knapp said no expungement petitions were filed in January.
Law enforcement 
"We haven't had any issues at this point," said McLean County Sheriff Jon Sandage, adding that during the first month of legal weed sales, his department did not issue any citations for cannabis-related violations.
"At this juncture, only four weeks in, it's good that it hasn't had much effect yet," said Bloomington Police Chief Dan Donath. "But we don't have a dispensary here in town or in Normal that is a local supplier for recreational cannabis. I would fully expect in time that we would see more things."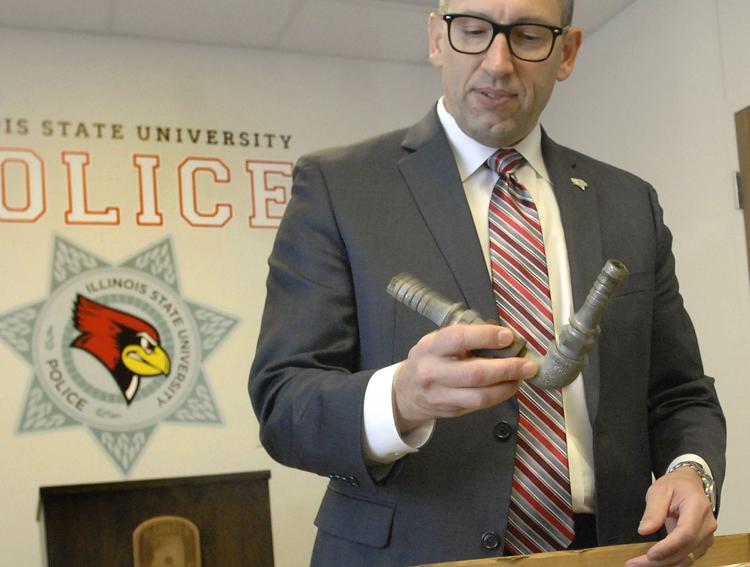 "Eight so far in the course of a month, that would be consistent; that would be about what we would expect," said Normal Police Chief Rick Bleichner. "I wouldn't say it is an alarming trend. Not knowing what to expect from the change in the law, I think that was a pretty reasonable number. There wasn't a huge influx of violations and it wasn't none."
Cannabis is still illegal under federal law and the federal Drug Free Schools and Communities Act requires schools that receive federal funds, such as ISU, to enforce laws on alcohol and other drugs and have prevention programs.
In addition, under the Illinois Smoke-Free Campus Act, ISU became a smoke- and tobacco-free campus July 1, 2015. Woodruff said vaping — even regular tobacco — is prohibited under that law.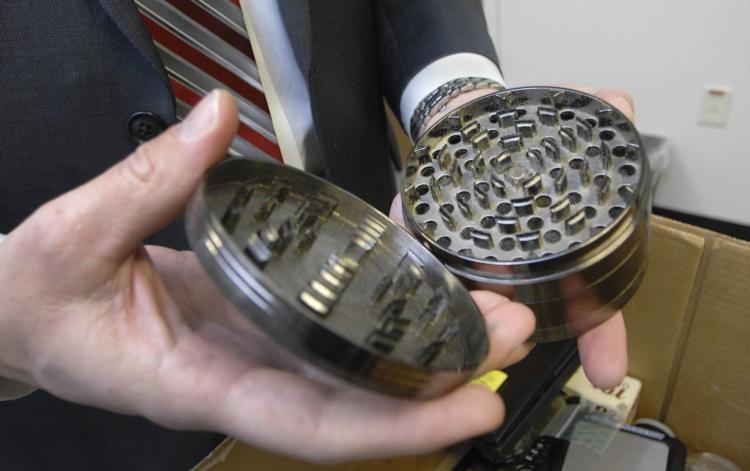 In general, possession of a small amount of marijuana on campus is treated similar to alcohol, said Woodruff. The offender receives a civil citation similar to a parking ticket and can be referred to the Student Conduct and Conflict Resolution Office, he explained.
In January, Normal police made three arrests for driving under the influence of drugs, but cannabis was not the drug involved, Bleichner said.
Among Bloomington police's 23 driving under the influence arrests in January, two involved drugs other than cannabis and one alleged a driver was impaired by a combination of alcohol and drugs other than cannabis, said police spokesman John Fermon.
During a traffic stop in January, Bloomington police alleged seeing cannabis that was not transported in a sealed, odor-proof, child-resistant container, as required by law.
The driver was not cited, but police "took the cannabis and wrote a report that was forwarded to the state's attorney for review," Fermon said.
"Do we write an ordinance violation? Do we arrest somebody? Is it a learning, teaching moment because there are some gray areas?" added Donath. "Smoking in public places — is the front porch a public place; is the back yard a public place?"
Bloomington police also recovered cannabis after arresting four people in January for other alleged crimes, Fermon said.
"It so happened that they had cannabis and that was one of their (alleged) crimes," he said.
Bloomington police found cannabis in the vehicles of two people who were arrested in separate incidents for allegedly driving after their driver's licenses were suspended, Fermon said. One of the drivers was arrested on additional charges of fleeing and eluding a police officer.
More than 30 grams of cannabis were seized after two men were arrested on charges of possessing or manufacturing and selling drugs illegally, said Fermon. One of the men was also arrested on charges of resisting an officer and possession of a loaded firearm without a valid firearm owners identification card.
More than 100 grams of cannabis were recovered after officers responded to a domestic violence incident. No charges were filed or arrests made in connection with the cannabis because someone wanted to turn it over to police, Fermon said.
In December, the Bloomington City Council unanimously approved a $300 fine for a dispensary selling cannabis or anyone furnishing cannabis to minors; a $100 fine or eight hours of community service work for anyone possessing more than 30 grams of cannabis, possessing cannabis under the age 21 or consuming cannabis in public; and a $150 fine for each cannabis plant that is illegally possessed. The law limits five plants for those issued a medical cannabis card.
There are several reasons why Woodruff doesn't expect to see a difference on campus resulting from the new state law.
"The majority of our students living on campus, the majority of students we deal with, are under 21," he said, which means purchasing or possessing cannabis is still illegal.
Another factor is the price of cannabis purchased at dispensaries, which Woodruff said is significantly higher than what is sold on the black market.
Expungement
Knapp, the state's attorney, said he anticipates there will be expungements because "we have had a couple private lawyers inform us that they intend to file petitions on behalf of their clients in the near future."
Several paths to expungement are available, including the defendant filing their own petition or a notice from the state through the Prisoner Review Board, Governor's Office or Illinois State Police, Knapp said.
Adults who were arrested before June 25, 2019, for a minor cannabis charge, including possession or delivery of 30 grams or less, and had not been arrested for a violent crime, qualify for automatic expungement if the charges were dismissed, vacated or acquitted, according to Illinois Legal Aid Online. Those records will be expunged for the next five years in groups based on arrest date.
The McLean County Public Defender's Office has filed motions to dismiss six cannabis cases that were pending when the new law went into effect Jan. 1.
After an initial review, Knapp said there is no statutory basis to object to the dismissals, but the cases are still pending.
Contact Maria Nagle at (309) 820-3244. Follow her on Twitter: @Pg_Nagle
Be the first to know
Get local news delivered to your inbox!