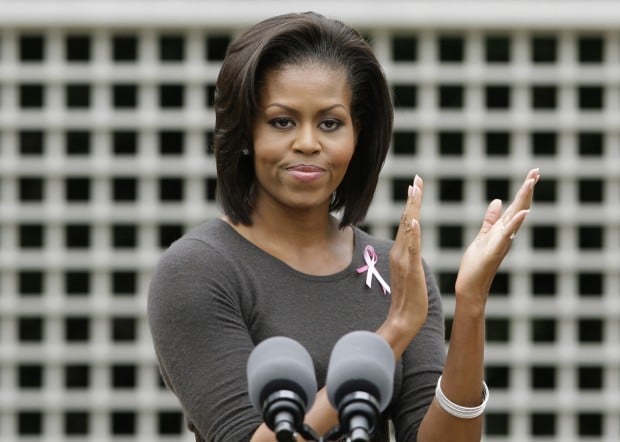 WASHINGTON, D.C. -- Joni Lownsdale never thought her 2002 breast cancer diagnosis would land her in the middle of the Obama administration's fight with the health insurance industry.
But that's where the Rockford woman was Friday as she stood in a White House flower garden and shared her story of being repeatedly denied health insurance because of the cancer in her past.
In less than four minutes at the microphone, Lownsdale helped the Obama administration mark breast cancer awareness month and, more importantly, provide a flesh-and-blood illustration for why President Barack Obama wants to overhaul the system.
First lady Michelle Obama said the U.S. has come a long way from the days when people thought breast cancer was something to be ashamed of and kept a secret, when it was treated as something not discussed in polite company.
More women are getting mammograms, the five-year survival rate is above 90 percent and research spending is at $900 million -- 30 times the amount spent in 1982. But 1 in 8 women will still be diagnosed with breast cancer in her lifetime and 40,000 women a year still die from the disease, she said, and the current health care system doesn't work for many women who are living with the cancer.
"It's a system that only adds to the fear and stress that already comes with the disease," the first lady said.
At the end of her treatment for a pea-sized tumor, Lownsdale said her doctor said she had a 94 percent chance of remaining cancer free, "very similar to a woman who's never had breast cancer." Then in 2005, her insurer notified her that her health care premiums would more than double.
The married, 40-something graphic designer shopped around for new coverage and repeatedly was denied. She ended up with coverage through Illinois' high-risk pool, and currently pays $600 a month for her coverage alone.
Despite her good health, she said the diagnosis "left a target on my back."
"I will most likely be cancer free for the rest of my life, but having the word 'cancer' written on my medical chart is enough to generate an automatic rejection from insurance coverage," Lownsdale told a gathering of breast cancer survivors, advocates, members of Congress and Jill Biden, the vice president's wife. Mrs. Biden started a breast cancer education program in Delaware after some close friends were diagnosed.
Mrs. Obama said health care changes the president is pushing Congress to pass would help consumers by barring insurers from denying coverage because of pre-existing conditions, like breast cancer, and require coverage for preventative screenings like mammograms.
"Perhaps most heartbreaking of all is the fact that right now, today in America, there are people in this country who have breast cancer but don't even know it because they can't afford a mammogram," said Mrs. Obama, a former hospital administrator in Chicago.