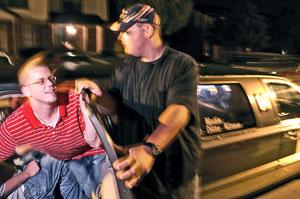 BLOOMINGTON — On any given Saturday the hundreds of people leaving the taverns in downtown Bloomington at 1 or 2 a.m. can overwhelm the three taxi cab services. As a way to help and to earn a few extra dollars, Bob Rotramel started putting his fleet of limos and shuttle buses to use.
On Thursdays, Fridays and Saturdays, Bob's Blue Nite Limos often can be found picking up riders around the downtown square.
Although his competitors in the taxi business say they don't mind Rotramel and others working the downtown area, they do want to see rules similar to taxis put on the shuttle services.
The city of Bloomington regulates the three taxi companies by setting fees, inspecting cars and issuing licenses for them to operate. As part of the city regulations, all taxi drivers have to pass a criminal background check.
"We should all be under the same umbrella," said Loretta Etka, co-owner of the Red Top Cab Co. "There is no question we need the help - there is no way all three cab companies can get everyone out of downtown on the weekends."
Red Top tries to have all of its fleet - nine cabs and two 15-passenger vans - on the streets on the weekend. They have to adhere to the city rates, which calls for a "flag down" or starting rate of $2 with $1.80 charged per mile and 50 cents per person. When gas is over $2.50 a gallon, the starting rate is $2.50.
Earlier in the year Checker Cab increased its number of permits from 12 vehicles to 17. At the time, Checker owner Aaron Halliday said he likely would put some of the extra licenses on vehicles to be operated during the weekend.
Rotramel said he does not operate as a taxi at times other than Thursday, Friday and Saturday nights. During those times, Rotramel's seven drivers offer rides for $3 and $4 a person when they are carrying more than two passengers.
City attorney Todd Greenburg said the city generally agrees with the idea there needs to be city regulation on the shuttle services.
He said that he will start working on a draft amendment to the city's taxi ordinance for the City Council to review just as soon as he gets time.
With the council looking at ordinances this year for dog licensing, ex-offender housing and smoking, Greenburg and his two assistant attorneys just haven't gotten to it.
"I don't dispute it is something we should take a look at, but our plate has been a little full lately," Greenburg said.
Etka said she understands city staff has been busy with other projects, but she is frustrated by the wait. With college students returning, the busy work of getting them out of downtown is just beginning and the potential for problems may arise.
Chief among Etka's concerns is the lack of background checks for limousine drivers.
"God forbid but if something happens it's going to look bad for all of us," Etka said. "Right now, we are not all held to the same standards."
Rotramel said he is concerned about what kind of controls would be considered by the city for limousine services and shuttle buses. He typically operates two vans and two limousines on the weekends. Too many controls, he said, may force him to quit his weekend shuttle service.
But he said he has no problems being required to have background checks on his drivers.
"We already have to have a license check on our drivers for our insurance carrier," Rotramel said. "If they want background checks on my drivers, I don't care."
But Rotramel is quick to point out his business generally is different than a taxi service, so the same requirements for taxi licenses for his drivers and for his cars would be inappropriate. Through the week Bob's operates only as a limousine service. The terms of operating as such, Rotramel is required to have contracts for service with his clients.
Because Bob's has public transportation license plates instead of livery license plates, Rotramel can switch from contract service to per-ride service without problems, he said.
Taxi rates (set by the city of Bloomington):
Flag down (when meter starts)
When gas is over $2/gal.: $2
When gas is over $2.50/gal.: $2.50
Each additional person: 50 cents
Each minute of waiting: 30 cents
Two mile trip for five: $8.10 (estimated)
Bob's Blue Nite Limo Service/Shuttle Rates (unregulated by the city):
$8 each: one or two people per trip in either six passenger limousine or 15-passenger van.
$4 each: more than three in a limousine.
$3 each: more than three in a van.
Two mile trip for five: $20 for limousine; $15 for van (estimated)
SOURCES: Bloomington City Codes, Bob Rotramel, owner Bob's Blue Nite Limo Service; Compiled by M.K. Guetersloh