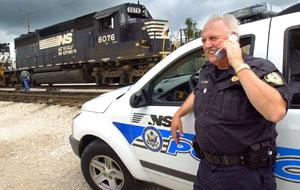 CONGERVILLE - The speedometer on Norfolk Southern locomotive 6076 read 51 mph as engineer Steve Young said, ??There he goes! He?s going!"
A semi tractor-trailer driver gunned his engine and drove across the downtown Congerville crossing in front of the approaching train. Illinois State Trooper Tony Slaughter sat with conductor Marty Merrill as Young sounded the locomotive?s bell and horn.
Six seconds later, the tandem engines slammed across the crossing, headed toward Normal.
"It?s too bad we don?t have 50 or 60 cars of grain with us today. Then you would really get the feel of what all that weight is like," said Young, who usually works freight runs between Decatur and Chicago.
Slaughter was one of 15 law enforcement and coroners? office members who took part in a grade crossing collision investigative course, held Wednesday and Thursday at the Norfolk Southern Railroad Good Yards off College Avenue in Normal.
Merrill, a longtime conductor from rural Mackinaw, was pleased to have Slaughter aboard. ?I hope you learned something,?? he said.
"It?s an eye opener," said Slaughter, who is in his first month of duty after graduating from the Illinois State Police Academy in Springfield.
Grade-crossing accidents claim lives each year. Those who are not killed trying to beat a train to the crossing are usually permanently maimed by their injuries, said Norfolk Southern special agent Dale Jenkins of Decatur.
"The class went very well. I call it Railroading 101. It?s eight hours of classroom and then a field day to teach law enforcement the dangers encountered in operating a freight train across crossings," said Jenkins.
The Federal Railroad Administration listed ranked Illinois second in train-related accidents, with 177 crossing collisions. Illinois trailed Texas at 324 for the year 2005.
Most trains clear crossings in a few minutes. The semi driver at Congerville would have been delayed less than a minute by the passage of the two locomotive units used in the test.