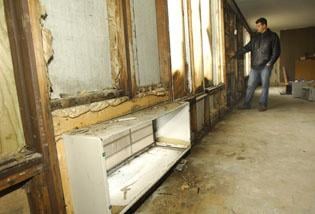 BLOOMINGTON — Attempts by the owner of the Coachman Motel to repair the building hit another snag when the city denied him a building permit.
Andy Colburn said Wednesday he has the building materials he needs to start on the front facade of the beleaguered motel at 408 E. Washington St.
He cannot start without a building permit, and the city won't give him one until he comes up with a plan the city will accept.
City codes block him from receiving a permit because the city has notified him of its intention to file a repair or demolish lawsuit against him.
"They are going to sue me to repair the building, but yet they are not letting me have a permit so I can do just that," Colburn said. "It's completely ridiculous."
The lawsuit notification letter from Amy Mobley, the attorney hired by the City Council for this matter, is dated Sept. 14. So far, Colburn has not received notice the lawsuit has been filed in McLean County Circuit Court.
City Manager Tom Hamilton said Colburn has no one to blame but himself.
"He has to follow the rules like everyone else," Hamilton said. "The city is up against a wall."
Hamilton denied that the city's efforts to get the Coachman repaired is an attempt to put Colburn out of business or an attempt to pick up the downtown site for a cheap price.
Hamilton said the city will give Colburn a permit, but he has to work with the city on the plan it has developed for repairs. In preparing the repair-or-demolish lawsuit, the city hired an architect to evaluate the building and develop a plan to meet standards.
Colburn said that report claims the building needs $1 million in repairs. Colburn said he can do the work for $30,000 to $50,000 to bring the building up to code.
"The process has started," Hamilton said. "If he really wants to work on that building, he has to bring us legitimate plans and proof of financing."
While Colburn made his own drawings of how he wants to repair the Coachman, Hamilton said those drawing are not enough.
Colburn said he can only do repairs on the building as he has money for it. Right now, he's gotten enough money together to replace the boards and windows on the front of the building.
"My only option is to do this as I have the money," Colburn said.
When Colburn purchased the property in July 2004 he did so with the intention of renovating it. He could not get a bank loan to finance the repairs, however.
The city staff started negotiating late last year to buy the building. Colburn was told to stop repairing the building at the time.