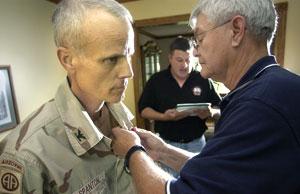 BLOOMINGTON — U.S. Army Col. Dirk Spanton lived with the possibility of dying every day during the 32 months he served with Special Forces in Iraq. The Bloomington man was shot at by insurgents, sent to minefields to disarm explosives and once had a rocket-propelled grenade come within feet of ending his life.
After three tours of duty in the desert, the 50-year-old former ROTC instructor finally returned home to his wife and five children on Memorial Day.
Within days, the family's joy turned to sorrow as Spanton was hospitalized with a mysterious illness. Doctors later diagnosed him with cancer of the liver bile ducts and now say he has six months to live.
The illness was crushing to the family, but Spanton keeps it in perspective after serving with some soldiers who never got to come back home.
"I feel lucky," Spanton said this week as he draped an arm around the shoulder of his 9-year-old daughter, Megan. "I could have gotten killed while I was over there (in Iraq) and not gotten to say goodbye to my family. This way, I'm lucky. How many people get to say goodbye to their kids, their wife and their family? You don't like the short timeframe, but it's at least a timeframe."
Much has changed during the last three months for the Spantons. Fighting cancer through chemotherapy and readying the family for the day they all know is coming has made the summer difficult, said Julie Spanton, Dirk's wife.
Fresh tears came to Julie's eyes Thursday as her husband donned his uniform to accept the Army's Legion of Merit Award and Combat Action Badge at his home in Bloomington.
"It's the first time he's put his uniform on since he's been back from Iraq," Julie Spanton said with tears streaming down her face. "He's lost 40 pounds already, and he's very disgusted with how he looks in his uniform."
The Legion of Merit Award honors Spanton for his more than 23 years of meritorious service spent serving in positions of increasing responsibility in the Illinois National Guard and U.S. Army Reserve.
Army officials presented Dirk Spanton with the awards Thursday. Julie Spanton said her husband is a low-key person who initially asked the Army to put the awards "in the mail." His superiors turned down the request.
Dirk Spanton is proud of what he and other military personnel accomplished in Iraq. Many of the positive images of Iraqis and Americans working side by side to rebuild the nation aren't shown in the media, he said.
Doctors believe the cancer had been spreading through Spanton's body for a while, but the symptoms of the illness — back soreness and fatigue — were masked by being in combat.
Spanton said his back was sore and he was fatigued, but it seemed natural since he was constantly wearing a 40-pound flak vest and sleeping four to six hours per night.
Moreover, Spanton said he felt strong before falling ill days after he returned home. In March, he was bench-pressing 205 pounds in repetitions of 10 several times a week. He weighed 188 pounds then.
That seems like ages ago.
Now, Spanton spends each moment he can with Julie and his five children, Ken, 24, Randy, 20, Derek, 17, Craig, 15 and Megan.
Doctors originally said he'd have two months to live after he was diagnosed, but have since changed their estimate to six months.
Part of that is due to the chemotherapy, which leaves him exhausted. But doctors are hoping it's shrinking the deadly tumor inside Spanton.
"I'm hoping for a couple extra months, maybe longer," Spanton says. "I'll take whatever I can get."
Occupation: U.S. Army Special Forces (Civil Affairs Advance Detachment) serving in Iraq for last three years
Years of service: 23 in Illinois Army National Guard and U.S. Army Reserve
Family: Wife Julie, 44, and children Ken, 24, Randy, 20, Derek, 17, Craig, 15, and Megan, 9