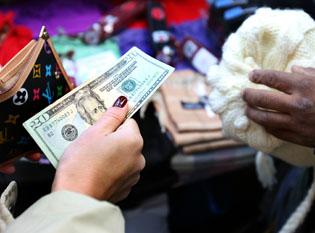 WASHINGTON, D.C. - A federal appeals court seems troubled that blind people are unable to distinguish between a $50 bill and a $1 bill, but judges appeared reluctant Monday to force a redesign of U.S. currency.
The case erupted last year when a judge said the government discriminated against the blind by keeping bills the same color, shape and texture. He gave the Treasury Department just days to begin solving the problem, but changes have been put on hold while appeals play out.
Judges of the U.S. Court of Appeals for the District of Columbia Circuit did not rule immediately, but they seemed wary of the consequences.
"Where does this stop?" asked Judge A. Raymond Randolph. Are postage stamps illegal? Government Web sites? When mail carriers leave handwritten notes on front doors, are they discriminating against blind people?
"The National Gallery is having a Hopper exhibit," Randolph said. "Those paintings, do they violate the Rehabilitation Act?"
Passed in 1973, the Rehabilitation Act prohibits discrimination against the disabled in government programs. But the law is vague about what is covered. Jeffrey A. Lovitky, attorney for the American Council of the Blind, which brought the lawsuit, said postage stamps and government Web sites might indeed by covered by the law.
But currency is not specifically identified in the law and the judges said it's unclear if they should step in.
"Congress has had many opportunities to do exactly what you're asking us to do and they said 'No,'" Judge Thomas B. Griffith said. "What's keeping us from seeing this as simply an end run on the political process?"
Of the three judges on the panel, Judith W. Rogers seemed the most swayed by the American Council of the Blind's argument. If the entire currency system is built upon the idea that people can see the money, doesn't that deprive blind people access to it, she asked.
Deputy Assistant Attorney General Jonathan F. Cohn said blind people have "meaningful access" to money because there's little evidence they are regularly defrauded by cashiers and clerks.
"Because they rely on the kindness of strangers?" Rogers asked, prompting snickers and laughs from the several blind people in the audience.
Griffith agreed, telling Cohn, "You recognize that's a significant problem, right?"
But like Griffith, Rogers later questioned whether the court should get involved. She told Lovitky that, if the Treasury Department is reviewing the issue and has not come up with a solution, the court might not have the authority to step in and tell a cabinet official that his review is wrong or impose a solution on him.
The issue is divisive even among advocacy groups. Scott C. LaBarre, an attorney for the National Federation of the Blind, sided in court with the government rather than with the American Council of the Blind. LaBarre, who is blind, said there are more important issues facing blind people.