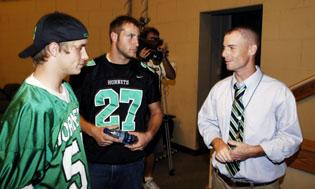 EUREKA - When Matt O'Hanlon, a Eureka High School science teacher and football coach, woke up Friday, he knew it would be a good day.
He put on his "lucky pants," slipped the picture of his mother in his back pocket and expected the best part of his day would be if his team won that night's football game.
Halfway through the day, things got interesting. That's when Eureka Mayor Scott Punke declared Friday to be Matt O'Hanlon Day in the city of Eureka.
He also was surprised to learn he was named Wal-Mart Illinois Teacher of the Year, an honor that includes a $10,000 prize for him to spend on equipment for the school.
"I never had my own day," O'Hanlon said after Punke read the proclamation, which also recognized the work of all dedicated teachers.
O'Hanlon walked into the high school auditorium about 12:30 p.m., expecting a school improvement meeting. Halfway up the aisle, he realized the event was for him.
Members of the football team cheered from the balcony as friends, family and guests gave him a standing ovation.
"I really thought we were coming to talk budgets and stuff like that. I'm genuinely surprised," he said.
"It has been a gift to work at Eureka High School," O'Hanlon said of his 11 years at the school. "There are so many other deserving teachers here. I actually feel a little funny (receiving this honor)."
Eureka-based Unit 140 school district Superintendent Randy Crump mentioned O'Hanlon's mother, Stella, a teacher who died in February. At that time, her son described her as "an amazing person who never missed the opportunity to help other people." Crump said the same holds true for her son.
You have free articles remaining.
Wal-Mart has awarded more than $5 million to honor 30,000 teachers nationwide since 1995, said Jolene Hyde, store manager for the nearby Wal-Mart in Washington.
Wal-Mart also gave O'Hanlon other gifts, including a crystal apple, a portrait sitting and business cards printed with "Teacher of the Year."
Phi Delta Kappa, an international association for professional educators, helps Wal-Mart select the winners from a pool of nominees who also filled out applications.
O'Hanlon had moved to the state competition after earlier winning the company's regional teaching award, which carried a $1,000 prize.
O'Hanlon heard a variety of tributes.
"He's always willing to stay after school and help anyone who needs it," Tyler Wahls said of his teacher and football coach.
Luke Whitaker, who played football all four of his years at the school, said "Coach O" accelerates the potential of students.
"He gave me a love for football I didn't know I had," said Whitaker, now a Eureka College sophomore and football player.
School board President Teri Ehrenhardt said O'Hanlon inspired her son, Kellen, 17, a junior, to want to be a science teacher.
Eureka High School Principal Richard Wherley said, "Matt's here for the kids. He has 549 kids right here."
The principal noted O'Hanlon was so modest about his work, he didn't want to enter the competition. Wherley convinced him, saying: "I think you're going to win. You're that good."