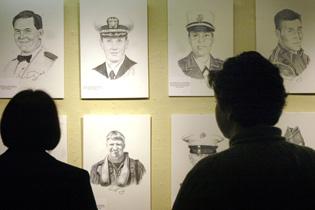 DECATUR - Nola Hector of Pana recalled taking a picture of her son, Marine 2nd Lt. Ryan LeDuc, on their home's deck just before he left for Iraq.
"It looks exactly like the picture I took," Hector said of a hand-sketched portrait of her son. Leduc died in September 2004 following a noncombat vehicle accident in Iraq.
LeDuc and other fallen Illinois soldiers are remembered with the memorial exhibit "Portrait of a Soldier," which is on display at Kirkland Fine Arts Center in Decatur until Wednesday.
The exhibit consists of more than 130 hand-drawn portraits of Illinois men and women who died while serving their country since Sept. 11, 2001. That list includes several soldiers from Central Illinois.
Illinois Lt. Gov. Pat Quinn unveiled the exhibit, joined by Millikin University President Douglas Zemke, on Wednesday night.
"I think we have a riveting memorial dedicated to these brave men and women who served," he told the audience. "If you look at these portraits eye to eye, you will see how special these men and women were. "They all have a servant's heart."
Mayor Paul Osborne also spoke and mentioned his son, an Army lieutenant colonel stationed in Baghdad, Iraq. "I look at these pictures, and I see his face," Osborne said to the crowd, adding that it is important for families to see this exhibit because it expresses to families who have members fighting overseas now that they are not alone.
Vicky Langley of Decatur thanked the community and the Gold Star mothers for their support of her son, fallen Marine Pvt. Jonathan L. Gifford. He was 30 years old. Mattoon native Cameron Schilling, the exhibit artist, drew his first sketch in August 2004 after Army Spc. Charles Neeley of Mattoon was killed in Iraq.
Schilling gave the portrait to Neeley's parents to convey his sympathy for their loss. Neeley's mother, Jane Neeley of Mattoon, said she was amazed upon receiving the sketch.
"Those eyes look like he's looking at me," she said. Jane Neeley said her son and Schilling attended Mattoon High School together, with Schilling being older by a year.
She said she has become close to Schilling since he created the portrait. "I'm amazed at what Cameron has done and how quickly he's done it," she said.
Hector said she also was overwhelmed that Schilling, being so young, has spent so much time drawing and thinking of these families enough to create this exhibit. On the "Portrait of a Soldier" Web site, it reads:
"This is our way of showing gratitude and respect to the servicemen and women and their families from our state."