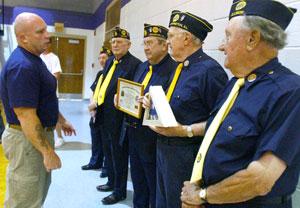 LEXINGTON — The flag presentation at Lexington High School Thursday held special meaning for Ara Holiday. The American flag, which flew over a Marine command post in Iraq, will be on permanent display at the school. But it also reminds Holiday of a flag presented to her family at the death of her Vietnam veteran father, Thomas Holiday.
That folded flag remains in her family's Lexington home alongside photos of her father.
"Sometimes we lose patriotic views because we aren't reminded every day. This is a wakeup call," she said of the ceremony. "I liked it a lot."
She was among 600 students from pre-kindergarten to high school seniors to watch Doug Doolin present the flag, which flew over a base commanded by his brother, Lt. Col. Drew T. Doolin.
"On July 4 this year, when we were celebrating with family and friends, this (American) flag flew at the base in Al-Asad Iraq," Doug Doolin said.
Superintendent Brent McArdle held the flag and certificate for all students to see. "This is my 14th year here and this is a first," he said of receiving the flag.
Drew Doolin, an Illinois native, returned from Iraq to his home in California earlier this week and is preparing for a new job at the Pentagon. While in Iraq, he flew a new American flag every day next to the Iraqi government flag, and sent them to families, friends, schools, churches and everyday citizens.
"It is our way of saying 'Thank you,'" he wrote to Doug Doolin, who read the letter aloud to the students. "We are aware that many Americans do not support the war but do support those of us here fighting it. We are grateful for their support."
Doug Doolin, who works at the Pontiac Correctional Center, personally thanked the five uniformed members of Lexington American Legion Post 291 in attendance for their military service.
"It was a nice honor for us to be invited and included in the ceremony," said Korean War veteran Mel Scarbary.
Doug Doolin's wife and two sons also attended the ceremony.