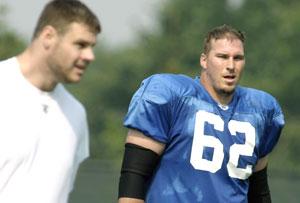 LANSING, Mich. — Tony Semple was a tougher than nails lineman for the Detroit Lions, but the former Lincoln resident melts when he meets a sick kid. Retired from football after nine seasons with the Lions, Semple is helping sick kids enjoy the outdoors through his Tony Semple Foundation for Hope.
Formed last year, the not-for-profit foundation provides hunting, fishing or camping trips for kids with life-threatening illnesses.
"I have a passion for the outdoors," said Semple, adding he wants sick children to experience the same sense of peace and rejuvenation he does when he is outdoors.
In its first year, the organization has helped kids from Michigan and Texas, but Semple has visions of expanding the foundation nationwide.
He knows that won't be easy, but neither was creating running holes for Hall of Fame halfback Barry Sanders.
"I'll approach this with the same intensity as I did football," said the retired offensive guard.
Though corporations and individuals finance the foundation, which is based in Lansing, Mich., Semple and others involved are volunteers.
"I'm doing this because I have a passion for the outdoors and for helping others," said Semple, who thinks his agency fills a void because some other wish-granting foundations don't offer hunting.
"Hunting is an American heritage," said the avid bow hunter, who is a 1989 graduate of Lincoln High School.
He said he enjoyed growing up in Lincoln, where "everybody knows everybody."
"It's a great place with great people," he said.
Occupation: Co-founder of Tony Semple Foundation for Hope; retired football player for the Detroit Lions
College: University of Memphis on a football scholarship; majored in sports administration
Family: Wife, Dawn. Parents Jan and Gene Semple, of Lincoln; one sister, Lori.