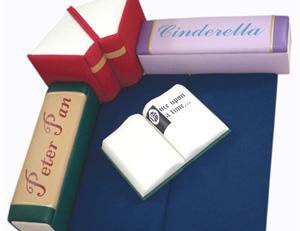 BLOOMINGTON — Carol King loved to read and passed the passion on to each of her nine children. "It was a huge part of our lives," said daughter Rose Costello, who now lives with her family in South Dakota.
So when their mother died last summer at age 85, it was natural for Costello and her siblings to honor their mother's memory with a donation to Bloomington Public Library.
"Her great legacy is raising so many great readers," said Costello, who remembers walking with her brothers and sisters from their house on East Grove Street to Oakland School to meet the Bookmobile.
The family's donation will be used to purchase "Big Cozy Book" furniture for the soon-to-be remodeled and expanded Children's Department. "We wanted a reading nook for people to be able to come and read — especially children," Costello said. "The furniture seemed like a natural."
Built by a company in Livermore, Calif., the furniture looks like books.
"I really think the kids will absolutely love them," said Krysta Tepper, interim co-director and marketing manager for the library. "It will be such a feature in the Children's Department. It's truly designed for kids to be fun … to stretch their imaginations."
The 10-by-10-foot arrangement will include two benches, two fan books, an open flat book, two mats, a pencil and a two-person loveseat. The color palate will include regimental and Bristol blue, forest and doe, chili, honey, midnight and yellow corn.
Big Cozy Books allows customers to choose titles for the furniture books and Michael Ranalli of Big Cozy Books said King's family chose "Call of the Wild," "Peter Pan," "Once Upon a Time" and "Robinson Crusoe."
You have free articles remaining.
"Peter Pan was absolutely a part of our lives, all the songs from the show and odd bits of dialogue, and 'Call of the Wild' was a book that symbolized Mom's attitude of living life fully, loving the outdoors, drama, etc.," Costello said.
Besides being attractive, the furniture is very durable, Tepper said.
"It's real furniture made to look like a book," she said. "It can stand up to the day-to-day use. As soon as the kids see it, they'll want to get on it."
The area will include a small plaque that will read "In memory of Carol King, a friend of readers, books and libraries everywhere," Costello said.
Besides being an avid reader, King also volunteered her time with the Bloomington library. Costello said her mother worked on the Bookmobile, at book sales and with former children's librarian Phyllis Wallace.
None of King's children grew up to be librarians or teachers, Costello said, but "we're all readers. There are more than 20 grandchildren and they're all readers."
The one thing each took from King's estate was a book, she said.
Tepper imagines King's legacy will be passed to other children with the help of the Big Cozy Book furniture.
"It will be something kids remember when they are adults — going to the library with the big books," she said.
The furniture will debut when the Children's Department project is completed in September.