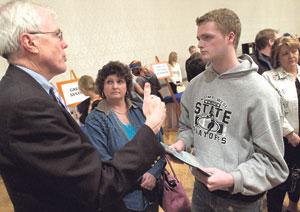 BLOOMINGTON — Nick Schavey teased his mother for being a little pushy about getting him to visit colleges, even though he still has another year of high school to go. That was until the Normal Community West High School junior started making the visits and realized he was part of something bigger.
He is among thousands of high school juniors who have been visiting college campuses across the state in recent weeks. Although seniors visiting campuses is a good idea, high school and college counselors agree the junior year — when teens take their college entrance tests — is a better time to start.
Many universities have open houses designed especially for high school juniors, including one at the University of Illinois at Urbana-Champaign, which welcomes as many as 800 high school juniors each on four separate days.
Schavey was among them this year.
So were his mother, Karen Schavey, his friend, Ryan Rogers from New Lenox, and Rogers' mother, Teri Schiley. The foursome spent a warm April day listening to a panel of university students answer questions, touring the expansive Urbana campus, looking at dorm rooms, and briefly talking to professors.
Everyone got caught up in the excitement.
"It was nice going with my friend since we both have the same taste," Nick Schavey said.
The teens only attended the same grade together one year in New Lenox before the Schavey family moved to Bloomington. They've remained friends, however, and could be roommates if they choose the same university.
"If I was accepted at U of I, I would go," Nick said after the tour.
He and his mother learned early on about the number of families embarking on the annual college visit tour. Their first stop, in March during spring break, was Illinois Wesleyan University in Bloomington, where the waiting room overflowed into a larger seating area. It was Juniors Day, and the Schaveys joined families from throughout Illinois for private interviews and campus tours.
While the visits help juniors narrow their choices and learn about extra requirements they need to take care of as high school seniors, they also can give the students a leg up with admission officers, said Michele Darnell, IWU's assistant dean of admissions. Taking the time to visit can make an impression during the admissions review process, she said.
But, despite the advantages of making college visits, some high school counselors say many students don't take the opportunity.
Steve Reschke, student services co-coordinator at LeRoy Junior-Senior High School, estimated only 15 percent of his students attend university-organized visits, though 60 percent to 70 percent make visits at other times.
Sue Larkin, a guidance counselor at Normal West, agreed on that percentage range, but she's noticed in the last five years that more students have chosen to attend nearby Heartland Community College.
Nick Schavey has observed the same thing. "Lots of kids I know aren't taking college visits," he said, adding a lot of Normal West juniors and seniors already have decided to attend Heartland.
Larkin attributes that development to the rising cost of a college education and to Heartland's growing campus.
Tim Abney, co-principal at Normal's Calvary Baptist Academy, said many students also get information at their own high schools when college recruiters visit. And many have been at prospective colleges for sporting events, summer camps or other extracurricular activities.
But one way or another, Abney encourages students to make personal visits.
"I'd personally never go to a place sight unseen," he said.
That's not going to happen to Nick Schavey, who also has visited Northern Illinois University in DeKalb and is planning a trip to Bradley University in Peoria.
His father, Dave Schavey, joins his son and wife when he can get away from his job as operations director at the Clinton Power Station.
Dave Schavey said there are likely more visits ahead. Once Nick Schavey gets his ACT test scores, Northwestern University in Evanston and DePaul University in Chicago could be future stops.
Nick has been active in high school, and his potential for earning a scholarship gives the family more options.
"I'm planting the seeds," Dave Schavey said of his son's interest in college.
"From someone who hires people, I see that it matters," he said. "My kids are going to get a degree."
The Schaveys' older son, Ben, 18, is a freshman at Heartland and isn't certain of his major. He'll probably attend some of the college visits with his brother, Karen Schavey said.
Nick Schavey is making a list of his observations and feelings about each school after the visits, making special note of the ones that shine in his chosen career field: accounting.
"If Nick didn't know what he wanted to study, it would be a different discussion," his dad said, adding that knowing the major he favors is helping them decide which schools to pursue.
But size, distance from home, and costs also play key roles in picking a college, said high school counselors.
An advantage to a smaller school, such as IWU with about 2,100 students, is the professors know students personally. When it's time to write a letter of recommendation for a job, they know the student they are recommending. Darnell gave an example of a friend who attended a large, prestigious school, and not one professor knew who she was.
At the outset, Nick Schavey didn't know if he'd like a small or a larger university. But when he visited the U of I, he knew a large, busy campus was for him.
That isn't always the case, especially for students coming from smaller high schools, Reschke said. For students attending a small high school, like LeRoy with a student population of about 200 in a town of about 3,000, going to a large university like U of I or Illinois State University can be a culture shock, he said.
Matt Wade is a senior at Ridgeview Junior-Senior High School in Colfax, which has about 230 students. He said school size didn't matter much to him.
His top choices of universities were Drake in Des Moines, Iowa, with about 5,200 students; and Illinois State, at about 20,000 students.
For Wade, other factors, including price and distance from home, had higher priority than how many students attended a school.
"I'm a pretty social person," he said, adding most colleges that have classes in huge lecture halls divide students into smaller groups for discussion.
For Shavey, larger schools have appeal. "I want to have a job in a big city someday," he said, citing Chicago and New York as about the right size to start a career.
His opinion was reinforced when he visited Northern Illinois University in DeKalb, where he said there isn't much in town besides the university, a bowling alley and an Old Navy store.
He was impressed with the school's accounting and intern programs, but not with the residence halls.
Still, the quality of dorm life shouldn't be the deciding factor. "You're just there for four years, and you work for 40," his father said.
---
— Some colleges won't admit students who don't care enough to visit; others give priority to those who do.
— It's an opportunity to get a firsthand look at the college.
— To really get a feel for the school, you need to walk around the quad, sit in on a class and visit the residence halls.
— You may learn things not readily found in brochures and online.
— During the week when the campus is in full swing and classes are in session.
— Spring of your junior year.
— Late summer or early September before your senior year because many colleges begin fall semesters as early as mid-August.
— Research colleges online and read college overviews, course catalogs and materials available at your high school's counseling center.
— Know something about the college before you arrive.
— Find out if there are specific junior or seniors days.
— Talk to current students, acquaintances if possible.
— Make a list of college characteristics most important to you.
— Develop a list of preferences so you can compare schools.
— Make sure the college has the major(s) you are interested in.
— Let your high school counselor know about your planned visits so he or she can help with additional information.
— Make sure to schedule an appointment with the admissions office.
— Find out when the campus tours run and get a campus map.
— Consider meeting with a financial aid officer.
— Make an appointment with a coach or club adviser for groups or athletics.
— Pack a camera and a notebook.
— Pick up business cards and names of people you need for future contacts.
— Pick up financial aid forms.
— Participate in a group information session at the admissions office.
— Sit in on a class or a subject that interests you.
— Talk to a professor in your chosen major.
— Talk to coaches of sports in which you might participate.
— Talk to a student or counselor in the career center.
— Spend a night in a dorm.
— Read the student newspaper.
— Listen to the college radio station.
— Scan bulletin boards to get a picture of day-to-day student life.
— Ask a student why he or she chose this college.
— Ask what he or she likes most and least about the college.
— Visit the library and the college bookstore.
— Walk or drive around the community surrounding the campus.
— Ask a student what he or she does on the weekends.
— Try to see a residence hall if you didn't on the tour.
— Imagine yourself attending this college for four years.
— Look at graduate employment opportunities within the program you are considering.
— What is the average class size and student-to-faculty ratio?
— Are most classes taught by professors or by teaching assistants?
— What is the campus meal plan like? How is the food?
— What is the social scene like? What kinds of activities are planned by the college?
— Are freshmen required to live in dorms? Is there a housing crunch?
— How many students commute? How is parking?
— Do computers come with rooms? Is there access to computer labs around the clock?
— Can you take courses in your major as a freshman?
— What is the employment record for graduates?
— How do they help secure positions for graduates?
SOURCES: Bonnie Vericella, Central Catholic High School counselor; interviews with admissions offices
Compiled by Phyllis Coulter