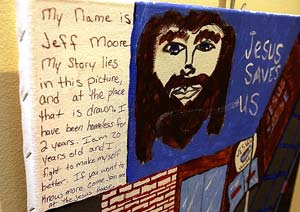 BLOOMINGTON - Jesus Coffeehouse is special to Jeff Moore. "They've always been there when I needed help," said Moore, 20, who has been homeless for more than a year. So when he was given the opportunity to paint a picture about his life, it was only natural he decided to feature the coffeehouse on Bloomington's west side.
Moore's painting and about 30 other artworks, created by homeless people who use services at Compassion Center, will be on display at Studio 222, 108 E. Market St., in an effort to raise community awareness of the Twin City homeless population and to raise money.
Proceeds from donations at the door and an accompanying auction of the artworks will benefit Compassion Center, including continuing The Hope Project art program started by students in an Illinois State University social work class.
"We thought an art project would benefit people the most," said Bethany Palmer, one of the ISU students. "They would be active doing something and we could use the paintings for a fund-raiser. It's a wonderful way to get their story out."
The idea caught on. Palmer said first one person started painting, then five, then 10. And it captured all ages; one work was done by a 1-year-old, others by teenagers and some by adult men and women.
Even families worked together on some of the paintings, Palmer said.
"They really loved it," Palmer said. "There are some people who did four. We hope (the show) will be pretty profound."
Moore spent about two hours on his painting. The picture of Jesus at the top of the painting was just a quick sketch, he said.
Some chose to do a collage rather than paint.
A 5-year-old did pink, blue, yellow and black handprints on a canvas. Another used markers to draw a donkey, fish and broken tree. A couple chose to write.
Palmer said a team of students from her ISU class bagged groceries at a Twin City store to help pay for supplies. They also received donations.
While Phil Donelson, owner of Studio 222, said the skill level and technique of the paintings are quite different from professional artists, "most have done a very good job with the emotion and level of being able to communicate and tell a story."
"It's gutsy for them to put these comments out there," he said.
Palmer agreed. "They aren't professionals, but there's a lot of heart and soul in the works."
Donelson didn't hesitate to offer his studio for the show when approached by Palmer. He also volunteered his expertise to hang the artworks and set up the show.
"It's doing something good," he said. "It's the thing to do. It will help make people feel good about what they have accomplished."
He also hopes it will introduce new people to the studio, which will have professional artworks on display as well.
"The location is perfect," said Palmer. Studio 222 is just down the street from Compassion Center, which is in the basement of Second Presbyterian Church.
While everyone hopes the show attracts a lot of people, Moore probably won't be one of those in attendance. He recently left the Twin Cities to reunite with his mother and go to school.
What: The Hope Project, a display and auction of artwork by Twin City homeless people
Where: Studio 222, 108 E. Market St., Bloomington
When: Show premiere and silent auction will take place from 5 to 7 p.m. April 29. Artwork will remain on display from 10 a.m. to 5 p.m. May 3, 5 and 6.