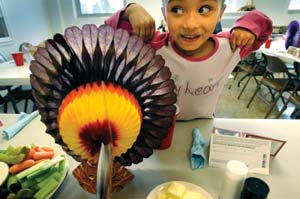 BLOOMINGTON — Shaila Washington gobbled, giggled and flapped her arms as she sat down to her first Thanksgiving dinner with her family.
The 5-year-old played behind a cartoon turkey at one of the numerous tables filled with lunch guests Thursday morning at Home Sweet Home Ministries' Billy Shelper Center, 303 E. Oakland Ave. Her mother, Tina Armstrong, met Wayne Armstrong in February and they married in March, he said.
"This is great for people that really need it," he said.
The three were among hundreds given turkey dinners at several locations in the Twin Cities. Organizers with Home Sweet Home alone expected to serve a total of 300 meals to the elderly and the needy in two sit-down meals
Among those giving food to the needy, staff members with the Salvation Army Safe Harbor, 212 N. Roosevelt St., said they expected to serve about 120 people, and owners of Central Station restaurant, 220 E. Front St., expected to feed about 150.
Donald McGee, a resident of Safe Harbor for about a week, said that, even with no family in the area, he was grateful someone cared about him and gave him a turkey dinner on Thanksgiving. He came to Bloomington from Louisiana in the months after Hurricane Katrina, he said.
Donnie Finch, who has lived in Bloomington for the past two months, thanked God for places like Safe Harbor to help him and others in need.
Joen Lane, who ran the kitchen for Home Sweet Home Thursday, said it was her dream in the last decade of volunteer work for the mission to host a sit-down meal where seniors could meet and talk, rather than the delivery-only service of prior years. She said that when she delivered some meals, many elderly recipients wanted to talk about their family and show pictures, and it broke her heart to have to leave to deliver the other hot meals waiting in her car.
"I'm praising God because this is a humongous blessing, and I get to be a part of it," Lane said.
Betsy Friedrich said she had wanted for years to help others on Thanksgiving, and she wanted to instill a sense of community service in her son as he goes through confirmation this year. She, her son, Michael, and her husband, Bob, were among about 45 volunteers scheduled to help at the Shelper Center Thursday.
Sabrina Burkiewicz, spokeswoman for Home Sweet Home, said this year's meals are vastly better than those given when her organization started 89 years ago. Pidgeon was served because the organization couldn't afford turkeys, she said.