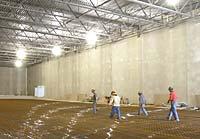 BLOOMINGTON - It won't be long before local residents will be able to put on their skates and use the Pepsi Ice Center. Ice center manager Richard Beck said that if all goes well with the construction schedule, officials would like to see a May 27 opening date.
Construction has resumed on the center, which is connected to the U.S. Cellular Coliseum. The Coliseum, which opened Saturday, the ice center and a parking deck comprise a city-owned $37 million downtown complex at Madison, Front, Olive and Lee streets.
Project Superintendent Charles "Chuck" Thomas said the ice center could be ready for occupancy in six to seven weeks. Thomas works for Johnston Contractors, the general contractor for the project.
The city of Bloomington owns the rink, and its parks and recreation department will manage the facility.
In the first week after opening, the center will be available mostly for open skating times and hockey games, Beck said. The recreation department's lessons for learning how to skate and play hockey would start the following week.
"If everything goes well with the construction schedule, we hope to open by May 27 and start our programs June 3," Beck said.
In the meantime, there is still much to be done to put the programs in place and finish the building.
Next week, construction workers will put up the dasher boards to line the National Hockey League-sized rink at the ice center, Thomas said.
There is still some work on the heating and cooling system and other building mechanicals that need to be finished on that side of the building, Thomas said. Then workers will be busy painting and installing the flooring.
The city has hired two assistant managers for the programs at the center. Leigh Troyer will be assistant manager for skating and Joe Olson will be assistant manager for hockey.
Beck said he also is working to hire instructors for some of the programs.
Beck said there also will be open skating times for people who just want to get out on the ice.
"You name it and we're going to do it," Beck said.
The Bloomington City Council is expected to vote April 10 on a bid for 250 pairs of skates that will be rented at the center.
The department's programs could be finalized by the end of April, Beck added.
The city began construction on the Coliseum and ice center in August 2004. Although the ice center and the Coliseum are part of the same building, each side has its own management and purpose.
Central Illinois Arena Management is the group organizing entertainment and sporting events for the 7,000-seat Coliseum.